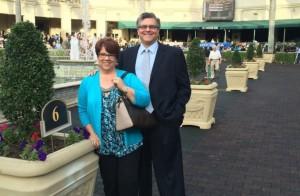 Want to Know what it Feels Like to Own a Horse with Eclipse?
BREEDERS' CUP PRESENTS CONNECTIONS: 'A KID IN A CANDY STORE'
By: Natalie Voss
Rafael Lopez spent years watching racing from the sidelines as a handicapper and fan, which is why standing in the trainers' lounge at Gulfstream Park recently made him do something of a double take.
"It's unbelievable," said Lopez. "I never thought in my wildest dreams that I'd be hanging out and watching a race with a trainer like Mr. Clement, who just won the Belmont last year. I'll go and watch horses down at Palm Beach Downs and I'll be talking to Todd Pletcher about a horse "it's crazy."
The experience was all the sweeter because Lopez was in the lounge after watching a horse he co-owned finish a strong third in the Grade 1 Gulfstream Park Turf Handicap. War Correspondent, a 5-year-old son of War Front, was making his seventh career start after a second in the Grade 2 Autumn Stakes at Woodbine last year.
In the Turf Handicap, jockey Joe Bravo kept War Correspondent off the early pace, swung wide on the final turn, and came within just over a length of the win behind Mshawish and Slumber (GB). Even though he didn't go home a winner from his first Grade 1 race as an owner, Lopez was thrilled by the experience.
"It was incredible," he said. "We had a shot in the last sixteenth, which is I think all you can ask for. Considering how wide he was, to see him accomplish what he did…it's hard to describe the excitement toward the end of a big race like that where you have a shot at it. It's a feeling I can't even put into words, honestly."
Lopez has followed racing since going to the track in New York with his father as a kid. Then, in the 1980s, Lopez briefly owned part of a claiming-level horse but doesn't remember the experience fondly. He felt disconnected from the major decisions around the horse, and his priorities shifted toward starting a family.
Then, last year, Lopez's youngest son wanted to visit Gulfstream Park, so the pair made the trip.
"At that point I realized, 'Wait a minute, I forgot how much I enjoyed this," said Lopez. "I got online, started Googling some syndicates, and found Aron [Wellman, president of Eclipse Thoroughbred Partners]."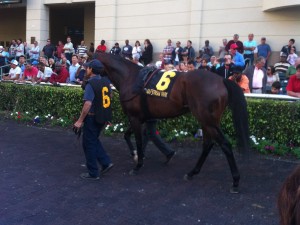 Wellman invited Lopez to shadow him at Palm Meadows and at the OBS 2-year-old sales, giving him not just the behind-the-scenes tour of the barns, but also teaching him the 'whys' behind the agents' and the trainers' decisions. That experience got him hooked, and Lopez bought into War Correspondent.
Part of the fun has definitely been the chance to meet some of racing's big names – Dale Romans, Bill Mott, Joe Bravo, Todd Pletcher, John Velazquez, and Javier Castellano – in person. Lopez has been impressed with how kind and helpful they have been, particularly Clement, who keeps Eclipse partners dialed in to their horses' progress.
So far, he's had a few chances to get up close and personal with the horse, making the drive with his son to Payson Park, where Clement is based, to watch the horse train. Lopez has learned War Correspondent is a very disciplined individual; not only does he snub peppermints, he has a routine about visitors by his stall after training hours. He goes from feed pan, to water bucket, to hay net, and stops to greet admirers before circling back to the feed pan.
"At first I thought it was a coincidence, but then he just kept doing it," said Lopez. "He's definitely in control. This guy has his routine, and he will acknowledge you when it's within his routine."
As for his next start, War Correspondent's options are likely the Kilroe Mile, the Appleton, or the Tampa Turf Classic. Wherever the horse starts next, Lopez is enjoying the ride.
"There's times where my wife gives me a look – she's not quite as into the races as I am, but she's getting there, she's heard me talk about these people and she's like, 'You look like a kid in a candy store.'"
http://www.paulickreport.com/features/breeders-cup-presents-connections/breeders-cup-presents-connections-a-kid-in-a-candy-store/