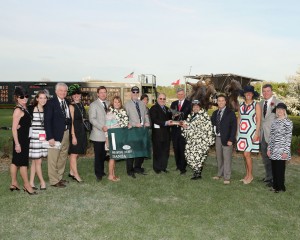 US racing: From the "Sport of Kings" to the "Sport of Partnerships"?
February 23, 2015
In the latest installment of our series looking at the rise of ownership syndicates around the world, Bob Ehalt explores the growth of partnerships in America – and a cluster of recent big-race successes.
There are dozens of reasons why more and more people in the U.S. have been gravitating toward horse racing partnerships.
George Waldron typifies one of them.
The 71-year-old Hamden, Connecticut, resident has been a fan of horse racing for more 50 years, a bond that started in his youth when he would accompany his father on visits to the racetrack. As he grew into a young adult, Waldron talked with his friends about a buying a horse but nothing ever came of it.
Years later, after he retired from a successful career as an attorney and workers compensation commissioner in Connecticut, Waldron finally decided to fulfill the dreams of many years earlier. After long hours of research, he bought a share of two horses with West Point Thoroughbreds in 2013.
The first one was a 2-year-old colt named Commanding Curve that cost Waldron about $13,000 for a 5 percent share in a partnership that included 15 people.
"I did my homework and saw that for the price of a modest claimer I could get a share of a high-quality 2-year-old," Waldron said. "I learned that the best way to get involved in racing at a high level is through a partnership, unless you're a billionaire, which I'm not."
About a year later, Waldron's wildest daydreams evolved into an unforgettable thrill on the first Saturday in May when he was part of a 100-person West Point contingent at Churchill Downs that watched as Commanding Curve closed strongly to finish second by 1 3/4 lengths to California Chrome in the 2014 Kentucky Derby.
"It was just incredible to be part of the walkover before the Derby," Waldron said, "and then to finish second, it was amazing. For something like that to happen to someone like me with my first horse, it's what, a million-to-one shot? That's why partnerships are so great. They give you a chance to be part of great races."
In many ways, the 2014 Kentucky Derby was a bellwether moment for partnerships. Aside from the victory by California Chrome for his two self-professed "Dumb Ass Partners," Steven Coburn and Perry Martin, and Commanding Curve's runner-up finish for West Point, the superfecta was rounded out by two of the industry's larger and more successful and well-known partnerships. Third-place finisher Danza is owned by Eclipse Thoroughbred Partners, which has a business relation with Cot Campbell's expiring and pioneering Dogwood Stable group, and Wicked Strong was fourth for Centennial Farms, a partnership first formed in 1982.
"They say horse racing is the 'sport of kings,'" said Terry Finley, West Point Thoroughbreds' founder and president, "but it's the sport of partnerships."
Barry Irwin, founder and CEO of Team Valor International, says "success is the only real advertising" and in recent years partnerships have attracted increasing attention through numerous success stories in the sport's best-known races, such as Dogwood's win with Palace Malice in 2013 Belmont Stakes.
Though best known for buying and then creating partnerships for horses that started their career outside the United States, Team Valor struck gold with the partnership it formed for a homebred colt, Animal Kingdom, who won the 2011 Kentucky Derby and 2013 Dubai World Cup and earned $8.3 million. With the partnership retaining a share of Animal Kingdom's stud fees, a CNN story reported that one Team Valor partner who invested just $5,000 stood to realize as much as a 30,000 percent return on his money.
"The Derby certainly gave credibility to our brand and brought us an influx of new people," said Irwin, whose horses have accounted for 36 G1 victories and earnings of more than $66 million since he entered the partnership marketplace in 1987. "It helped people realize that people with experience and talent at picking out horses can get them access to better horses than they could on their own."
Even Waldron's tale has created a trickle-down effect.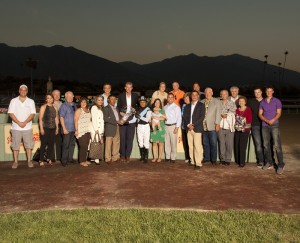 During his work years in Connecticut, Waldron became friends with another attorney, John Buckley, who shared his passion for horse racing. Buckley has owned horses since 1988 and has partnered with another friend, Ralph Durante, in claiming horses for the past 17 years. Inspired by Waldron's ability to own a share of a horse that raced in the Kentucky Derby, Belmont Stakes, and Travers (he was ninth in the latter two races), Buckley and Durante decided to buy into a partnership the first time.
Through Donegal Racing, they purchased a share of Keen Ice, who was third in the G2 Remsen and most recently fifth in the G2 Holy Bull. They also joined Team Valor, spending $12,000 for a 2 percent share of a colt with a $600,000 price tag, Indianaughty. Now three, Indianaughty started his career in England before he was purchased by Team Valor and won a turf allowance race in his U.S. debut at Gulfstream Park on Jan. 14.
"George's experience hit home with us and showed us what can happen if you get lucky," Buckley says, "If you want a Triple Crown-type horse this is the way to do. It's not by claiming horse for $20,000."
Aside from access to well-bred yearlings or 2-year-olds cared for the sport's top trainers, partnerships have found a niche because of the headaches they remove from ownership. In exchange for surrendering control in the decision-making process, the major partnerships handle all of the time-consuming matters like bookkeeping, licensing, talking with trainers, and arranging for seating at the racetrack.
"We're full service," said Aron Wellman, president of Eclipse Thoroughbred Partners, which became a successor to Dogwood after that ground-breaking partnership's founding father, Cot Campbell, announced in 2011 he would no longer start new partnerships. "Our clients should be able to pay attention to their day jobs and still have a rewarding and entertaining experience in horse racing. I'm so thankful that Cot broke the ownership mold by starting Dogwood [in 1971]. Only he could have succeeded in making partnerships as attractive and as much fun as they are."
The sport's major partnerships generally sell shares in horses that start at about 2 percent. Each has a different model for operational costs, some marking up the purchase price and others charging management fees over the course of ownership. For the most part, horses are offered on an individual basis, though Centennial's business model centers on packages of three or more yearling colts.
"Our whole philosophy is more of an investment strategy because it's a high-risk investment and the best way to mitigate that risk is through diversification and spreading the risk through a group of horses with a group of individuals, just like any portfolio manager would," said Donald V. Little Jr., president of Centennial. His late father, Donald Little Sr., founded Centennial 33 years ago and won the 1993 Belmont Stakes with Colonial Affair and campaigned Rubiano, the champion sprinter of 1992.
Though slowed by the passing of Little Sr. in 2012 and the loss of a few major clients, Centennial returned to the national stage last year when a three-horse, $1.5 million package sold in 2012 included Wicked Strong, a colt named for victims of the Boston Marathon bombings who won the Wood Memorial and was also second in the Travers and fourth in both the Kentucky Derby and Belmont Stakes.
"Wicked Strong definitely helped our business," said Little Jr., who points out about 70 percent of each new Centennial partnership includes current clients. "The story behind the name, the donations we made to the Boston Marathon victims really helped things. Even when we won the Belmont Stakes with Colonial Affair it was nothing like this in terms of new people and attention. It put another check in the box in terms of our credibility and the people involved in the horse had such a great experience that they are telling their friends.
"I believe we'll see new people because of the recent success of partnership horses. The prices of horses will be rising in the next few years because of the supply with fewer horses coming to market and the good horses are going to be expensive."
An important piece of the partnership mix is that even if someone owns a small share of the horse, they still derive 100 percent of the thrills from the experience.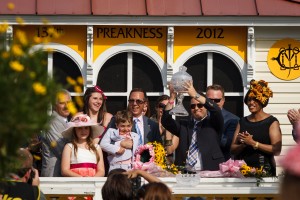 "I've found it to be enjoyable," Buckley said. "You have a small amount of risk but you're totally involved. You don't feel like you're 2 percent or 50 percent involved while you're watching a race."
Irwin agreed that the level of excitement does not hinge on percentage of ownership.
"It doesn't make any difference how much or how little a guy owns of a horse. When that horse is on the racetrack, it's his horse," he said. "Yet even after all of our success there's still snobbery about that. In the media you have you have people making dumb jokes like, 'What part of the horse do you own? The ear?' You find people get snooty when they're paying millions for horses and people who pay thousands are competing with them."
Gary Falter, project manager for The Jockey Club's OwnerView website, said partnerships have done an excellent job of bringing new owners into the sports by proving that people can participate in major races "without putting all of their eggs in one basket."
Partnerships are also bringing more people to the racetrack, creating a myriad of benefits.
"We definitely helped the local economy in Louisville with the people we brought to the Derby, said Finley, whose West Point group has 80 horses in training with roughly 400 owners. On a list based on Equibase data of the top 60 or racing syndicates/partnerships, West Point topped the chart with 2014 stable earnings of $4,481,710. "Thank God Cot Campbell created partnerships. Racing would be in much worse shape without them."
And yet, as Irwin sees it, partnerships have not been fully embraced by all aspects of the industry.
"In terms of the maturity of partnerships I believe we're at about 40 percent in terms of acceptance and viability," he said. "We've made a lot of strides forward in the last 10 years. People who never thought about a partnership are joining them. But racetracks have not fully accepted the partnership concept because they think it's too onerous and they have to accommodate too many people. Instead of understanding there will be 50 or 100 people here at the races and they are people who are going to bet, visit the gift shop, pay for this, pay for that, they don't see how a partnership is a plus."
Of course, another Kentucky Derby like last year or 2011 would no doubt do wonders to change that old-fashioned perception in a sport that is no longer just for kings.