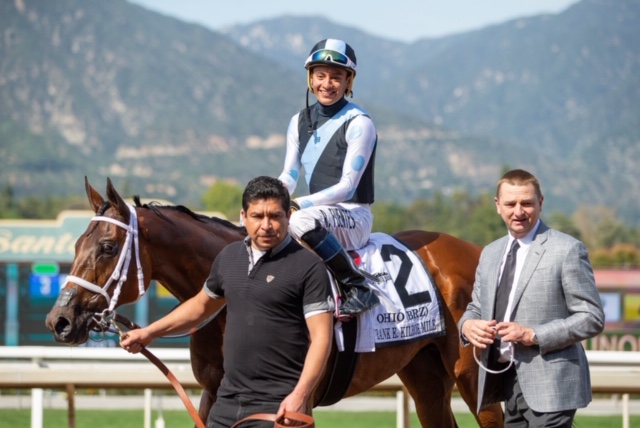 To 10-year-old Ohio, age is just a number
By: Brad Free DRF
ARCADIA, Calif. – Age eventually catches up to both humans and horses, but a classy old-timer running this week at Santa Anita is still winning the race against time.
Ohio will be the first 10-year-old to start this year at Santa Anita, where he returns Friday in the featured seventh race at a mile on turf.
Seeing that Ohio was an 8-year-old when he won a Grade 1 and won stakes race at 9, the Friday allowance is within reach.
"He's 10 years old and he might not be as sharp as he once was, but he loves his job," trainer Michael McCarthy said. "If he wasn't doing as well as I thought he could be doing, he would not be running."
Ohio, who won the Grade 1 Frank Kilroe Mile in 2019 at Santa Anita, is making his first start since March. After a workout by Ohio in late May, McCarthy sensed the horse needed a rest.
"He was just starting to get a little crabby, nothing major," McCarthy said.
"He enjoyed his down time, put on quite a bit of weight, and seems happy to be back here," McCarthy said this week at Santa Anita. "He's back in a routine he likes, and he has running on his mind."
If he defeats likely favorite Sombeyay on Friday, it will not be the first time Ohio has outrun expectations. After he was claimed for $50,000 in June 2018 by Eclipse Thoroughbreds and Bruce Treitman, Ohio developed into a classic overachiever.
In 14 starts since being claimed, Ohio has won the Kilroe, the $75,000 Fitzsimmons Handicap at Turf Paradise in 2019 and 2020, placed in four stakes, won four races, and earned $449,648.
Ohio will be the first 10-year-old this season to race at Santa Anita, but probably not the last. Kristin Mulhall trains veteran Papa Turf, who won 3 of 7 last year at age 9, including a $12,500 claiming sprint in his most recent race Oct. 25 at Santa Anita.
Mulhall mistakenly was told in December that 10-year-olds could not race at Santa Anita, and Papa Turf went to her farm nearby. The miscommunication was resolved, and Papa Turf has resumed training.
"He ended up having a well-deserved three-week vacation," Mulhall said.
Santa Anita racing secretary Chris Merz clarified age guidelines from track owner The Stronach Group: "Our policy is you can run through your 10-year-old year. The second you turn 11, you're not going to be eligible to run.
"How often do you see a 10-year-old run these days? You have to give a round of applause to horsemen for keeping them sound for that long."
Papa Turf, who began his career at Del Mar in August 2013, has won 10 of 68 starts. Ohio, who began his career in Brazil in November 2014, has won 10 of 34.
Ohio's rider Friday is Ricky Gonzalez, who has been on Ohio in workouts. Ohio might be the class of the field, but the most likely winner is a relative youngster, age 5.