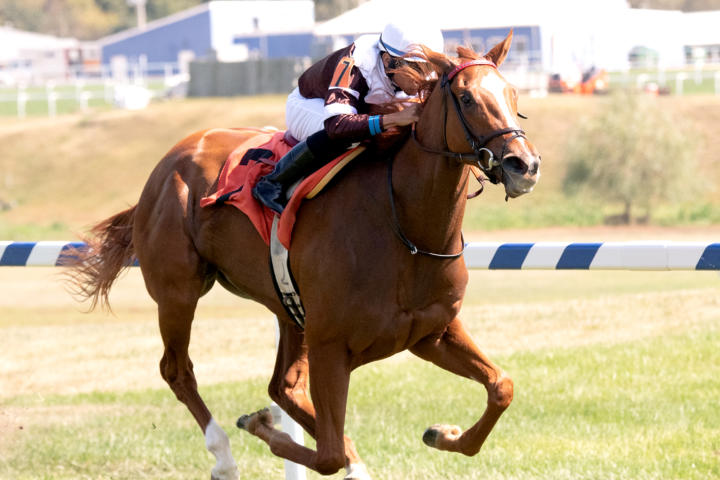 Sharing Stamped For Success Right From Start
by Doug McCoy | Jan 22, 2020 |
It was with typical grace and humility that Graham Motion accepted the news that his Breeders' Cup winner, Sharing, had been voted the Midlantic-bred Horse of the Year in the final Mid-Atlantic Thoroughbred/The Racing Biz Top Midlantic-bred Poll of 2019.
When contacted Motion was still in the midst of three days of travel that included a flight from Philadelphia to his winter headquarters at Palm Meadows followed by a cross-state car trip to Tampa to run three maidens at Tampa Bay Downs on Sunday and look over things at that division of his stable.
"That's a great honor when you consider how many top flight horses we have from the Mid-Atlantic region," Motion noted. "She's (Sharing) a very nice, generous filly and we hope she's going to go on to more big moments. Her mother Shared Account matured into her prime as she got older and won the Breeders' Cup Fillies and Mares at four, so we're hopeful she will also get even better as she goes on."
Of course, Motion trained Shared Account and that one gave him his second Breeders' Cup win. Sharing is by Speightstown, himself a Breeders' Cup winner as well as a top sire. So when Eclipse Thoroughbred Partners head Aron Wellman picked out Sharing before the Fasig-Tipton Saratoga Yearling Sale in 2018 – the group dropped $350,000 to get her — Motion admitted he did a bit of lobbying to get the baby in his barn.
"I pointed out the fact she was a Maryland-bred and as such would be eligible for a lot of Maryland-bred races, but Aron told me to relax, that they had already taken that into consideration and she was coming to our barn," Motion explained. "Knowing what kind of horse her mother had been I was really excited to get the chance to train her daughter."
And while Sharing had shown a great deal of promise while training at Fair Hill, it was at Saratoga that the 2-year-old filly stamped herself as a young horse with championship potential. Third, beaten just a neck for all of it in her debut at 5 ½ furlongs on the turf, Sharing came back to win her second, showing her versatility to romp by more than six lengths while running seven furlongs on the dirt.
"I tell everyone I only bring the babies I think have talent and potential to Saratoga," said Motion. "I mean, Saratoga's where you find out if they're as good as you think they are, and that was certainly the case with Sharing. When we came home after that meeting, we knew we had a filly who was something special."
Motion then took his pupil to Laurel Park, where she tackled the newly lengthened Selima Stakes – stretched out from sprint distances to 1 1/16 miles this year – which also had received a purse boost to $200,000. Sharing earned her Breeders' Cup spot with a two-length win that day.
And she proved her quality in spades when she turned in a sparkling performance to win the Breeders' Cup Juvenile Fillies Turf at 13-1. Following that race, Motion gave Sharing a month off, and the horseman said she has continued to grow and blossom.
"Her mother was a big mare and Sharing looks as though she's going to be a lot like her," he said. "She's been filling out nicely, and she's maturing into a beautiful specimen. Our tentative plans are to have her make her first start in the Florida Oaks (Gr 3) on March 7.  The turf course at Tampa is a great surface, and the timing would give us six or seven breezes leading up to the race."
And this Thursday Motion will find out if even more honors are in store. Sharing is a finalist for Eclipse honors as the country's top 2-year filly and the winner will be announced at the Eclipse Award dinner at Gulfstream Park.
PRIOR YEAR-END TOP MIDLANTIC-BREDS
2018: Shamrock Rose
2017: Stellar Wind
2016: Cathryn Sophia
2015: Stellar Wind
2014: Ben's Cat