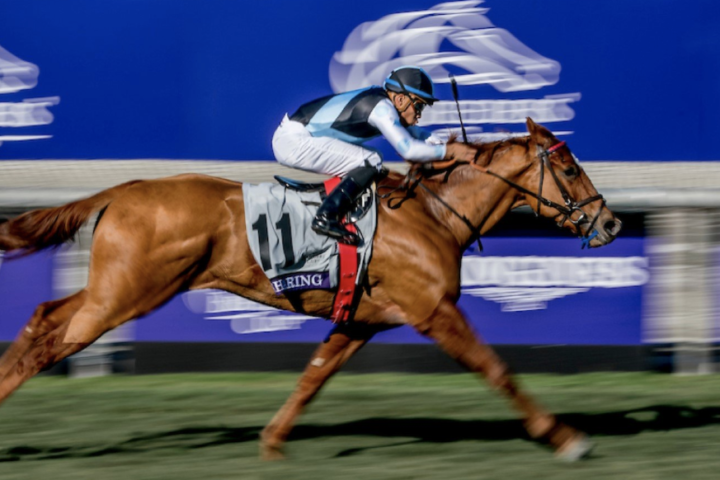 Sharing Named Top Midlantic-bred Of 2019
Sometimes it's a struggle to choose the Top Midlantic-bred — too many worthy contenders, too little separation one from another.
Such was not the case in 2019, however. as voters in the Mid-Atlantic Thoroughbred/The Racing Biz Top Midlantic-bred Poll unanimously chose Maryland-bred Sharing as the Top Midlantic-bred of 2019.
For the season, Sharing, a two-year-old in 2019, won three of four starts and was a close-up third in her other. She won the Grade 1 Breeders' Cup Juvenile Fillies Turf — the only Midlantic-bred to take home the gold in a Breeders' Cup event this year. She also won the $200,000 Selima Stakes at Laurel Park, the victory which launched her to the Breeders' Cup. She has earned $730,300.
Sharing is certainly bred to be a star. She is by the top sire Speightstown, who won the 2004 Breeders' Cup Sprint. And she's out of the Pleasantly Perfect mare Shared Account, herself a Breeders' Cup winner, of the 2010 Filly and Mare Turf. Among her siblings is the stakes winner Riley's Choice, by Distorted Humor.
Sharing was bred in Maryland by Sagamore Farm. Sagamore sold her at the Fasig-Tipton Saratoga Selected Yearlings Sale in 2018, where she fetched a top bid of $350,000 from Eclipse Thoroughbred Partners. That group, headed by Aron Wellman, sent the young filly to trainer Graham Motion — the same trainer who'd guided Shared Account's career.
While Sharing was a unanimous top selection, the voters had a much harder time separating the rest of the field. Ultimately, the West Virginia-bred Runnin'toluvya grabbed the second spot following a season in which he won three of six starts, topped by the Grade 2 Charles Town Classic over his home racetrack. The Fiber Sonde gelding is trained by Tim Grams for his and his wife Judy's Grams Racing Stable, and he was bred by Leslie Cromer.
Runnin'toluvya narrowly edged out three other horses: Mirth (PA), Prince Lucky (PA), and Anna's Bandit (WV). Mirth, a PA-bred racing in California, won two of three to complete her season, taking the Grade 1 Rodeo Drive and Grade 3 Robert J. Frankel Stakes to complete a year which also included a six-race losing streak. She's trained by Phil D'Amato for Little Red Feather Racing.
Prince Lucky won three times during the year, including twice in graded company. Those wins came in the Grade 2 Gulfstream Park Mile and Grade 3 Hal's Hope Stakes. He suffered career-ending sesamoid injuries in his right front leg during the running of the Grade 3 Harlan's Holiday December 14 at Gulfstream, underwent successful surgery two days later, and is expected to make a full recovery. He was trained by Todd Pletcher for Dan McConnell.
Unlike the other horses in the top seven, Anna's Bandit did not win a graded stake in 2019. However, the Great Notion mare did win nine races, concluding the year with six consecutive victories, five in stakes company. She's trained by Jerry Robb for No Guts No Glory Farm.
Rounding out the top seven are Valedictorian (NJ) and Out for a Spin (VA). The former won the Grade 3 Monmouth Oaks for her top score and also finished third in the Grade 1 Cotillion. She did most of her work in the season for trainer John Mazza and owner There's A Chance Stable, but after the Cotillion, the ownership group expanded to include Parkland Thoroughbreds, Medallion Racing, and Abbondanza Racing LLC, and she was transferred to the barn of Richard Baltas. Out for a Spin, trained by Dallas Stewart for, at first Commonwealth Stable and later that group with Randy Bradshaw and Stonestreet Stables LLC, scored a 52-1 upset in the Grade 1 Ashland Stakes in April.
The monthly Mid-Atlantic Thoroughbred is the only publication devoted to Thoroughbred breeding and racing in the Mid-Atlantic region. The Racing Biz, an online publication, is the independent voice for mid-Atlantic racing and breeding.
The poll is conducted of media members and others involved in the Thoroughbred industry and restricted to horses that have run in 2019 and were bred in Pennsylvania, Maryland, Virginia, West Virginia, New Jersey, Delaware, and the Carolinas.
Sharing (MD) — 2yo filly by Speightstown-Shared Account, by Pleasantly Perfect; bred in Maryland by Sagamore Farm; trained by Graham Motion for Eclipse Thoroughbred Partners and Gainesway Stable (Antony Beck); won G1 Breeders' Cup Juvenile Fillies, Selima S.
Runnin'toluvya (WV) — 5yo gelding by Fiber Sonde-Lov'emnrun, by Not for Love; bred in West Virginia by Leslie G. Cromer; trained by Tim Grams for Grams Racing Stable LLC; won G2 Charles Town Classic, Russell Road Overnight Prep S.
Mirth (PA) — 4yo filly by Colonel John-Di's Delight, by French Deputy; bred in Pennsylvania by Barlar, LLC; trained by Phil D'Amato for Little Red Feather Racing; won G1 Rodeo Drive Stakes, G3 Robert J. Frankel Stakes.
Prince Lucky (PA) — 4yo gelding by Corinthian-Lucky Notion, by Great Notion; bred in Pennsylvania by Daniel McConnell, Sr.; trained by Todd Pletcher for Daniel McConnell; won G2 Gulfstream Park Mile, G3 Hal's Hope S., 2nd G2 Kelso
Anna's Bandit (WV) — 5yo mare by Great Notion-Onearmedbandit, by No Armistice; bred in West Virginia by John Robb; trained by John Robb for No Guts No Glory Farm; won Timonium Distaff S., Sadie Hawkins S., WVBC Cavada, Maryland Million Distaff, etc.
Valedictorian (NJ) — 5yo mare by Temple City-Smart N Classy, by Smart Strike; bred in New Jersey by John Bowers, Jr.; trained by Kelly Breen for Epic Racing; won G3 Suwanee River S., G3 Eatontown S., Sand Springs S., 2nd in G3 Honey Fox S., 3rd in G3 Marshua's River S., G3 Noble Damsel S.
Out for a Spin (VA) — 3yo filly by Hard Spun-My Mammy, by Came Home; bred in Virginia by William M. Backer Revocable Trust; trained by Dallas Stewart for Commonwealth Stable, Randy Bradshaw, and Stonestreet Stables LLC; won G1 Ashland Stakes
Also receiving votes: Late Night Pow Wow (WV), Hello Beautiful (MD), Call Paul (PA), Cordmaker (MD), Horologist (NJ), Alwaysmining (MD)