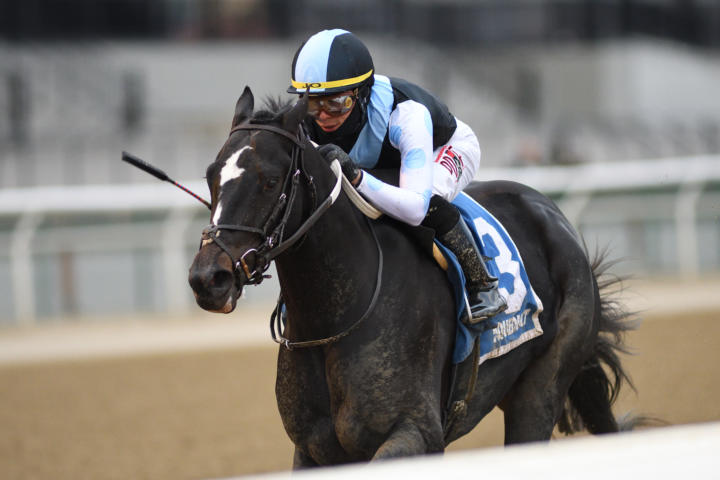 Independence Hall staying home for Sam Davis
Marty McGee DRF Jan 27, 2020
Trainer Mike Trombetta said Monday afternoon that Independence Hall will make his next start in the Feb. 8 Sam F. Davis at Tampa Bay Downs, where the colt has been training for several weeks.
Independence Hall, who has emerged as one of the top early contenders for the 146th Kentucky Derby after winning his first three starts by a combined 21 lengths, also had been under consideration for the Risen Star Stakes at Fair Grounds in New Orleans a week later.
"There were pros and cons in making plans for either spot," Trombetta said earlier Monday by phone from Laurel Park. "You run out of your own stall at Tampa, but the purse and the points are bigger in New Orleans. We had to decide what's in our best interests and go from there."
Independence Hall, a dark bay son of Constitution, is owned by Eclipse Thoroughbreds, Twin Creeks Racing, and his original owners, Bob and Kathleen Verratti. He has not been seriously challenged in winning a Parx Racing maiden race and the Nashua and Jerome, both at Aqueduct.
The Grade 3, $250,000 Sam Davis is worth 17 Kentucky Derby qualifying points (10-4-2-1), while the Grade 2, $400,000 Risen Star is the first Derby prep worth 85 points (50-20-10-5). At 1 1/8 miles, the Risen Star is a sixteenth of a mile farther than the Davis.
Independence Hall now has had three breezes at Tampa, including a bullet five furlongs Sunday in 1:00 under Sarah Shaffer. Trombetta has been commuting to and from Tampa on weekends from his main Maryland base. Besides having strings at Laurel and Fair Hill, he also has a handful of horses at Tampa being overseen by Shaffer – "she's a one-stop-shop," said Trombetta – and about a dozen across the Florida peninsula at Gulfstream Park.
Trombetta said he was "very pleased" with the Sunday breeze, which came in company over a fast track. "He did it comfortably and within himself, nice and smooth. We're asking him to do a little bit more when we put him in company, but overall he'll do whatever you want."
Nominations for the Sam Davis and three other stakes on the Feb. 8 Festival Preview Day program were released Sunday. Trombetta said the field for the Davis might come up lighter than those Independence Hall will face in subsequent starts.
"You can't hide from the competition," he said. "We all know what the object is – to go as far down this road as you can, accomplish as much as you can, and still have a horse that's fresh."
The other Festival Preview races are the $150,000 Suncoast, a Kentucky Oaks points race (10-4-2-1), and a pair of Grade 3 turf stakes, the $175,000 Tampa Bay and $175,000 Endeavour.
◗ A four-day Tampa race week gets under way Wednesday at 12:25 p.m. Eastern with a $23,500 second-level allowance (race 5) serving as the feature on a nine-race program. Gray Owl, shipping over from Gulfstream for trainer Larry Rivelli, is the 5-2 morning-line favorite in a field of seven fillies and mares going six furlongs.
The week begins with jockey Antonio Gallardo (43 wins) and trainer Gerald Bennett (20 wins) in familiar positions atop the standings in their respective categories.