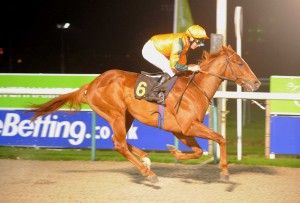 Press Baron Makes Eclipse And Stateside Debut Thursday At 'Anita
Just 3 ½-months after being imported from the United Kingdom to Southern California, Press Baron will make his Eclipse and stateside debut on Thursday for trainer Paddy Gallagher. A winner from just 2 tries in his native England, Press Baron has been idle from race action for 5 months and kicks off his North American career versus a compact, yet tough 6-pack of sophomores who will be vying for the lion's share of the $58,000 pot up for grabs at Santa Anita. Gallagher will give a leg up to Jose Valdivia, Jr., who will guide the son of King's Best from post 3 in the 8 furlong tour of the greensward in Arcadia. Post time for the 7th on the card is 4:07pm PT,7:07pm ET.
With the exception of a short-lived temperature spike last week, Press Baron has yet to skip a beat since his importation and has acclimated to California exceptionally well. The striking chestnut has made a favorable impression in the mornings and seems to have done everything right for Gallagher, who is known for bringing his Euro transplants along at a gradual trajectory, as opposed to letting them fire their best shot right from the get-go.
"Press Baron has excited us from Day 1, and but for a slight hiccup last week when he woke up with a fever, he's been perfect," Gallagher stated. "We haven't really tightened the screws all that much with him, so I expect for him to run respectably come Thursday, but to improve a whole lot from the run. It's still early in the year for a colt like him and the real racing we want him geared up for doesn't start for another couple of months, so we hope this race will serve as a proper launching pad to be able to move forward from. We're excited to see him get going."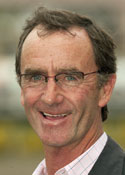 Eclipse President, Aron Wellman added, "When Press Baron came down with a fever last week, it really threw me for a loop. This colt was training so well and everything was going right for him. Had that minor bump in the road not happened, I'd be beaming with confidence knowing that he's gonna run a bang-up race. But, even though there's been no sign of illness or effect from the fever, I tend to put my guard up when those things happen. I still think he'll make a good account of himself, although we're proceeding with merely cautious optimism.
"What's most important is to get this guy going and hopefully see him have a positive experience," Wellman commented. "This is a really, really tough race and if Press Baron can relax and finish up strong while showing a bit of something, I think we'd consider the outing a success and feel good about how he'll progress as the year ticks on. He's trained with a lot of energy and if he brings that same level of energy and flashes the talent we know he has, then we'll see a representative effort. Regardless of how tomorrow results, I'm confident we've got a really nice colt on our hands."