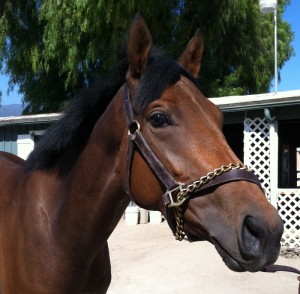 Byrama Second In Grade 3, $150,000 Providencia Stakes At Santa Anita
Byrama put forth a gutsy 2nd-place result for Eclipse Thoroughbred Partners in the Grade 3, $150,000 Providencia Stakes on Saturday at Santa Anita.
Simon Callaghan had Byrama turned out in beautiful condition for the race. She has clearly blossomed physically since she made her Eclipse debut stateside last December 30th. While Byrama looked stellar physically, she threw a bit of a hissy fit in the paddock prior to the race. First, she balked between the saddling enclosure and the walking ring. Then, once she was in the walking ring, she balked a few more times and wheeled around threatening to flip or do something silly. Callaghan rushed to leg up Garrett Gomez, which seemed to do the trick, as she settled down immediately and went onto the track and through the warm-ups without further incident.
Byrama broke well, but bore outwards the first few strides before the dirt hooked up with the turf course proper. As expected, Byrama was keen early, but Gomez followed instructions to a tee and as hard as Byrama fought to run fast early, Garrett fought harder and showed her who was boss. It took about a quarter of a mile for Garrett to convince Byrama to drop the bit, but she did finally settle into a relatively comfortable position in fourth as the field curved into the first turn.
Byrama coasted along down the backside, and, turning for home, Gomez was loaded and was faced with a choice to go inside, through the middle or outside. He chose the middle path, which opened the rail for the prohibitive favorite, Lady Of Shamrock, who was also loaded and drafting right behind Byrama. At the eighth pole, it looked as though the win was going to go to either Byrama or Lady Of Shamrock, but the latter proved too strong in the end and spurted clear to an impressive 2+ length score. Byrama, who lost a bit of ground around the turn, leveled off well and rallied boldly for second. Grade 1 winner Killer Graces was 3rd while Stakes winner and Grade 1-placed Charm The Maker was 4th.
"She ran a heck of a race," Gomez said while dismounting. "If this filly can learn to switch off right from the start, she can get any distance. But the way she is right now, she needs shorter races where there is more pace in front of her. Byrama has an amazing turn of foot, but we just couldn't use it to it's fullest today. I was impressed and I think there's plenty of improvement to come."
Simon Callaghan added, "I'm pleased with the effort. She never disappoints. The winner was clearly best and I take nothing away from her. If we can continue to work with her to get her to understand to conserve her energy better at the beginning of races, regardless of the distance, we will undoubtedly maximize her potential. Byrama is such a lovely, talented and hard trying filly. She'll have her day."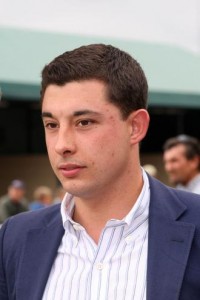 Eclipse President, Aron Wellman stated, "I was very satisfied with Byrama's performance. Running in this race was an afterthought and it's a huge feather in her cap to garner Graded black type to add to her Listed placing and the $30,000 she picked up 'aint too shabby either.
"She's so talented that if we can somehow combine her bahavior, style and ability into a singular effort, there's no telling how good she might be," Wellman said. "For now, 9 furlongs is a tad outside her scope because of her propensity to pull in the early going and the slower pace scenario. A mile should hit her between the eyes because the pace will be more legit and she'll settle naturally without having to be wrangled by her jockey."
Option A for Byrama's next outing is the $100,000 Grade 3 Senorita Stakes at Hollywood Park on May 5th. Eclipse may consider taking Byrama's act on the road for the $100,000 Edgewood Stakes at Churchill Downs on May 4th, which is Kentucky Oaks Day.
Byrama became Graded Stakes performer number 3 for the young Eclipse Stable. Eclipse also has another horse who has a Listed placing in Patrioticandproud. Therefore, 4 of just 6 starters to carry the Eclipse black and baby blue since the company saw its' first runner hit the track last mid-October have either won or placed in Graded or Listed Stakes races.