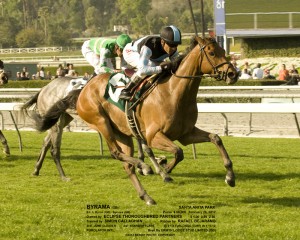 Byrama Essays Grade 3, $150,000 Providencia S. Saturday At 'Anita
Byrama has done nothing wrong in her 5 career trips to post. She had a third and a win overseas before being imported toCaliforniaby Eclipse Thoroughbred Partners. Since becoming a California-girl, Byrama has a third place finish in a Stakes and a second and a win in allowance company. On Saturday, the energetic daughter of Byron will get the acid test for class and a true test of stamina when she goes postward in the Grade 3, $150,000 Providencia Stakes at Santa Anita.
The Providencia goes off as the 8th race on the Santa Anita Derby card. Post time for the Providencia is 3:30pm PT, at which time Garrett Gomez will spring Byrama from post 4 of 7 fillies setting out on a 9 furlong tour of the turf at The Great Race Place.
If Byrama is going to make an impact in the Providencia, she will have to settle early under Gomez, who will be asked to employ tactics of anchoring the filly early, regardless of pace, and reserve her for a big run the final quarter-mile. Byrama was reverted to an elongated sprint down the unique hillside course at Santa Anita 6 weeks ago with the intention of teaching her to relax from the start of her races so she can utilize her explosive turn of foot. She accepted the challenge on that occasion and rifled home an impressive winner. Whether she is capable of obliging Gomez's demands stretching out to 9 furlongs in a compact field with a likely slow projected pace is the key to her result.
"Byrama is in great form at the moment," commented Simon Callaghan. "We've given her 6 weeks since her last race and the time seems to have done her well. She's happy and in good spirits. We really haven't done all that much serious work with her during the gap in races, but she's kept herself fit and she's very will in herself. Garrett (Gomez) breezed her last weekend and got to know her a bit, so we're hoping that proves beneficial come race day.
"The obvious concern is whether Byrama will obey Garrett's commands and drop the bit right from the start," Callaghan acknowledged. "All of these fillies are trying 9 furlongs for the first time, so the distance is a question for all of them and the pace scenario is an unknown. What we do know at this stage is that Byrama's most effective style is to turn off early with the hope of turning it on late. There are plenty of nice fillies in the lineup, but if our filly runs the race we think she's capable of, we'd expect her to have a say."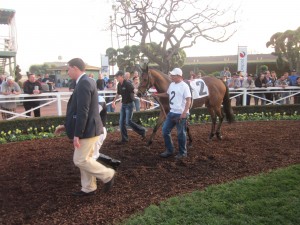 The prohibitive favorite in the race will be Lady Of Shamrock, who drew the pine with Mike Smith for John Sadler. Lady Of Shamrock has been the dominant sophomore filly on the lawn this winter, having taken down the Blue Norther and the China Doll with ease. She got the best of Byrama in the Blue Norther and Byrama gets an opportunity to turn the tables on her on Saturday.
Eclipse President, Aron Wellman, offered, "We were in a bit of limbo as to where we wanted to run Byrama after her allowance win. She had run 3 strong races back-to-back-to-back at the meet and we knew we wanted to give her a little breather. We considered sending her to Keeneland for the Appalachian, but it's always risky sending a horse to run on the turf at Keeneland because of the uncertain weather and the funky nature of that turf course. Horses either love it or they hate it. At this stage of the season, we weren't willing to take that chance.
"So when we learned the Providencia was coming up light on numbers, we had a re-think and decided that the timing was good and we'd capitalize on being able to run right out of her own stall," Wellman reasoned. "I'm not as concerned about the distance or the pace as I am about how Byrama will behave during the running of the race. We have a lot of respect for every filly in the lineup, but we also believe that Byrama may have the best closing kick. If she relaxes and the race turns into a sprint for home the final 3 furlongs, we like our chances of making a solid impact on the race."