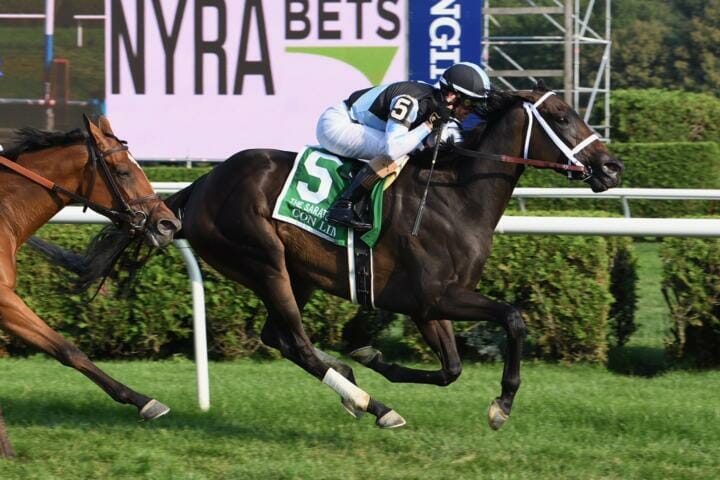 The Saratoga Special: Prat Out
By Sean Clancy Saratoga Special
Flavien Prat gave away his first pair of goggles in the winner's circle. He handed out his last pair before he walked out of the clubhouse. He stopped for a photo with three boys, waited for the youngest to get in the middle. He signed a dog-eared program, four letters, Prat, scribbled with a pen running out of ink. Then the 29-year-old French-born jockey looked up and around as fans swirled through the final minutes of a Sunday closeout.
"Just to get the opportunity to come on a weekend like this is pretty huge," Prat said of a rare weekend out of California. "I'm riding for top trainers and I'm always grateful for that. I try to get the best out of it."
Three stakes wins in three days, culminating with a front-running gem aboard Con Lima in the Grade 3 Saratoga Oaks, worth $700,000, on his first trip here this summer – yeah, that's getting the best out of it.
Aboard Con Lima for the third consecutive time, Prat hammered the race shut with a definitive move to the front. She did the rest, skipping to a three-quarters of a length win over Irish-breds Higher Truth and Creative Flair. Owned by Eclipse Thoroughbred Partners, Joseph Graffeo, Del Toro, Eric Nikolaus and Troy Johnson, Con Lima earned her seventh win in her 13th start to push her earnings to $884,865. Trained by Todd Pletcher, the Texas-bred daughter of Commissioner finished 1 3/16 miles in 1:54.42 over the firm turf.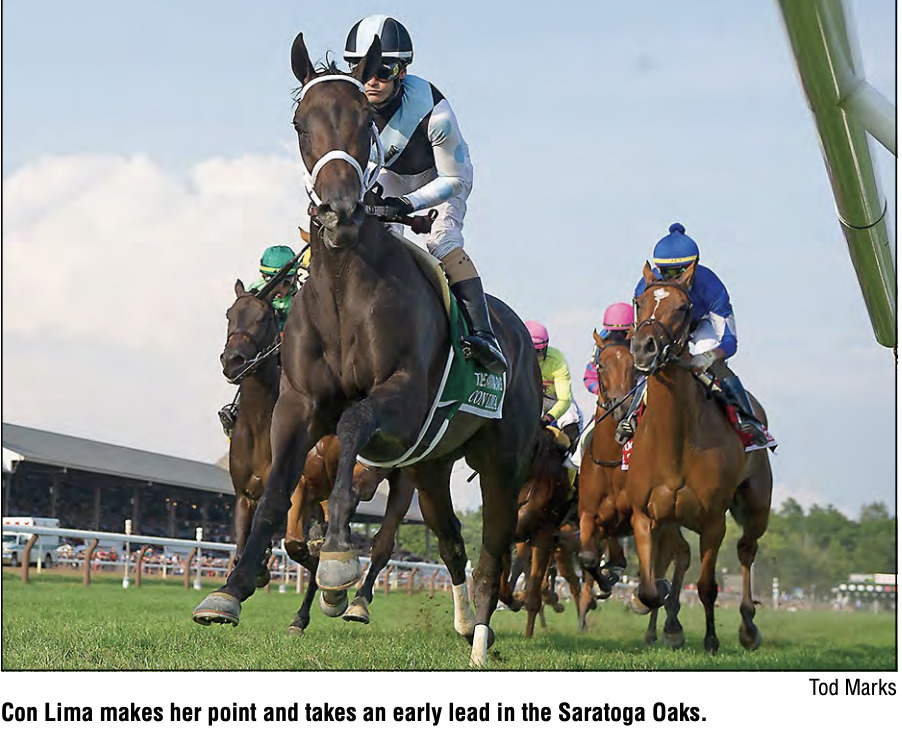 "When I hit the first turn, I was traveling really well, she was relaxed, she wasn't pulling me, I felt pretty comfortable. She likes to be forwardly placed and she's getting much better at getting herself to relax. That's the main point," Prat said. "I was just trying to get her to relax. She can be a little keen. If you let her, she'll do quite more than you want. I just try not to fight her. I got her ready to kick and she was ready to kick."
Prat collected the Grade 2 National Museum of Racing Hall of Fame with Public Sector for Chad Brown Friday. Saturday, he rode four races, winning the Fasig-Tipton Lure with Flavius for Brown. Sunday, he finished second on Consumer Spending in the second and seven races later won the Saratoga Oaks for his 33rd stakes win of the year.
"Growing up, I didn't have much clue about which racetrack was big and not big. I knew a lot more about Santa Anita than Saratoga," Prat said. "I know it's one of the oldest racetracks in the States and the world. It's always an honor to ride here on big weekends like this. It's what you work for. Sometimes, it doesn't happen. I'm fortunate I get the opportunity to ride great horses and ride against the best riders in the world. It's fun."
No one had more fun than Con Lima.
Sent off the tepid favorite at 3-1, Con Lima broke slightly to the right, brushing with Rocky Sky before clearing four inside rivals. As seven jockeys took back, Prat took control, allowing Con Lima to free wheel to the front, swapping to her left lead and pricking her ears as she went under the wire. By the middle of the first turn, Con Lima led by 1 1/2 lengths over Gam's Mission and Higher Truth. Irish raider Messidor found a spot in fourth while Rocky Sky stayed wide. Plum Ali floated widest of all as British raider Creative Flair dropped from post seven to the rail. Maryland shipper Out Of Sorts settled in last.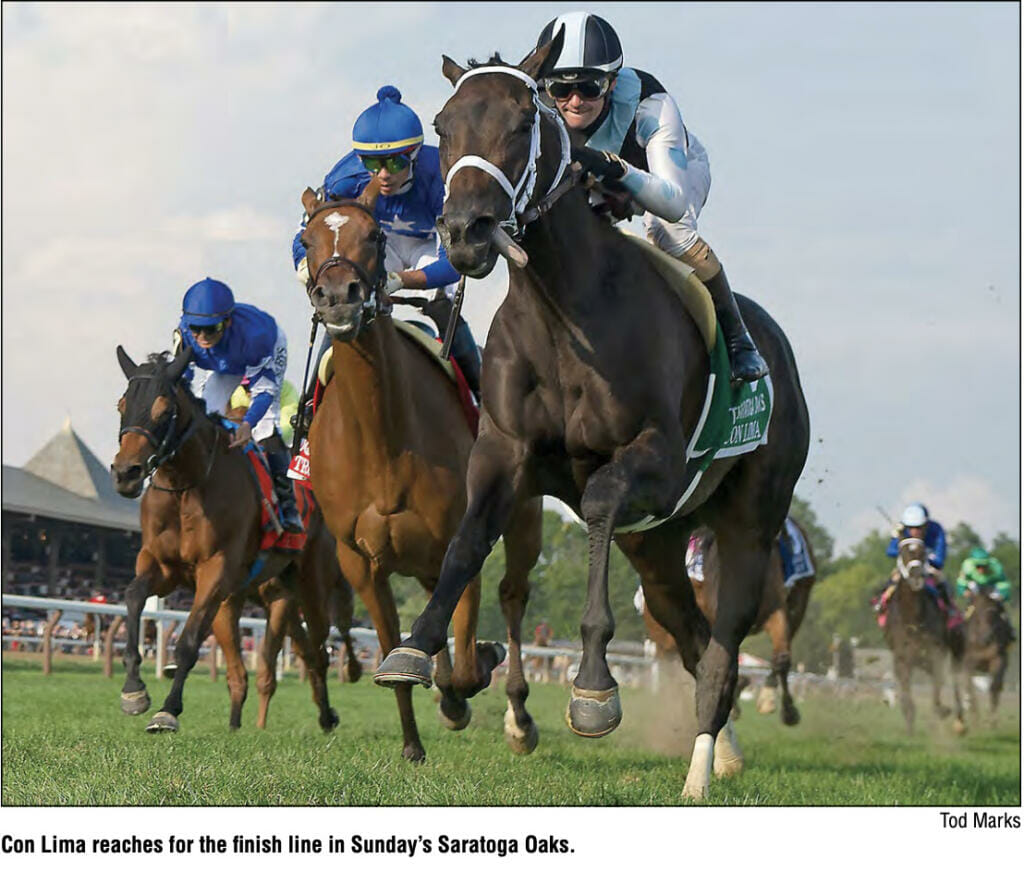 Con Lima scampered down the backside, order relatively unchanged behind her, through a half-mile in :50.02 and three-quarters in 1:14.34. Midway on the turn, Prat switched from tempering Con Lima's enthusiasm to asking for it, lowering his body and following her tempo. She responded in an instant, cutting the corner and opening up on Higher Truth who had followed her the whole way and second choice Creative Flair who slid out for a seam. It didn't matter about seams at that point as Con Lima powered home, ignoring an awkward half-step to the left inside the sixteenth pole and swapping to her left lead about a dozen strides before the wire.
"It unfolded beautifully, she was going easy, she pricked her ears. It was exactly how we hoped," Pletcher said "She's got good, natural speed and the ability to carry it over a route of ground which is key. From the American horses, I said we were going to be on the lead. There were a couple from Europe but leading in Europe might be different than here, so I wasn't sure. Our first plan was to walk the dog if we could."
Consider the dog walked and home on the porch.
"That was beautiful," Eclipse's Aron Wellman said. "Pace makes the race."
And purchases make the stable.
Joseph Graffeo purchased Con Lima privately after the dark bay filly failed to meet her reserve at $22,000 at the 2020 OBS March sale. Consignor Niall Brennan sent a video of the Lisa Kuhlmann-bred filly to Graffeo. He liked it enough to send it to his partner, Charles Weston.
"I buy horses in the 20 to 50 range, I look for a specific type, we're pretty picky. You'd think we'd take anything but we don't," Graffeo said. "I looked at the video, she seems athletic, she seems fine and she's going to be the right price. I called my partner up and said look at this filly. He called me back and in his Texas drawl, he said, 'Joseph, pull the trigger.' "
Graffeo made the deal and sent the filly to Carlos David at Palm Meadows. It didn't go well.
"I've been around 100 years, when she trained the second day, I said, 'Oh, boy.' She didn't want anybody to pass her," Graffeo said. "You're trying to train her to run with the other horses, it wasn't going to happen. She was unique."
Con Lima finished second in her debut at Gulfstream Park July 11 and came right back to win July 31. That's when Eclipse called.
"I did a little research and Eclipse came up very strong," Graffeo said. "It was a fast deal, they didn't fight with me at all. I said, 'Here's a price, we want to stay in for 25 percent.' It was done. Then they said she's going to Todd Pletcher. No offence to Carlos David but it's Todd Pletcher."
Con Lima arrived at Pletcher's barn in Saratoga and the learning curve began again, for horse and trainer.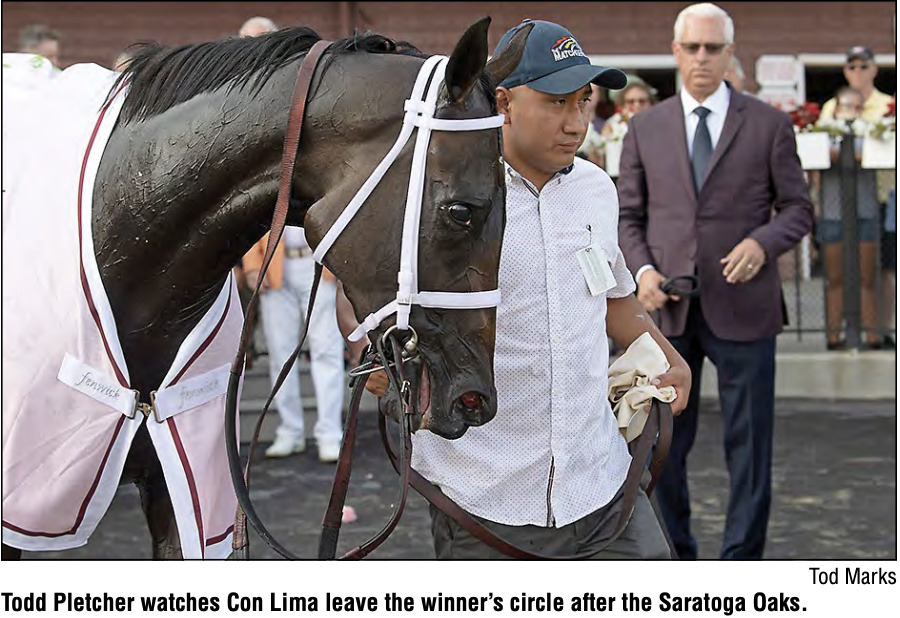 "We have a routine where we line the horses up, check them and jog them," Pletcher said. "She really didn't want a part of that to begin with, we work around her a little bit. It's paid off, she's gotten more and more mature and more and more professional at the races."
For Pletcher, Con Lima finished second in the off-the-turf P.G. Johnson and again in the off-the turf Our Dear Peg back at Gulfstream. Introduced to the turf in her next start, Con Lima won in a front-running romp and she's been strong ever since, winning five stakes, including three Grade 3 stakes.
As for Pletcher, inducted in the Hall of Fame Friday, it was a magical end to a monumental week.
"It's been a full week. A full week. I'm really excited about it and also happy that it's behind us," Pletcher said. "A lot of memories, when you're thinking about what you want to say, you reflect on so many horses and owners and people who have been a part of that 25 years, so you think about those things. As I said it's impossible to list them all or mention them all or thank them all, publicly. I still haven't fully absorbed it or reflected on it."
Asked why he made it, why he's smashed every record and was a first-ballot Hall of Famer, the 54-year-old Texan tried to deflect it.
"Got lucky, I guess…" Pletcher said.
He knew that wasn't jiving.
"I don't know," he continued. "Try to stay focused and work hard. You try to take care of your horses. Obviously, you've got to have some ability and then you have people give you horses that are good enough to perform well."
Again, a pause and then Pletcher offered more insight into what makes him tick, thinking back to a television special he watched on Hall of Famer Jerry Rice, arguably, the greatest wide receiver to play the game.
"Jerry Rice said, 'I would go into practice every day thinking I was losing my job.' They interviewed Deion Sanders about him and he said he goes back two days after they win the Super Bowl and everybody's clearing out their lockers and he hears stuff going on outside. He walks out there and here's Jerry Rice running drills," Pletcher said.
"You've got to look at it like that. Every day is a new one. I look at it more from that angle than I do from a confidence angle. Fear of failure maybe."