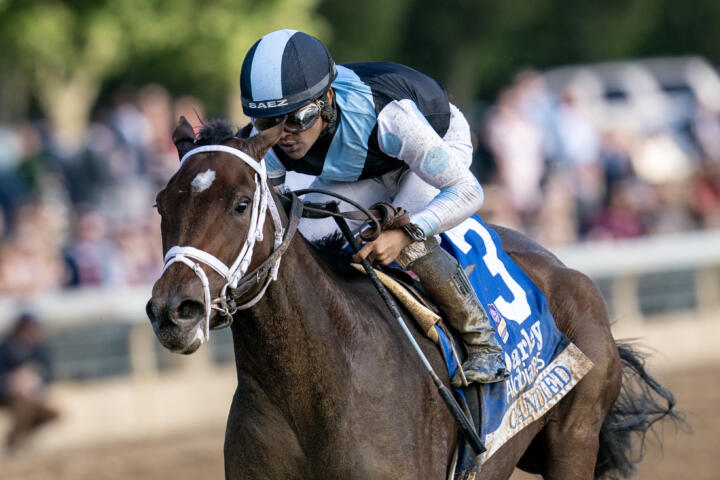 Pletcher, Eclipse Bring Formidable 2-Year-Olds To Breeders' Cup: 'Battle-Tested' Candied, 'Terrific-Minded' Lo
by Edited Press Release Paulick Report
With her one-length victory in the Alcibiades (G1) on Oct. 6, Candied started Eclipse Thoroughbred Partners on its way to a historic double in Keeneland's Grade 1 races for 2-year-olds. Some 24 hours later, Eclipse and Walmac Farm's Locked completed the sweep in the Breeders' Futurity (G1),
Candied, who drew the rail in the NetJets Breeders' Cup Juvenile Fillies (G1) Friday, is unbeaten in two starts for Hall of Fame trainer Todd Pletcher. She debuted with a three-quarters of a length victory going 6 furlongs at Saratoga on Aug. 20 at 5-1. She showed that she could prevail around two turns in the Keeneland score at 4-1 despite not switching leads.
"I thought it was super-impressive," Pletcher said. "It's not only a lot to do for any horse, but when you factor in that she was running against some really seasoned fillies that had multiple starts like Brightwork and (Kenny) McPeek's filly, V V's Dream. Those fillies had quite a bit of an experience edge on Candied. For her to stretch out from six furlongs and go to a mile and a sixteenth against those fillies in only her second start that was a tall order, and she delivered an impressive performance."
Aron Wellman said Eclipse's VP for Bloodstock Sean Tugel deserves credit for short-listing Candied at the 2022 Fasig-Tipton July sale.
"He spotted her on the sales grounds and was immediately enamored by her," Wellman said. "Throughout the week she jumped through all his hoops and he was sending me videos and updates on her as we went through our process. We decided we were going to take a swing at her and were very pleased to land her at the price we did, $165,000. That's not a little amount of money by any stretch of the imagination, but in the grand scheme of the marketplace, relatively speaking, it was a very good value, especially for a daughter of Candy Ride with a little bit of pedigree underneath her as well."
Wellman said that Candied is not yet as professional as Locked.
"Candied is a filly that's given us fits actually ever since she was broken and trained, particularly as it relates to her lead changes," he said. "She just is very stubborn about her lead changes. And if you watch her two races she hasn't switched leads in either of them in the stretch. She stayed on her left lead all throughout her races. So that is a cause for concern because at some point, she's going to run into somebody that's just better than her that she's going to have to pull out more. And if she's not quite as polished as she needs to be at the elite level, it could come back to make the difference."
Wellman said it is tough to make a horse do something it doesn't want to do, especially when it is running fast and winning.
"She's just a very gifted filly. There's no telling where her ceiling might be," he said. "Love the fact that we got a battle-tested two-turn race into her before the Breeders' Cup. I think that's one advantage she has over the bulk of her competition. We'll see what happens on Friday. She's an exciting filly and there's no telling how good she might be."
A mere three races into his career, $2 million FanDuel Breeders' Cup Juvenile (G1) favorite Locked is already living up to lofty expectations. After a debut third, he jumped from a runaway 1-mile maiden victory at Saratoga on Sept. 1 directly to a challenging half-length victory in the Breeders' Futurity (G1) at Keeneland and is the 7-2 morning line favorite in the Juvenile.
Eclipse Thoroughbreds Partners and Walmac Farm co-own the son of Horse of the Year Gun Runner. Aron Wellman, founder and president of Eclipse Thoroughbreds, said his team identified him as a must-have prospect at the Keeneland September 2022 sale. They went to $425,000 to acquire the chestnut bred by Rosa Colasanti.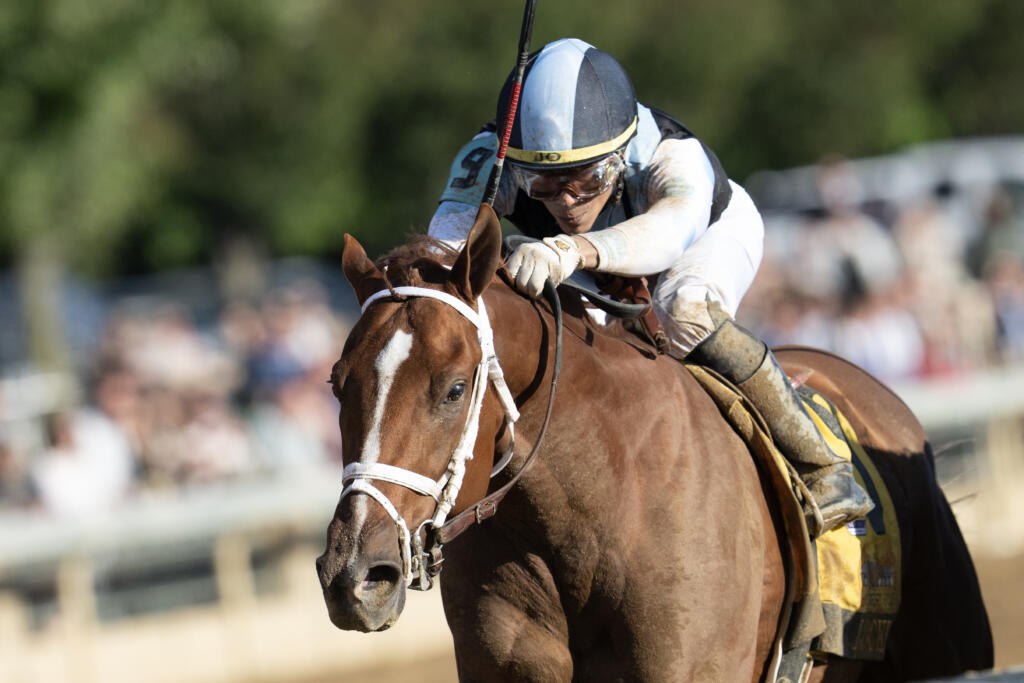 "He was a standout based on our inspections and evaluation of him," Wellman said. "We're very fortunate to have added him to the stable. Most of the time that proves not to be the case, but, thankfully, in his case, we were right."
Locked came loaded with the qualities that Wellman hopes to find at auction.
"He was a really athletic colt, with a lot of scope to him," Wellman said. "He looked like a two-turn Classic type. The thing that really stood out, aside from just his sheer confirmation and physique was that he was really easy on himself. I find fillies a lot easier to read as yearlings. They're a little bit more emotional, a lot more intelligent. But for him, he just seemed to be a bit wise beyond his years."
Wellman said he has learned that looks aren't everything with a yearling.
"When you've got the physical attributes like him as a colt, sometimes you worry that they're going to be a little bit too over-zealous, to not put the mental part of the game together with the physical," Wellman said. "He struck us at the time as one of those horses that had not just the physical constitution, but the mental constitution as well. Thankfully, that's proven true. We're wrong way more than we're right, but it only takes a few of these types to make up for the majority of the misses."
Trainer Todd Pletcher was not involved in the selection of Loaded.
"When they sent him to us they said they had high hopes for him," Pletcher said. "They liked the way he had been training. He came to us in excellent condition.
"He was just one of those colts that everything we asked him to do he did perfectly. He's a very quiet colt to be around. He'll do whatever you ask him to do. If you want him to work fast, he will. If you want them to work easily, he will. He's got a great temperament and disposition. I think that's part of what makes him successful."
Pletcher sent him out for his first start, going 6 furlongs, on Aug. 5 at Saratoga. He got away last in the field of 10, but ended up third by 3½ lengths.
"I thought his debut was impressive," Pletcher said. "He was green early, climbed from the kick-back like most of them will do, leveled off very well in the stretch finished strongly then galloped out really, really strongly. He came back with two good breezes leading up to the mile maiden. I thought that was a super-impressive race running in 1:36 flat. It might have been the fastest mile time on the dirt at the meet. I don't recall a faster one.
"Then he came back with a really difficult trip in the Breeders' Futurity. He was wide throughout from the widest post and was able to win despite that. He's been a star since Day One. He is a terrific-minded colt that just does everything right and I think is going to continue to improve as the races stretch out in distance and he matures."