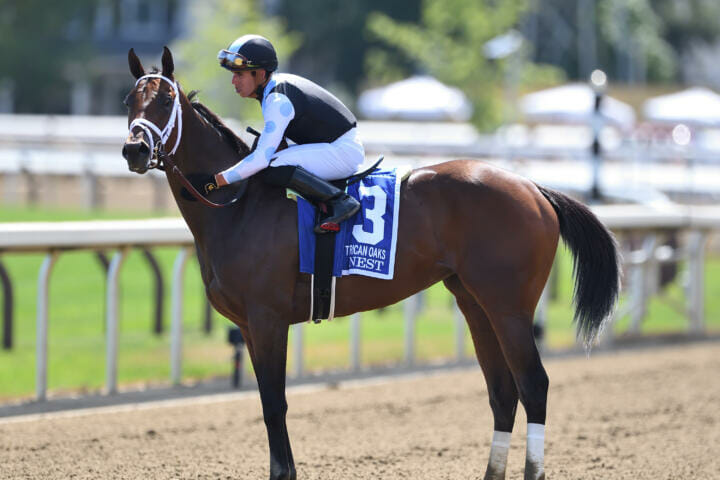 Eclipse's Jack Sadler Pays Tribute To Nest: A Thrill Of A Lifetime
Watching Nest's career unfold has been a thrill of a lifetime! I was delighted when Eclipse purchased her at the 2020 Keeneland Yearling Sale because she was a filly by Curlin. When Curlin began his stallion career, I told many people I thought he could possibly develop into one of the all time great stallions- and he has!
While living in South Carolina, we are relegated to watching a horse run on what is now FanDuel TV or the computer. My wife Susan and I never missed a Nest race. When we have a promising two-year-old, I often am more nervous than when watching other horses run in Stakes races. I was super nervous with anticipation when Nest made her debut at Belmont on September 25, 2021. She did not disappoint winning by five lengths as much the best. Asking a filly to jump into a Stakes race off just a maiden victory is a lot to ask of a two-year-old and Nest gave a very creditable effort finishing third beaten only 3/4's of a length in the Tempted Stakes also at Belmont on November 15. She bounced back a month later getting her first Stakes victory in the Demoiselle Stakes-G2 at Aqueduct on December 4 finishing off her two-year-old campaign on a high note.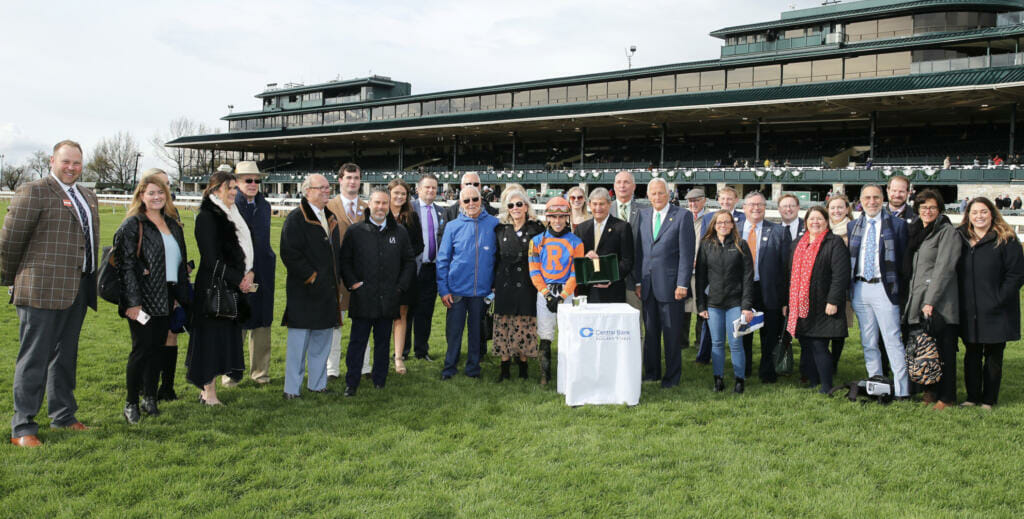 When a filly has a successful two-year-old campaign like Nest did, the Kentucky Oaks immediately becomes the next goal. Nest's trainer, Todd Pletcher, has the cream of his three-year-old crop spend the winter at the Palm Beach Training Center in Florida. Nest began her three-year-old campaign capturing the Suncoast Stakes at Tampa Bay Downs by six lengths on February 12. This race set her up perfectly for the Ashland Stakes-G1 at Keeneland on April 8. The Ashland is a major prep for the Kentucky Oaks and Nest proved best winning by an overwhelming 8 1/4 lengths. It also was her first Grade 1 victory.
In the Kentucky Oaks-G1, Nest had to come from off the pace. The winner, Secret Oath, got the jump on Nest but our filly ran hard through the stretch and was gaining on Secret Oath at the finish. We immediatley were looking forward to a rematch.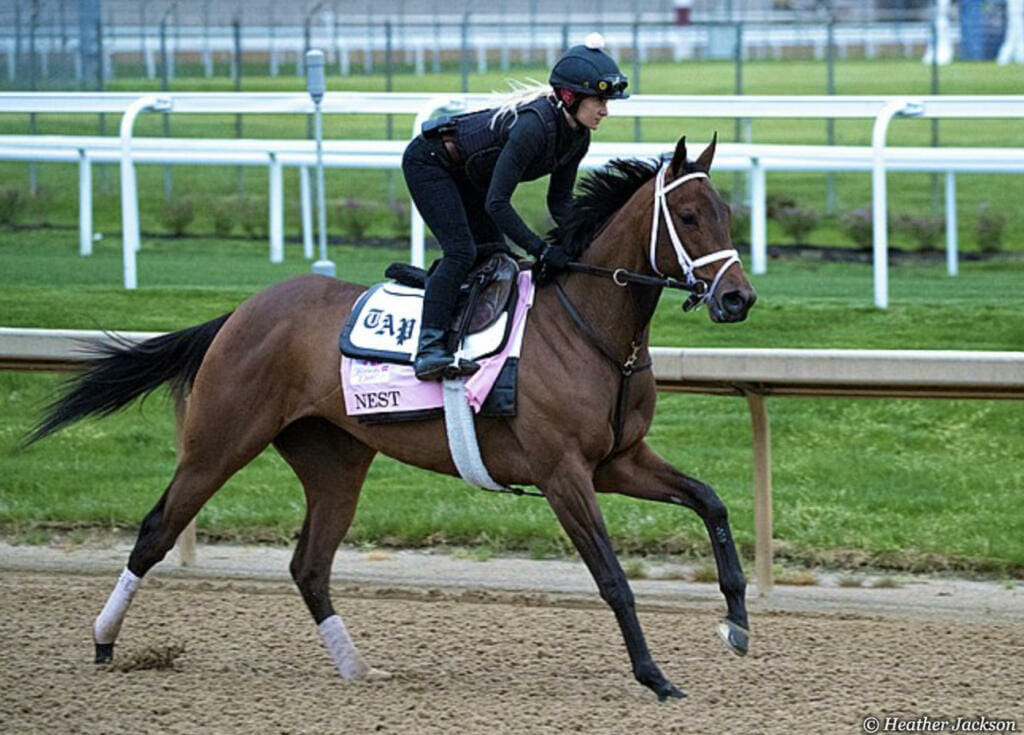 Before a rematch with Secret Oath, though, Aron, the Nest team and Todd decided to tackle the Belmont Stakes-G1. Todd has had great success in the Belmont and knows how to prepare both fillies and colts for this 1 1/2 miles test. Nest put herself in a difficult spot stumbling at the start but then showed her class finishing second in this third leg of the Triple Crown.
I knew we had a very special filly and was looking forward to seeing her run in the prestigious three-year-old filly Stakes at Saratoga. In the Coaching Club American Oaks on July 23, Nest got her revenge on Secret Oath defeating that filly by 12 1/4 lengths.
Since 1990, I have only missed going to Saratoga three years. I have been fortunate to see many of the best horses in training at the time run at Saratoga and Nest is a member of that list. Susan and I were very blessed to see Nest compete in the Alabama Stakes-G1 on August 20. Susan was using a scooter recovering from a broken ankle. When the field hit the top of the stretch, we knew Nest was going to be the winner so Susan quickly scooted to the winner's circle. I was chasing behind her.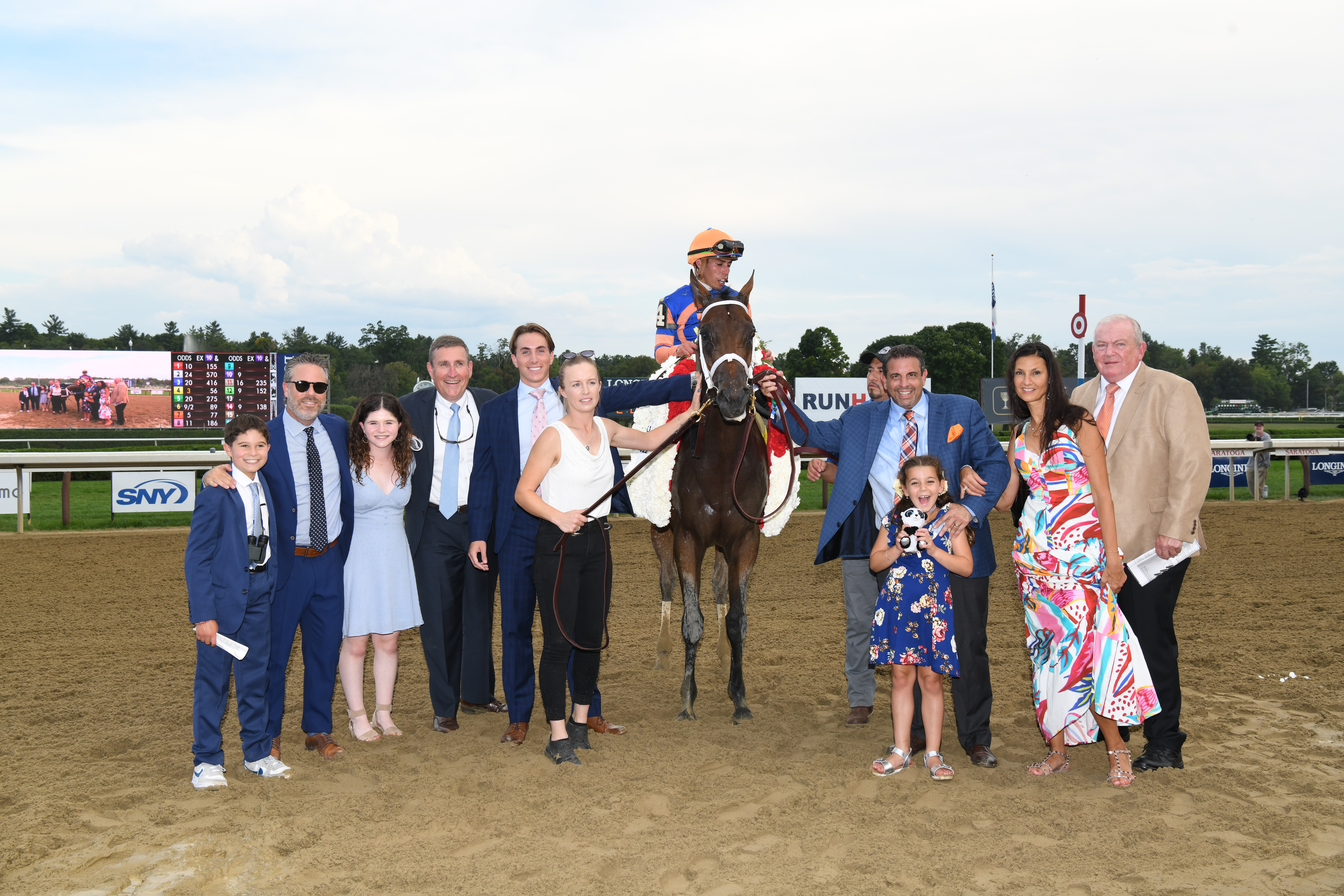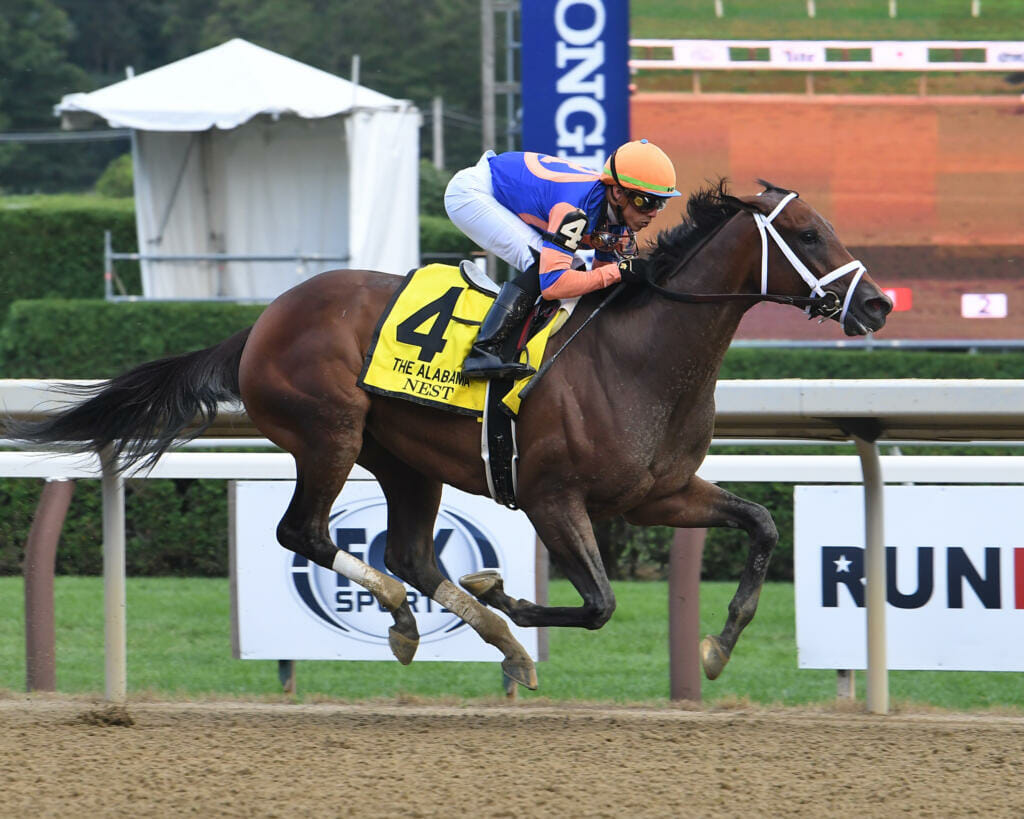 We watched Nest capture her sixth Stakes victory in the Beldame Stakes-G2 on October 9 at Aqueduct from our living room couch. We were not going to miss being at Keeneland for the Breeders' Cup. Susan and I, our son, J.T. and his wife Katy and our daughter Callie with her husband Chima, all were at Keeneland for a special family weekend. Nest was up against the best older fillies and mares in the country and finished a respectable fourth. We were all happy to be there and very proud of Nest.
We came into 2023 looking forward to more thrills from Nest. Unfortunately, she developed a fever when she joined Todd Pletcher's stable in Florida and had an extremely difficult time keeping her temperature down to normal. She returned to racing at Saratoga on July 23 winning the Shuvee Stakes-G2, defeating the favorite, Clairiere, by 2 1/4 lengths.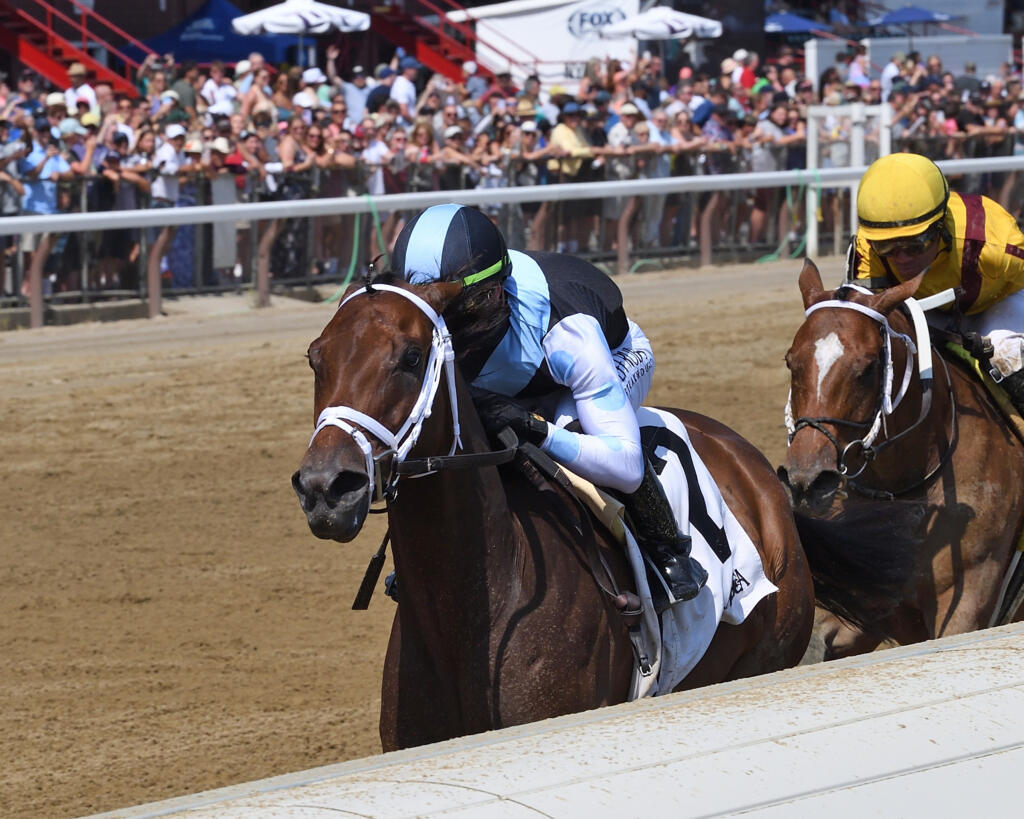 Nest finished third and fourth in two Grade 1 Stakes, the Personal Ensign and Spinster Stakes. While the results were not what we had hoped for, we could never be disappointed in Nest. She owed us nothing!!
The members of the Nest partnership were very spoiled right from the beginning and I believe they realized it. Some have been in the game a long time and others were just getting their feet wet. I have been involved in the racing partnership game for over forty years now and this partnership group was first class from Day 1.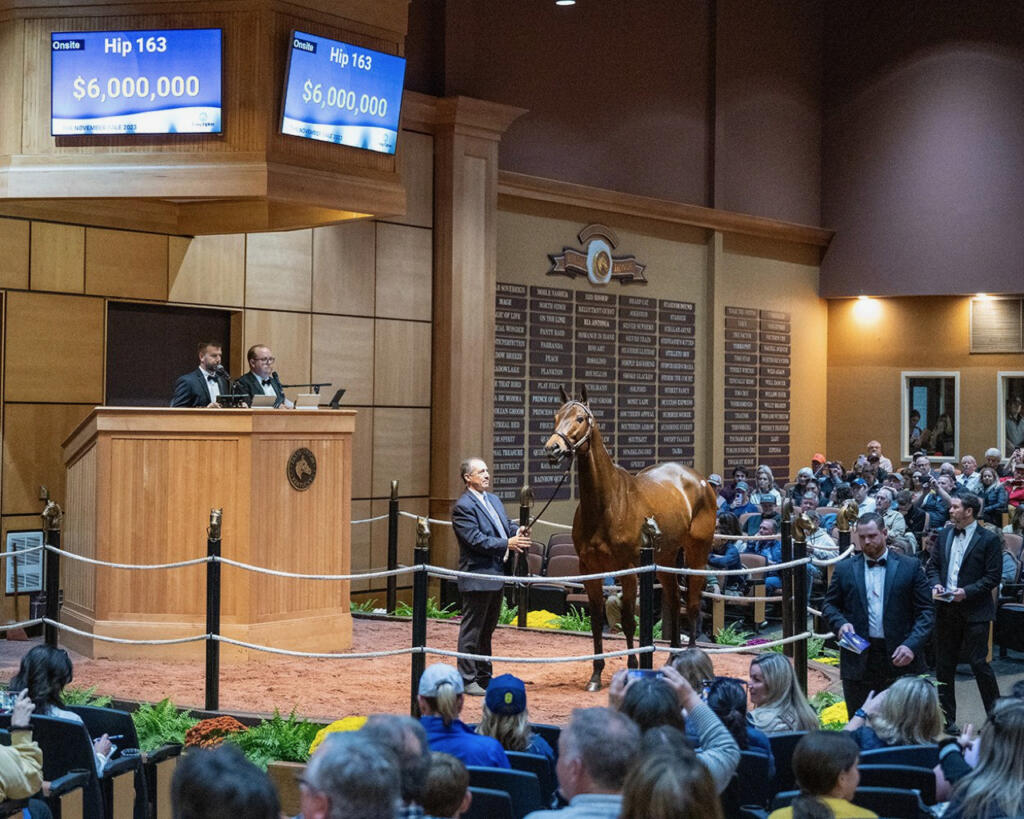 Nest sold for $6,000,000 at the Fasig-Tipton Night of the Stars Sale on Tuesday, November 7. I watched the sale on my computer and was both happy and teary-eyed at the same time. Nest has put so many smiles on so many faces over the past few years. I can't thank her enough. We do not know for sure what the future will bring but I believe at the end of the day, Nest will become one of the greatest broodmares of her generation.