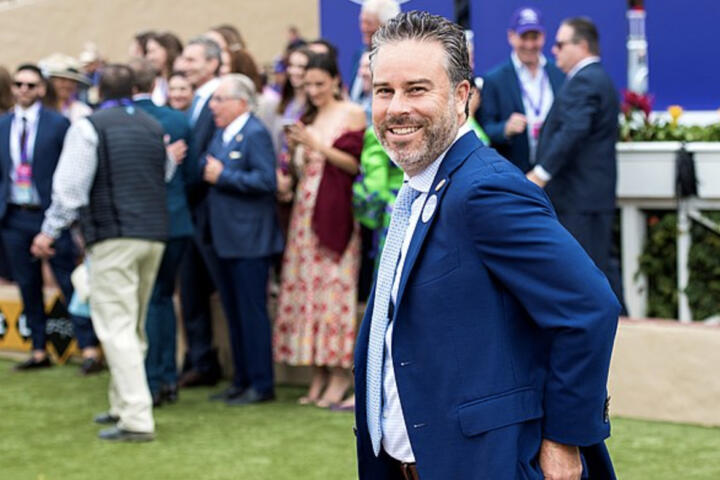 Eclipse Seeks Rare Double at the Breeders' Cup
When Aron Wellman started Eclipse Thoroughbred Partners in 2011 he envisioned being a part of history.
Over the course of the ensuing 12 years, the president and founder of Eclipse has teamed with chairman Brian Spearman to achieve some impressive results, such as compiling $47 million in earnings. Yet it wasn't until earlier this month that the partnership entered the history books.
That's when Eclipse runners Locked  and Candied  won the Breeders' Futurity (G1) and the Alcibiades Stakes (G1), respectively, making the stable the first ownership group to capture both grade 1 stakes for 2-year-olds on the same weekend at Keeneland.
"We're very proud of what we have accomplished with 25 grade 1 wins and 65 graded stakes wins in 12 years," said Wellman, a licensed attorney who lives in Del Mar, Calif. "We wanted to make history and that's what we were fortunate enough to do at Keeneland with Candied and Locked."
For its next trick, Eclipse is hoping to make 13 a lucky number.
"We've been very fortunate. We started the stable in October 2011 and had our first Breeders' Cup starter the following month with Sweet Cat, who was third in the Breeders' Cup Juvenile Fillies Turf," Wellman said. "Since then we've been so fortunate that every year since we have been represented by at least one runner in the Breeders' Cup."
On Nov. 3 at Santa Anita Park, a.k.a Future Stars Friday at the Breeders' Cup, Wellman would love nothing better than turning the partnership's 13th straight appearance into an encore of Oct. 6-7 at Keeneland with its Todd Pletcher-trained 2-year-olds making Eclipse just the third owners to sweep the Breeders' Cup Juvenile (G1) and Breeders' Cup Juvenile Fillies (G1) in the same year.
"It's hugely humbling," Wellman said, whose stable could join Overbrook Farm (1994) and Gene Klein (1988) with a Juvenile-Juvenile Fillies double. "We annually buy 15-20 yearlings a year and to be represented by legitimate contenders in the Juvenile and Juvenile Fillies who have won grade 1 stakes is a great honor and a testament to the partners who put their hard-earned dollars into our programs and our team."
With both juveniles coming off wins in major preps for the World Championships, the feat holds true to the goals Wellman originally set in place for the partnership. Namely, giving partners the experience of participating in major events in the present and with an eye toward the future and races such as the Kentucky Derby (G1) and Kentucky Oaks (G1).
"We try to develop a well-rounded stable but when a partner comes to Eclipse it's with the expectation that we will get them into the starting gate at the biggest venues on the biggest days in the biggest races. Not just to see your name in the program and have a fancy lunch but have a legitimate opportunity to win those races," said Wellman, who worked as a vice president for the Team Valor partnership for 3 1/2 years before starting Eclipse. "Thanks to our partners putting their faith in our program we've been able to be in position to deliver those results. What separates the men from the boys in this game is being able to do it on an annual basis as opposed to delivering lightning in a bottle."
Given a huge boost in 2012 when Cot Campbell retired and merged partnership pioneer Dogwood Stable with Eclipse, the stable has already enjoyed the exhilarating joy of a 2017 Belmont Stakes (G1) victory by Tapwrit   and Nest  being named the champion 3-year-old filly of 2022. Now it has a golden opportunity to add to those accolades on a day filled with great hopes and expectations for the roughly 300 partners who own shares of the horses Eclipse syndicates as separate LLCs.
"It's a credit to the job Eclipse does in finding top level horses," Pletcher said about having both Locked and Candied in the same year. "It shows how remarkable the team they have is. The whole team at Eclipse has been terrific to work with. I started with Aron from the beginning with Sweet Cat (who Pletcher owned and trained) and it's been a great run."
Locked, a son of Gun Runner  , has won 2 of 3 starts, topped by a half-length victory in the 1 1/16-mile Breeders' Futurity that came on the heels of a dominant 7 1/4-length victory in a maiden race at Saratoga Race Course.
"Locked was the more obvious of the two juveniles," Pletcher said. "He was very laid back and will do whatever we ask. We knew he had quite a bit of talent from the start. We thought he'd improve with distance. He climbed from the kickback (when he was third in his Aug. 5 debut) but then he really leveled off very well. I thought his maiden win at a mile was the most impressive 2-year-old race of the meet at Saratoga."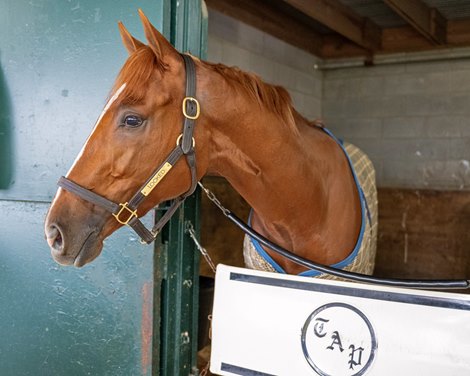 Faced with a two-turn test for the first time in the Breeders' Futurity, jockey Jose Ortiz and Locked broke from the outside post in a field of eight with the 3-5 favorite and rallied from seventh to grab the lead leaving the eighth pole and cross the wire a length ahead of fellow Juvenile pre-entrant The Wine Steward  in 1:44.62 for the same 1 1/16-mile distance he'll travel at the World Championships.
"He's push-button," Wellman said. "He's proven himself to be a man among boys."
Locked, bred by Rosa Colasanti in Kentucky out of the Malibu Moon mare Luna Rosa, was bought for $425,000 from the Eaton Sales consignment at the Keeneland September Yearling Sale.
"Locked was a horse we loved from the moment we first laid eyes on him. We do not pay much attention to the pedigree until we check the physicality. Athleticism is our number one priority when it comes to our evaluation process. He was a horse with a sturdy conformation, an athletic walk, all the scope you could want in a two-turn, classic-looking individual," Wellman said. "What made him so attractive was that he was so intelligent and easy on himself. We perceived him as a horse who could perform at the elite level mentally and physically."
The undefeated Candied, a daughter of Candy Ride  , required more work on Pletcher's part to emerge as a winner of the Alcibiades in her second start.
"She was not as obvious as Locked," Pletcher said. "She could be intimidated on the inside and took longer to put it all together. In her last couple of works before her debut, she finally started to figure it out."
A length winner of the mile-and-a-sixteenth Alcibiades under Luis Saez, the juvenile filly has yet to freely change leads in the stretch.
"Candied has given us fits. She's an exceptionally talented and gifted filly, but she has a stubborn streak in her, especially on switching leads on cue," Wellman said. "Todd and his staff deserve a ton of credit and the union with Luis Saez has been a turning point. They get along fabulously."
Pletcher said the refusal to change leads is not a matter for major concern.
"We're focused on trying to get her do to it but we're not obsessed with it," the eight-time Eclipse Award winner said. "She's obviously running very well now and getting more and more professional."
Candied, bred by Buck Pond Farm in Kentucky out of the Roaring Fever  mare Toni Tools, was a $165,000 purchase from her breeder's consignment at the Fasig-Tipton Kentucky Select Yearling Sale.
"Sean Tugel (Eclipse's vice president of bloodstock) picked her out and short-listed her at the sale," Wellman said. "We landed her for a reasonable sum as a refined daughter of a blue-chip stallion in Candy Ride."
From 25 starters at the World Championships, Eclipse has been a part of two wins (Aloha West, 2021 Sprint, G1, and Sharing, 2019 Juvenile Fillies Turf, G1) and nine placings.
With a team that also includes vice president of partner relations Kelsey Marshall Hughes, vice president of operations Jack Sadler, and chief financial officer Bill Victor, Eclipse expected to have another major player at the Breeders' Cup in Nest. But after two sub-par finishes in the Spinster Stakes (G1) and Personal Ensign Stakes (G1), the $2.1 million earner jointly owned by Repole Stable and Michael House has been entered in the Nov. 7 Fasig-Tipton November "Night of the Stars" Sale.
"She owes us nothing," Wellman said about the three-time grade 1 winner and 2022 Belmont Stakes runner-up. "She has been a joy to be associated with."
Nest co-owner Mike Repole said he enjoyed sharing the ride with Wellman and Eclipse.
"If I wasn't buying horses on my own, I'd invest with them," Repole said. "I enjoy working with Aron and have been doing it for years. He's a great face for the game. He has incredible integrity and is trustworthy."
Wellman also has a knack for making history.