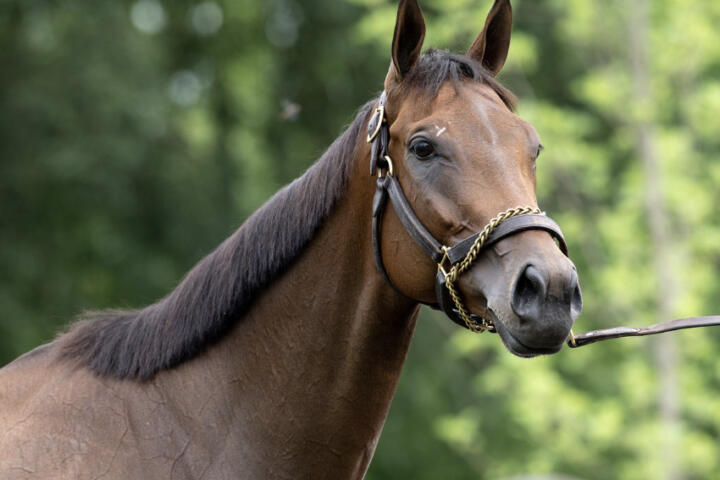 "A Collector's Item," Champion Nest Points to Fasig-Tipton November Sale
By Katie Petrunyak TDN
Eclipse Thoroughbred Partners is proud to use the label #EclipseFillies to commemorate the long list of Grade I-winning fillies they have campaigned over the years, but one outstanding racehorse that will soon depart from their racing stable stands out above the rest.
Campaigned in partnership with Repole Stable and Michael House, reigning champion sophomore filly and three time Grade I winner Nest (Curlin – Marion Ravenwood, by A. P. Indy) took Eclipse President and Founder Aron Wellman and the rest of her connections on a journey they will not soon forget.
"There is no question that Nest has taken the queen's position at the top of the Eclipse fillies ranks," Wellman said. "She breathes different air. The ride she has taken Eclipse and our partners, the Repole and House family, on has been nothing short of a once-in-a-lifetime opportunity that we've all really cherished."
Nest will be a standout for Fasig-Tipton, too, when she goes through the ring in a few weeks at the Night of the Stars sale.
"We've had the opportunity to offer some amazing broodmares and broodmare prospects in the last decade or so, from Havre de Grace to Songbird to Gamine and so forth, and this year we have another special offering in Nest," said Fasig-Tipton's Boyd Browning. "She ranks right up there as one of the finest offerings we've had the privilege to present to the marketplace. She's like poetry in motion, watching her run. Anyone that has ever watched a horse race knows just how special she is."
Purchased for $350,000, Nest was a yearling that Todd Pletcher just kept coming back to when he was going over his short list with the Repole team.
"Physically, she was a medium-sized filly," Pletcher recalled of the bay bred by Ashview Farm and Colts Neck Stables. "Very good conformation with a great neck, head and shoulder, but what really stood out to me about her was her walk. If I were talking to someone saying, 'Hey, what does a horse that walks really well look like?' she would have been a terrific example."
By Curlin and out of stakes-winning daughter of A.P. Indy, Nest was always expected to get better with age and distance. So when she came flying out of the gates as a juvenile to win by five lengths on debut and then claim the GII Demoiselle S., Wellman said her precocity was an unexpected bonus.
"To be a graded stakes winner at two as a daughter of Curlin with her pedigree, we felt like we were going into her 3-year-old season with some pretty heavy artillery," he said.
Nest exceeded any expectations set before her last year as a sophomore as she reeled off five stakes victories, including three Grade I wins, and was named champion 3-year-old filly.
While she came just short of a Kentucky Oaks win–having come off an eight-length victory in the GI Ashland S. and settling for second behind Secret Oath (Arrogate)–her next start was one that her connections believe might be her most underrated performance.
Although they initially planned on giving the filly some spacing before her next race following the Oaks, Nest flourished so well coming out of the race that they decided to go up against colts in the GI Belmont S. Despite stumbling at the start, she overcame a difficult trip to finish second behind stablemate Mo Donegal (Uncle Mo).
"Jose Ortiz had to really use her going into the first turn to get position, and then all the way up the backside and around the far turn she was really hemmed in behind big, burly colts," Wellman explained. "When she did finally get clear in the stretch, it was just a little bit too late, but she leveled off like you don't see horses do. It was an extraordinary performance even in defeat."
"What really impressed me was how she came out of the Belmont," added Pletcher. "We've run quite a few horses in the Belmont over the years and I don't think I've ever had a horse run really well in the Belmont and then just thrive afterwards. She bounced out of the race really quickly and it set her up for two big performances at Saratoga."
Nest's victories in the GI Coaching Club America Oaks, which she won by over 12 lengths and earned a career-high 104 Beyer Speed Figure, was followed up with another dominating Grade I score in the Alabama.
"It gives me chills to think about those moments," Wellman said. "I was able to sit back and appreciate just how incredible of a filly she was and what she was doing for the business in gaining so many fans and what she was doing for my family, the Repole family, the House family, and of course all the Eclipse partners that are so privileged to be associated with her."
"She displayed an ability you don't see very often of being able to really quicken and finish on the dirt," explained Pletcher. "She has a high cruising speed, but it's not very often that you see any horse be able to accelerate on the dirt like she has been able to."
This year, Nest's 4-year-old campaign was delayed due to an early setback from a fever and it was recently announced that she will miss the upcoming GI Breeders' Cup Distaff, but her connections still celebrated a productive season with a win in the GII Shuvee S. and yet another Grade I placing in the Personal Ensign.
The chapter of her career with Eclipse will come to a close when the 4-year-old sells on Nov. 7 at Fasig-Tipton, going through the ring with Highgate Sales as Hip 163.
"Of course we would love to keep her ourselves, but the economics of the business do not allow for our operation to do that," explained Wellman. "Emotions will be running high come the Night of the Stars, without question. It's such a privilege and honor, and it's so humbling, to know that Nest will be well represented and looked after there at the Newtown Paddocks at Fasig-Tipton. The eyes of the world will be on her that night and it will be an exclamation point on what has been a career on the racetrack of constant exclamation points."
Nest's siblings have helped boost her pedigree since she was purchased as a yearling three years ago. Her full-brother Idol won the 2021 GI Santa Anita H. and now stands at Taylor Made and her 3-year-old half-brother Lost Ark (Violence) just won the Jockey Club Derby Invitational S. in his last start on Oct. 7.
"I think anyone interested in having one of the top, top fillies of her generation," Pletcher responded when asked about who Nest might appeal to on the eve of her sale. "It's a remarkable pedigree and a terrific cross with Curlin over A.P. Indy. It has worked so well many times. If you're looking for a broodmare prospect, this is as good as it gets."
"When you look at Nest's potential as a broodmare, it's truly remarkable," added Browning. "Not only is she by Curlin, who speaks for himself as a brilliant stallion, but you go through her pedigree and you've got the influence of Quiet American, Nureyev and A.P. Indy. The potential there is enormous and the possibilities are limitless. She's going to go to someone who is looking for the highest quality–a collector's item–to add to their broodmare band."