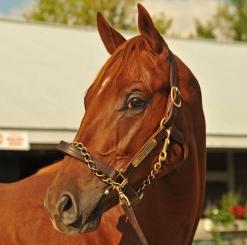 Oh Baby: Eclipse Debuts 2 Freshman this Weekend; Byrama Live in G2, $200,000 a Gleam 'Cap
Danza was a standout for Aron Wellman at the 2012 Keeneland September Yearling Sale and 10 months after Eclipse bid in the golden son of Street Boss for $105,000, he'll have the opportunity to prove he's got what it takes to be a standout on the playing field. A maiden allowance race with a pot of $70,000 up for grabs will serve as the launching pad for Danza, who ships from Saratoga to Long Island to make his debut going 5 ½-furlongs at Belmont Park.
The chestnut athlete has been about as straight forward as a young horse can be in his early training with Papa Pletcher at his Payton Center in Ocala and has transferred his initial promise to the Todd Pletcher program the past 2 ½-months at The Spa. With 7 official workouts on his tab, Danza enters Friday's race in good nick and with every reason to believe he could be a real racehorse. Pletcher will provide a leg up to Javier Castellano, who will guide Danza from post 7 of 7 youngsters dashing from the gate at 3:30pm ET in Long Island.
"This colt has done everything right for us from the moment he arrived at our barn," Pletcher noted. "He goes out there every day and has a very professional attitude about his training. He has a good mind on him. His works have been pretty good week in and week out. Danza has done all of his work on the bridle and he's handled every bit of company we've thrown at him. We think he's a colt with a lot of potential and promise. He's given us every reason to think he's a good horse."
Eclipse President, Aron Wellman, remarked, "Danza is a colt I absolutely fell in love with at the yearling sales and we paid more than 2 ½ times what we'd paid for any other yearling for him, so our confidence was high. J.J. Pletcher did a fantastic job providing him with his early lessons and Todd has been pleased with this colt from the beginning. I saw him at Saratoga this week and I was thrilled with his condition. He's still a baby, but he's really strengthened and he looks pretty fit.
"We're very excited about kicking off his career on Friday," Wellman acknowledged. "You never know what to expect with babies, but he's one that I've allowed myself to get a little high on. I really hope he delivers on the promise he's offered to this point. The most important thing, though, is that he has a positive initial experience and exits the race with a foundation capable of propelling him forward."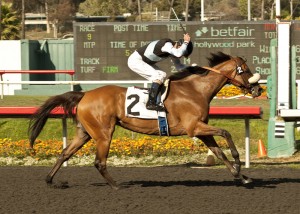 Byrama earned the ultimate honors a month ago when she turned away all challengers and streaked home to a decisive victory in the Grade 1, $250,000 Vanity Handicap on the Cushion Track at Hollywood Park. On Saturday, the resilient, classy and versatile Byron filly will turn back to perhaps her most desired distance when she travels 7 furlongs at Hollywood Park in the Grade 2, $200,000 A Gleam Handicap, which is classified as a "Win & You're In" race for the Breeders' Cup Filly & Mare Sprint.
Byrama has been ultra-consistent at all distances and all surfaces, but it may be true that her most preferred surfaces are the man-made variety, as evidenced by her strong runs at Del Mar, Keeneland and Hollywood Park. On Saturday, she will return to the site of her most glorious triumph and unite again with Hall of Famer, Gary Stevens, who put up a masterful ride on the sometimes quirky filly in the Vanity.
Stevens will be given the liberty to feel his way through the A Gleam from post 2 of 8 fillies signed on to go 7 poles at Hollypark on Saturday. The A Gleam is scheduled to be run as the 8th race on the card in Inglewood with a kickoff time of 4:35pm PT.
Simon Callaghan, who has done an admirable job over the past 2 seasons developing Byrama into a top level performer, said of the A Gleam, "We simply cannot keep Byrama's feet on the ground long enough to wait for the Clement Hirsch at Del Mar. After the Vanity we thought we'd hold out for the Clement Hirsch in early August, but Byrama has been booming in her training and to pass up this Grade 2 with Breeders' Cup implications on a track we know she relishes just didn't make any sense. She's never been better."
Eclipse President, Aron Wellman, commented, "Byrama is a true throwback race filly in that she's tough as nails, takes her races extremely well and can run every 2-3 weeks against the best of company if the opportunities were there for her. Our initial instinct was to give her a full 7 weeks after the Vanity, but she's in such phenomenal form that it would be an injustice to keep her in the barn. The easy part for Simon and I is that she consistently makes us look good, regardless of how we manage her. Tight spacing between races, surface, distance…it makes no difference, as Byrama always runs her race and she always makes us proud."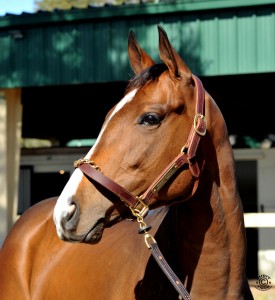 Bajan hinted that she may be a precocious type when Eclipse and Jerry Frankel dropped the gavel in March at OBS to acquire the daughter of Speightstown. In the 4 months since being purchased, Bajan has done nothing to contradict that speculation, as her training has been forward for Simon Callaghan, who has been priming the spitfire filly for her career unveiling at Hollywood Park.
Bajan was entered against her own gender last week, but drew onto the Also Eligible list and was relegated to the barn on that occasion. She turned in a spiffy 5 furlong drill last Saturday morning instead and after flirting with the idea of debuting Bajan in the Landaluce Stakes, Eclipse and Callaghan landed on another out of the box strategy by entering her in a $52,000 Maiden race where she will be pitched up against colts on Sunday in the 9th race in Inglewood.
Callaghan has tabbed Victor Espinoza to pilot Bajan in her maiden voyage, which will launch at 5:05pm PT when Bajan pops from the inside post position as she will try to play catch me if you can with 9 other opponents of the opposite sex.
"Bajan has been as professional as they come," Callaghan relayed. "From the moment she came to us after the sale she has been as classy and straight forward as you could ever expect of a young filly. She has a wonderful attitude and a real competitive spirit. We've been eager to get her into a race and while this may be a slightly odd approach, we do run fillies against the colts quite often in England, so it's not that unorthodox for us. She's quick and fit and while the rail draw is not ideal, if she comes out of there cleanly she should be able to secure good position. From there, it will simply be a matter if she's good enough. We're looking forward to see if she's able to live up to the promise she's displayed in the morning when it matters."
Eclipse President, Aron Wellman, added, "This is a business where tough decisions need to be made all the time. When things don't fall totally the way you mapped them out originally, you have to be able to roll with the punches and think smart and fast to come up with reasonable alternatives. In this instance, we would have much preferred to debut Bajan against fillies, but that was not to be. She is sitting on a run, so to keep her in the barn another week and risk another bad post or not drawing into a race just didn't make sense to us. We also liked the idea of running her at a flat 5 furlongs first time out, as opposed to longer.
"There are some talented, promising colts in the lineup, but we think Bajan is pretty sharp herself," Wellman stated. "The key to this race will be how she breaks from the rail. If she's alert and bounces out of there clean and fast, it will be a non-issue. In fact, it could be argued that with a speed filly who is somewhat small in stature running against colts that the rail is a good spot to be because she won't have to worry about muscling her way in the middle of a bunch of colts if there's a scrum leaving the gate. Just like with all of our young horses, our focus is on providing her with a positive initial racing experience that can be used to propel her forward. We are interested in developing long term prospects, so the first run is important in establishing that foundation. We're enthused about her chances and excited to get her going."