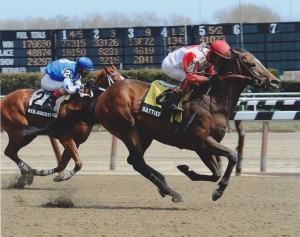 Eclipse has Trio of Stakes Runners in New York, Cali and Toronto this Weekend
Battier made an encouraging Eclipse and Pletcher debut 6 weeks ago when he checked in a troubled 3rd in the Gygistar Stakes going 7 panels at Belmont Park. In the month and a half since that race, everything has gone about as smooth as can be for the 3 year-old son of Tale of the Cat and he enters his Graded Stakes debut off a series of steady and solid drills.
The uninterrupted workout pattern, combined with ample time for the Godfather himself to apply his master horsemanship skills on the energetic soph has Battier poised for a break-through performance in the 96th running of the Grade 2, $200,000 Dwyer Stakes at Belmont Park on Saturday.
Battier will have Hall of Famer, John Velazquez, in the saddle when the Belmont starter springs the latch at 5:17pm ET and sends the sextet of colts on their 1 1/16-miles tour of Big Sandy, which has but 1 wide and sweeping corner to negotiate. As he did last time, Battier will have to contend with the wood, as he's drawn post 1, but with the long run into the bend, Velazquez should have plenty of time to maneuver his charge into a comfortable position.
"We've been pleased with Battier since the Gygistar," Pletcher expressed. "His schedule has been consistent and we've noticed gradual improvement in his training style. He's a high energy colt who always wants to get it on when he's on the racetrack, so we've been trying to get him to channel that energy more efficiently. He still has an aggressive mindset, but we're happy with his progress. We've paddock schooled him a lot, so we're hoping he behaves himself well and conserves his liveliness for the race itself."
"The timing of the Dwyer is ideal," Pletcher added. "He's had plenty of time to recover from the big effort in the Gygistar in which he encountered some trouble and ran a length to a near track record while running an all-time best Beyer and Ragozin Sheet figure. With a good trip and another step forward, we're confident he will be well represented in the Dwyer."
Eclipse President, Aron Wellman, offered, "The Gygistar wasn't the most ideal launching point for us to get Battier going in Todd's program, as the distance was a touch sharp for him, but our options were slim at the time, so we thought it may be a nice stepping stone to a race like the Dwyer. Battier ran very well in the Gygistar all things considered and he appears to have taken the race in stride while acclimating nicely to a new training regimen.
"The Dwyer has been on our radar since we first acquired this colt and we couldn't ask for a better scenario leading into the race," Wellman acknowledged. "If I had to find a complaint, it's that we'd prefer to be drawn outside of the 1-box, but with the configuration of the track, the projected pace scenario and a jock like John (Velazquez) we can't be too concerned about it. It's come up a compact, yet contentious field and we think Battier has the quality and class to compete and make his presence felt in a big way."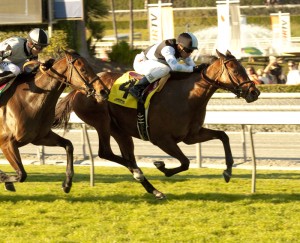 Judy In Disguise has been a pleasant surprise for Eclipse this season, winning 2 of 5 with a Stakes win at Santa Anita on the docket, along with a Grade 2 placing at Keeneland and a much best 2nd in the Manhattan Beach Stakes last month for Simon Callaghan.
On Sunday, with no other options on the table, Callaghan will remove the hood and try to see if Judy can see out the 2-turn mile on the green at Hollywood Park in the $70,000 Le Cle Stakes.
Hall of Famer, Gary Stevens, who Callaghan and Eclipse combined with to conquer the Grade 1, $250,000 Vanity with Byrama last month, will have the riding duties. The 50 year-old magician will spring the fireball filly from post 6 of 6 sophomores. Kickoff for the 3rd on the Sunday card is 2pm PT. TVG and HRTV will show it live.
"Judy is really sharp right now," Callaghan confirmed. "She went a bit dull on us during the Kentucky trip, but since she's been back home we've been extremely pleased with her condition and attitude. Her work has been strong and it appears her energy level is better than ever. We'll take the blinkers off of her for this, hoping that it will help her get the distance. We think this is a lovely spot for her to get the mile."
Eclipse President, Aron Wellman added, "Judy is an accomplished turf sprinter, but there are no such options for her presently. We ran her 1 1/16-miles at Churchill in a very salty affair and the turf was very deep and soft that day, so it was a tall task to ask her to get the distance on that occasion. She seems to be a more mature filly since coming home and it was an outright shame she didn't get the money last time out. Between the post and spotting 8 pounds to her rivals, it was just too much for her to overcome in the Manhattan Beach. She's coming into this race in fine fettle, the post should allow Gary (Stevens) (left) to have her wherever he wants her and we're hopeful of a winning performance."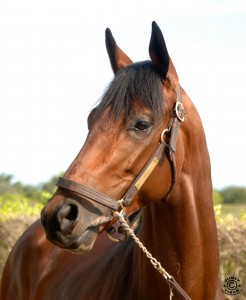 Patrioticandproud won in breathtaking fashion to launch his 4 year-old season in April at Keeneland. The son of Proud Citizen has laid 2 eggs in Graded company since then, but has now returned to his favorite stomping grounds at Woodbine Racetrack in Toronto for Sunday's running of the Grade 3, $150,000 Singspiel Stakes.
The Singspiel, named for the Canadian International and Dubai World Cup winner, amongst other major prizes, including the Eclipse Award for Best Turf Horse in 1996, will be run over the marathon distance of 12 furlongs on the Woodbine sod, a distance Patrioticandproud has never been asked to travel.
On Sunday, not only does Patriotic return to the site and surface of his lone Stakes win, but he also reconnects with the jockey who has unquestionably given him the best rides of his career and who holds the keys to his ignition, Eurico Rosa DaSilva. DaSilva will be responsible for conserving Patriotic as much as possible so the handsome bay can negotiate the taxing circuit. Patriotic has drawn well in post 1 of 10 signed on. Post time for the Singspiel is 4:17pm EDT and the race can be seen live on TVG or online at www.tvg.com or www.twinspires.com.
Mark Casse, who has done an admirable job training Patriotic and making him a Stakes winner of greater than $319,000, provided, "We were between the Dominion Day at 10 furlongs on the Poly and the Singspiel. The Dominion Day was tough. The Singspiel is not exactly a cakewalk, but we've always kinda wanted to try this colt going a marathon and this looked to be a reasonable opportunity to see if he could do it. He's training well, eating well and acting well. It will be an interesting race."
Eclipse President, Aron Wellman, added, "This is one race where I have absolutely no clue if our horse is suited for the conditions. We have always speculated, but until a horse proves they can get an elongated trip, it's the biggest mystery in horse racing. The post is good and we're thrilled to have DaSilva back in the irons. It would be a huge honor to win a race named for Singspiel. He was one of my favorite racehorses and he is to this day my favorite stallion of all-time, as he sired 2 very special Grade Stakes-winning fillies of mine, Three Degrees and Miss Singhsix."