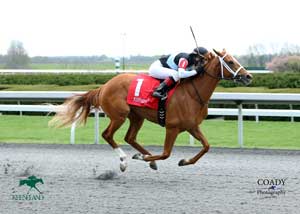 Miss Lucky Sevens Makes Stakes Debut in $100,000 Hilltop at Pimlico
Miss Lucky Sevens got her connections' collective blood pumping good and strong in the wake of her scintillating sophomore debut when victorious while sprinting on the Poly last month at Keeneland. The juices will be flowing again at 6:22pm ET on Friday when the spitfire daughter of Big Brown makes her foray into Stakes-land in the $100,000 Hilltop at Pimlico Racecourse in Baltimore, Maryland.
As if venturing into Stakes company wasn't a tall enough order, the challenge became all that much more significant at the post position draw on Sunday when Miss Lucky Sevens' name was assigned to post 11 of 11 fillies set to traverse 1 1/16-miles on the greensward at Pimlico. Rosie Napravnik, who seems to have formed a synergistic bond with her red-headed counterpart, will be tasked with navigating a journey from the 11-hole, which is capable of landing Sevens in the winners' enclosure.
"We tinkered with the idea of heading to Woodbine, but I feel a whole lot more comfortable going to Pimlico," Wayne Catalano explained. "Besides, you need a passport to go to Canada and I aint got one," Cat-Man half-joked. "Even with the outside draw, I like the race in Baltimore."
"Sevens is doing real good right now and that race really set her up nice," Cat elaborated. "We've gotten 2 solid, stamina drills into the filly and she's coming into the race the right way. She's happy and she's training with a lot of energy. She's ready."
Eclipse President, Aron Wellman added, "Admittedly, my heart sank pretty deep into my stomach when I learned that Sevens drew the 11-hole. I began to put the wheels in motion to head to Toronto, but as Wayne and I delved deeper into the race and the Pimlico turf course layout, our concerns dissipated. It's not an ideal post, but with Sevens' tactical speed and Rosie's strong mind and soft touch, we envision them having ample opportunity to secure good position heading into the Clubhouse turn without having to expend too much energy in the process.
"There's not a whole lot of speed in the race, so it appears entirely plausible that Sevens will naturally outfoot a lot of the fillies inside of her and Rosie should be able to file over and tuck in without having to sacrifice much effort or ground early on," Wellman said. "The main thing is that she's coming into the race very, very well and if she can manage a trip, we think we're showing up to Baltimore with a filly capable of making some noise in the Hilltop. We had a terrific day here last year when In Lingerie scored in the Black-Eyed Susan and we hope to land another big win this year."
The Hilltop will be televised live on HRTV or streamed online at www.xpressbet.com, www.twinspires.com or www.tvg.com.