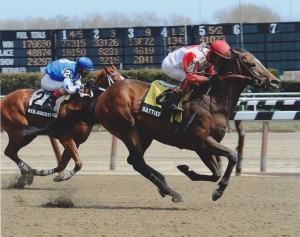 Battier Makes Eclipse Debut Wednesday In $85,000 Gygistar Stakes
Battier will make his initial start for Eclipse Thoroughbred Partners and trainer Todd Pletcher on Wednesday afternoon. The $85,000 Gygistar Stakes will be the launching point for a campaign the colt's new connections are hopeful will posture him for major 3 year-old races for the remainder of his sophomore season and beyond.
Pletcher has turned to the world's hottest jockey, Joel Rosario, to pilot Battier from post 1 of a salty cast of 5 colts lined up to do battle over the demanding 7-furlong layout at Big Sandy. Post time for the Gygistar, which is carded as Race #2, is 1:36pm ET.
"Battier is clearly a talented colt," Pletcher confirmed. "We've been impressed with his 2 workouts since we've had him. He is a very high energy sort, so we've done some things to see if we can harness that high level of energy in his gallops, which we're starting to see some improvement on. We've also been working with him on his gate and paddock schooling and while he's not totally where we want him to be, he is headed the right direction on that front as well."
Pletcher continued, "The Gygistar is not an ideal spot, nor did Battier draw an ideal post, but we view this race as a proper starting point to kick on into races like the Dwyer next month and then onto Saratoga beyond that. He's facing some serious horses, Declan's Warrior in particular, so we're not thinking this is a must-win scenario by any means. We'll be looking for a solid performance and commensurate result capable of moving forward into our bigger goals."
Eclipse President, Aron Wellman chimed in, "I agree with Todd's assessment of the Gygistar in that we're not feeling total pressure as though this is a must-win kind of race. That said, it is a winnable race and even more importantly, it's a race we can use as a building block for frying bigger fish.
Wellman concluded in stating, "There's no arguing that Declan's Warrior stands out in this field. He's got all the credentials and he's a bona fide top notch late-running sprinter. This race is made to order for him and it will take a massive performance by someone else in the lineup to deny him the spoils. While Lezcano will have the luxury of calling his shot from the 5-hole, Rosario will be faced with the challenge of making every move a winning one, as he's handicapped by the draw.
"This really is a rider's race," Wellman said. "There's not much analysis that can be done. We have a sensational jockey on our team and we will leave it to him to ride the race as he sees fit. It's exciting to get Battier going and it will be interesting to see how this all plays out."
The Gygistar will be televised live on TVG and HRTV and can be viewed live online at www.tvg.com, www.hrtv.com or www.twinspires.com.