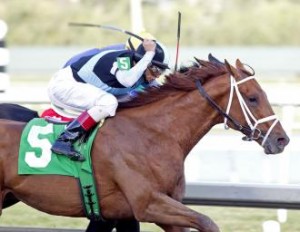 Eclipse Poised for Monster Stakes Action from Coast to Coast Saturday
Capo Bastone turned in an astonishing quarter-mile rally in the Grade 3, $150,000 Derby Trial 6 weeks ago, only to come up a dirty head shy of Graded Glory. With a trio of major Graded Stakes-placings on his docket, the supremely talented son of Street Boss will try to break through on Saturday in the important sophomore fixture named after the legendary conditioner, Woody Stephens.
The Grade 2 worth $400-large will be contested over 7 furlongs at Belmont Park on Long Island. With Tropical Storm Andrea setting its' sights on the eastern seaboard, it is highly probable that the Woody will be run over a racetrack with some degree of moisture in it.
Todd Pletcher will turn the dials over to his and Eclipse's main-man, John Velazquez in the 9th race on the Belmont Stakes undercard with a post time of 4:41pm ET, at which time John V. will do his best to provide Capo with a smooth journey and wind him up from the back of a field which figures to be absolutely smoking through the first half-lap at Big Sandy.
"Capo Bastone is probably training as good right now, if not better, than we've ever seen him," Pletcher confirmed. "His breezes at Belmont since to Derby Trial have all been to our satisfaction and he seems to take to this surface. With him, it will all come down to trip. We know he's probably best as a come-from-behind 1-turn horse, but if we can manage to see him exit the gate a little better than he has in the past, we think that may make all the difference. We've been working with him in and around the gate, so we're hopeful of a better departure. It's a heck of a renewal of this race, but we are heading over there with confidence."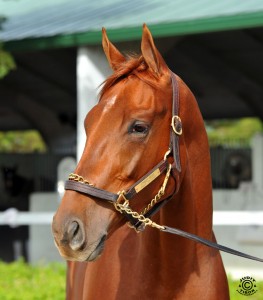 Eclipse President, Aron Wellman offered, "From the very beginning, we always knew Capo may be most effective at a high level as a late-running sprinter or elongated sprinter. The 7 furlong distance of the Woody Stephens should hit him right between the eyes. There is a tremendous amount of early zip in the field with Salutos Amigos, Retrieve, Zee Bros, Merit Man and Let Em Shine. There is no question they will be smoking out there. The only question is whether the track will play fair and allow horses to close from off the pace. Wet or dry, if the track is playing fair, we expect Capo to be storming home the last quarter. This is the kind of race and setup we have always envisioned for Capo, so now it's a matter of going out onto the playing field and executing on game day."
"Capo unleased a furious rally in the Derby Trial, only to come up a touch short and we're hoping he produces the same type of explosion on Saturday, only with a winning result. He's a phenomenal horse worthy of winning a prestigious race like the Woody Stephens and it would be a huge feather in his cap and a massive honor for our partnership to have a trophy like that on our mantle."
The Woody Stephens can be seen live on HRTV and TVG or online at www.xpressbet.com, www.tvg.com or www.twinspires.com.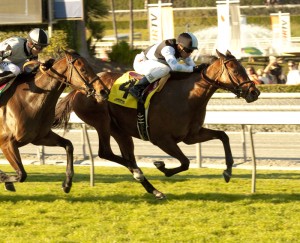 A year ago, Eclipse and Simon Callaghan were desperate to win the Manhattan Beach with the feisty Byrama, who, at this stage in her career, was multiple Graded Stakes-placed, but was unlucky not to have captured a Black Type win. This year, Judy In Disguise, already a Stakes winner and Grade 2-placed for her connections, is in a different phase of her sophomore campaign and after a reasonably successful jaunt to Kentucky in April and early May, returns home in an attempt to get back into the winners' enclosure.
Judy In Disguise will get back to doing what she does best, which is sprinting on the turf, when she reunites with Rafael Bejarano for Sataurday's rendition of the $70,000 Manhattan Beach Stakes at Hollywood Park. The gutsy 3 year-old daughter of Elusive City will launch from post 8 of 8 fillies set to do battle over 6 furlongs in Inglewood. Post time for the 8th on the card is 4:30pm PT.
"Judy has come home to California and trained nicely," Callaghan commented. "Her energy is good and her attitude is strong, as always. We added some blinkers to her in her last work to perk her up a little because she'll be going from longer races back into a sharp sprint and she seemed to respond well to the equipment. We know she's most comfortable and most effective at turf sprint races, so we're hopeful that the move back to this type of race will put her back on the beam."
Judy In Disguise left California for a month in April, which produced a 3rd-place finish in the Grade 2 Beaumont Stakes over 7 panels on the Keeneland Polytrack and a respectable 5th-place result in the Edgewood Stakes at Churchill Downs when stretched out to 2 turns over 1 1/16-miles. Prior to those races, Judy was nothing short of sensational when running away and hiding from her competition in a Golden Gate Allowance affair going 6 poles on Tapeta and then stunned her rivals when exhibiting rare courage while fending off all challengers en route to victory in the $75,000 Sweet Life Stakes going 6 ½-furlongs down the unique hillside turf course at Santa Anita.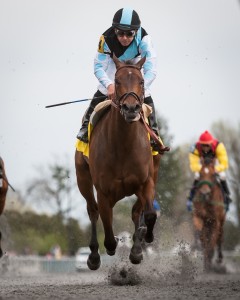 Eclipse President, Aron Wellman said, "Judy represented herself and our stable well during her stint in Kentucky. She didn't particularly care for the Poly at Keeneland and still battled bravely to hold 3rd and earned valuable Graded Stakes Black Type at an important venue for her resume. The Churchill race was odd, as she was totally distracted by the infield chaos every step of the way.
"We're adding blinkers and cutting back to her best trip and she's got Rafa (Bejarano) on her, not to mention she's well drawn on the outside, so it looks like we've got the recipe for a favorable run," Wellman stated. "Judy is a tough filly who loves being a racehorse. We're going to let her do her thing. She has the speed and the class. Now it's time to go out and make it happen."
Wellman offered, "This race is as wide-open as a race can be. Grass dashes are often that way, but this one is even more exaggerated. There is an abundance of speed here. It will either be a case of 5 fillies ding-donging on the lead and burning each other out, or everyone gets gun-shy and someone who's the speed of the speed steals away with the race.
"Fortunately, although the outside posts in turf sprints at Hollywood aren't typically the ideal spot to be, in this instance, I perceive the post as a huge benefit. Rafael is a terrific feel rider and by being perched out on the outside, he can assess everything that's going on down inside of him," Wellman reasoned. "We are hoping that Judy is sharp enough to be in contention early, but sensible enough not to get compromised in a vicious pace battle. If she accepts a stalking role and has her mind on business heading into the far turn, she ought to have clear run to get the best of them down the lane. Coming out of longer races, there is a concern she could get run off her feet, but we think she's sharp enough to be effective in this race. The main thing is that we see her get back to her old, feisty self and go out there and compete like the racehorse she is."
The Manhattan Beach can be seen live on HRTV and TVG or online at www.xpressbet.com, www.tvg.com or www.twinspires.com.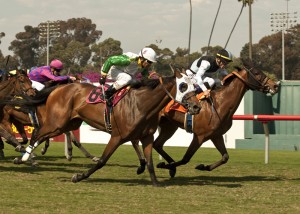 Charlie Em caught her opponents by surprise in her U.S. unveiling last month when she ran aggressively from gate to wire and held off the stern challenge from odds-on favorite, Scarlett Strike, in the Grade 3, $100,000 Senorita Stakes at Hollywood Park.
On Saturday, the diminutive daughter of Kheylef, who Eclipse imported and syndicated for amazing value, will be out to prove that her Graded Stakes triumph was no fluke when she takes on 10 other sophomore fillies in the Grade 2, $150,000 Honeymoon Handicap in Inglewood.
With Garrett Gomez, who rode Charlie Em as brilliantly as a horse could be ridden in the Senorita, in New York to ride the Belmont Stakes, conditioner Paddy Gallagher has turned the controls over to Victor Espinoza. Espinoza will pop Charlie Em from post 9 going 1 1/8-miles on the Hollypark greensward. Post time for the 10th on the card is 5:30om PT.
"Charlie has trained nicely since the Senorita," Gallagher explained. "She's a small, light kind of filly, so there isn't much need to train her hard, but she had a strong workout last week on the grass and I think she's plenty ready for the Honeymoon. She's simply improved every week since we got her last December and even since the Senorita I sense she's added some strength. We're quite pleased with her and look forward to seeing how she responds this weekend."
Eclipse President Aron Wellman remarked, "Charlie Em is a tough, game and classy filly, as evidenced by her triumph in the Senorita last month off a 7 month freshening. We're very excited about her prospects and this will be the litmus test for her in many respects. She gives us every indication that the added distance will be to her liking and she appears postured for a step forward. She will absolutely have to progress forward in order to compete in this Grade 2, but we're pretty confident she will deliver. The 9-hole should allow Victor (Espinoza) plenty of opportunity to see what the other expected speed in the race is going to do and by the time they come out of the infield chute and join the course proper, he ought to have her in a cozy position."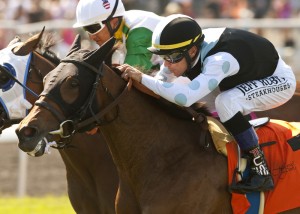 Charlie Em's attempt in Saturday's Honeymoon Handicap could mark the 3rd victory in the important fixture for a Wellman formed partnership. Three Degrees won the race in 2005 with Gary Stevens and Valbenny won it in 2007 under Alex Solis. "This race has been great to us and a lot of the guys who were part of those prior partnerships own Charlie Em. It would be incredibly special to win it for a 3rd time, especially since it will never be run again at Hollywood Park."
The 2 highweights in the field, Scarlett Strike and Charlie Em, haven't exactly scared away any competition, as evidenced by the large 11-horse field. In fact, there are several entrants who appear to have little business being entered in a G2, but have thrown their hat in the ring because of the apparent lack of depth in the local division and the lucrative prize and meaningful black type up for grabs.
The Honeymoon can be seen live on HRTV and TVG or online at www.xpressbet.com, www.tvg.com or www.twinspires.com.