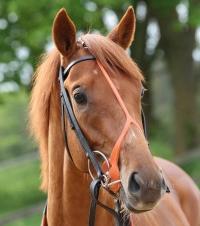 Saturday Players: Eclipse Sends Out Graded Runners in New York, Kentucky and California this Saturday
Eclipse Thoroughbred Partners isn't afraid to think outside the box. The fledgling company has been enterprising in its' pursuit of equine talent from around the globe as well as willing to roll the dice and take a shot in major races and ring the bell with entrants conventional minds would readily dismiss.
On Saturday, Eclipse will blend its' enterprising scouting talent with a massively ambitious race plan when Red Rocker, a recent acquisition off a 2nd-place debut run in England, lines up versus 11 other sophomore colts in the Grade 3, $150,000 Hill Prince Stakes at Belmont Park on Long Island.
David Cohen is scheduled to pilot the chestnut from post 8 of 12 colts set to do battle around 1 corner of the mile layout on the Belmont Park greensward. The Hill Prince is carded as the 8th on Saturday with a kick-off time of 4:45pm ET. The race can be viewed live on TVG or HRTV or at www.tvg.com, www.xpressbet.com or www.twinspires.com.
"Our original plan was to take advantage of Red Rocker's eligibility for a Maiden condition, but when I started to really think about it, I realized that the 1-turn mile of the Hill Prince would really suit the colt," Meehan explained from his Manton base outside of London. "It's a huge challenge to be sure, but we felt that if we were going to prime him for a big run off the plane, we might as well go for the gusto.
"Red Rocker has trained exceptionally well at home since his first run a few months ago," Meehan added. "We have the luxury of training around an American style turn at Manton, so a few of his breezes have been around a bend, which he has handled quite well. His training has been positive and he handled the journey from theU.K.like an old pro. We are looking forward to seeing how he performs come Saturday. He's a lovely colt with a lot of quality and we do think he has a future."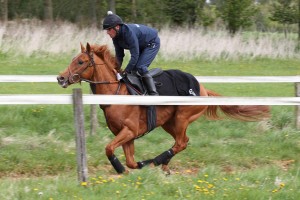 Eclipse President, Aron Wellman, provided, "This is a go big or go home situation, but rather than sending Red Rocker home if he doesn't show up in a big way, we'll simply regroup, get him acclimated in America and lace 'em up for a Maiden race this summer. This is a deep field and like most turf racing, it will boil down to who gets the trip and finishes best. With just 1 race under his belt, it's hard to predict what Red Rocker's preferred style is, so David (Cohen) is really just going to have to feel his way through the race and give our colt a chance to make some noise."
"We're hopeful of a good result, yet realistic of the severe challenge ahead," Wellman acknowledged. "Regardless of what happens come Saturday, we feel as though we've got our hands on a really nice colt capable of developing into a serious player in the division for the remainder of the season."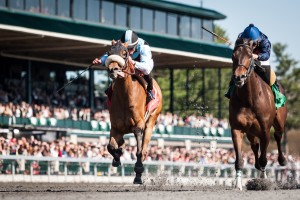 Byrama has delivered the goods as the flagship horse to ever be bought by Eclipse Thoroughbred Partners and she has rewarded the original partners who put their faith in Eclipse with thrill after thrill for the past year and a half. On Saturday, the filly who is affectionately referred to as "Nails" by her connections and fans, will try to put all of her talent, skill and class to the test when she essays the 9 furlong, Grade 1 Vanity at Hollywood Park.
The Cushion Track fixture worth a cool $250,000 will mark Byrama's first try over the quasi-synthetic surface and it will be her first go at 9 furlongs since she was a game second on the Santa Anita turf 14 months ago in the Grade 2 Providencia.
It is accepted that although Byrama is effective at a high level on all turf courses and synthetic surfaces, her forte is in elongated sprints and that her brilliance is not nearly as accentuated in route races. Although multiple Graded Stakes-placed in routes, Byrama is certainly best around a single corner.
However, with a quarter of a million American Dollars on the line and the prestige of a Grade 1 up for grabs, Eclipse Thoroughbred Partners and Simon Callaghan are willing to see what Byrama can do when the gates spring open for the Vanity, which is scheduled to be run at 5pm PT at Hollywood Park.
"A couple of weeks ago when it was becoming evident that Byrama had recovered from her month-long trip to Kentucky and was starting to get her juices flowing for race action, Simon (Callaghan) and I convened to discuss race options," Aron Wellman reflected. "With the Grade 2 A Gleam at 7 furlongs on the Cushion in July our primary goal at Hollywood Park, our focus was the $70,000 Desert Stormer going 6 furlongs on the 16th of June.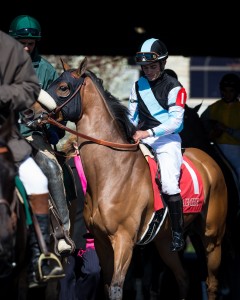 "But as I began to delve deeper into the options and the expected competition of the Desert Stormer and a lesser considered option, the Vanity, I realized that the Grade 1 which was worth 3 ½ times the amount of money than the Listed race, was coming up lighter in numbers and quality of company," Wellman explained. "We fully realize Byrama is not a true Grade 1 caliber filly at 9 furlongs, but we are certainly happy to try our hand in a 6-horse field without a Grade 1 winner in the bunch with so much to gain out there for the taking. We respect the fillies in the Vanity, but we look at this as a prime opportunity to land some more Grade 1 Black Type to Byrama's already extensive and sterling resume."
Callaghan added, "Aron asked me to nominate Byrama to the Vanity just to make sure we had the option, so I did. After she breezed on Sunday so well and we did our homework, it became crystal clear that the Vanity was the way to go. It may not be her best distance, but Byrama is a filly who can never be counted out. She's training sensational and we expect she'll really like the Cushion Track. We're looking at this race as a reasonable opportunity to give Byrama another shot at a Grade 1 and in any case, she may really prove dangerous on the cutback in trip come time for the A Gleam in July."
The Vanity is a race rich I tradition and most recently has been known as Zenyatta's playground before heading to Del Mar. This year's field is without any stars and the 6-pack is wide open.
The Vanity can be seen live on TVG or HRTV or online at www.xpressbet.com, www.tvg.com or www.twinspires.com.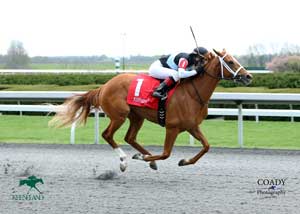 Miss Lucky Sevens ran perhaps the best race of her life when she "officially" broke her maiden on the Churchill Downs greensward last November. An affinity for the quirky Lousiville lawn, the ability to run right from her own stall and a pace scenario which is projected to find the chestnut spitfire out where she likes to be coasting along on the lead are the trio of factors that have caused trainer Wayne Catalano and Eclipse Thoroughbred Partners to send the daughter of Big Brown to post in Saturday night's running of the Grade 3 Regret Stakes.
The hundred-grander is the 9th race on the Spring/Summer meet's most popular and important night (aside from Oaks and Derby weekend) and the starter will spring the latch and send the E-O-LEVEN sophomore fillies on their 1 1/8-miles nighttime tour of the turf at Churchill Downs at 10:11pm ET. Rosie Napravnik, who has been aboard Sevens the last 2 races, including a dazzling win in a Keeneland Allowance, will be back in the saddle on Saturday night.
Miss Lucky Sevens made her Stakes debut last month in the Hilltop Stakes when she pressed a white-hot pace on the deep and demanding Pimlico weeds. She was swallowed up and appeared dead in the water at the 1/8-pole, only to re-break and battle back into the fold to be a respectable 4th on the occasion, beaten just a pair and change of lengths for all the dough. Pressing tactics weren't particularly to Sevens' liking, so conditioner Wayne Catalano and Eclipse President, Aron Wellman, are making no bones about what their game plan is for the Regret.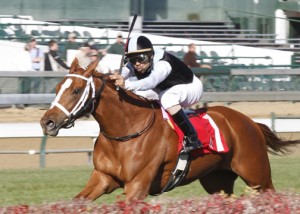 "We gonna pop out of there and make 'em chase us," Cat Man proclaimed. "We don't like to chase, we like to be the one they're all chasing. If Rosie (Napravnik) can spring out of there in good order, we ought to be able to make the lead and if it goes the way we think it may, Sevens will relax out there on the lead, take a deep breath and cut for home when they come to her. If she's good enough, she'll turn 'em away.
"We've been real happy with how she's trained back at Churchill since the Hilltop," Cat said. "She's a light filly, so she don't need much heavy training, but her work week before last on the grass was real nice. She's telling us she's ready to go."
The Regret can be seen live on HRTV or online at www.xpressbet.com, www.tvg.com or www.twinspires.com.