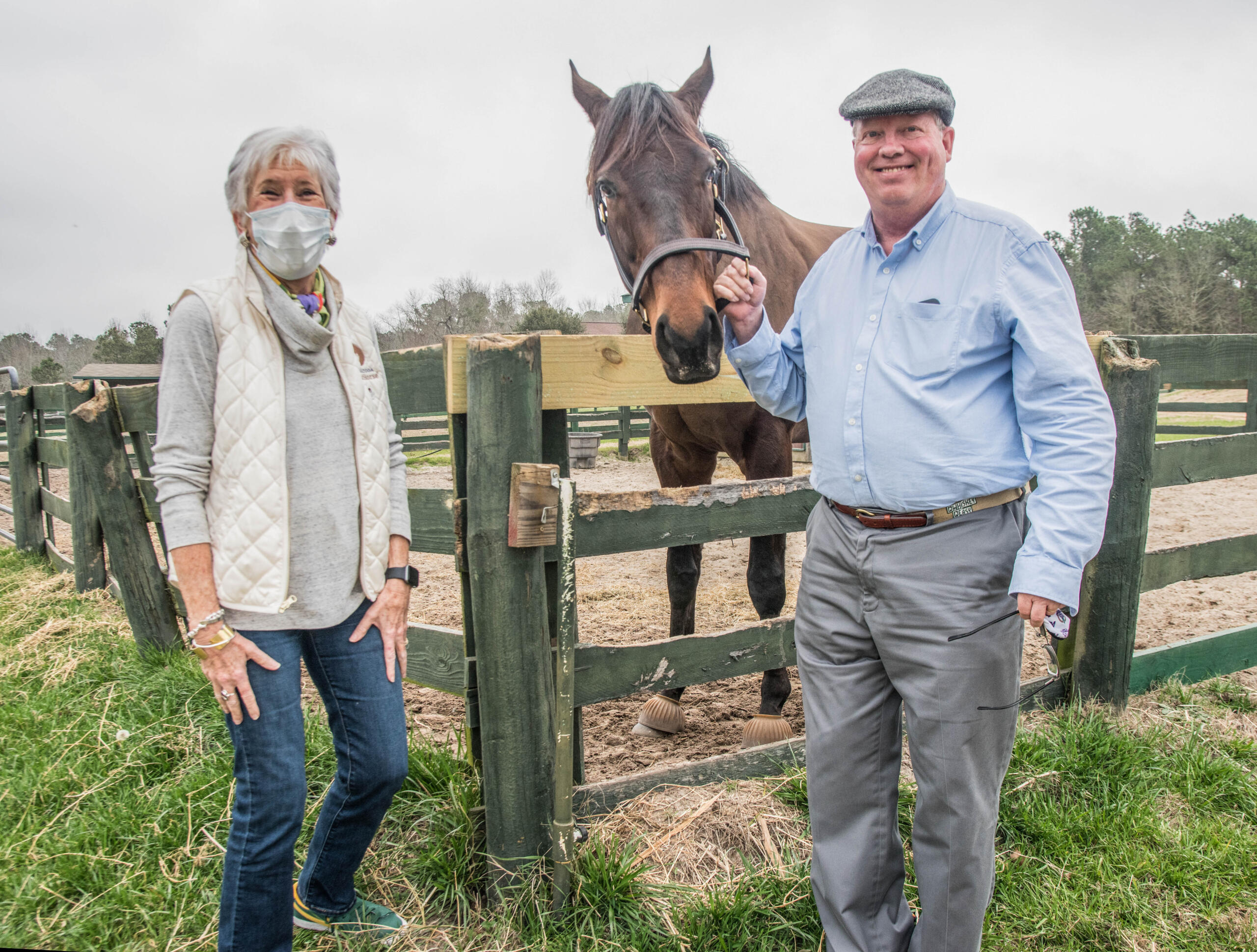 Last horse to race for Dogwood Stable has a new home at Equine Rescue of Aiken
Dede Biles Aiken Standard
Pipes didn't achieve the level of success enjoyed by 2013 Belmont Stakes winner Palace Malice and 1990 Preakness Stakes winner Summer Squall.
But the 5-year-old gelding does have the distinction of being the last thoroughbred raced by Dogwood Stable.
Pipes arrived at Equine Rescue of Aiken's farm on Glenwood Drive the first weekend in February.
Even though he might be put up for adoption in the future – but not any time soon – Equine Rescue's president, Jim Rhodes, plans to make sure that the gelding remains in the Aiken area.
Aiken was the home of Dogwood's president and founder, Cot Campbell, who died in October 2018.
His widow, Anne, still lives here.
Pipes is "a sweet, kindhearted horse that likes attention," Rhodes said. "He wants to be loved on."
Dogwood and Eclipse Thoroughbred Partners purchased Pipes for $115,000 at the Ocala Breeders' Sales Company spring sale of 2-year-olds in training in Florida in 2018 and then raced him together.
Pipes became a winner in his third career start.
He finished second in the Damon Runyon Stakes at Aqueduct in New York in December 2018. The following year, Pipes was third in the Gander Stakes at the same racetrack in March.
In September 2019 at Saratoga Race Course in New York, Dogwood and Eclipse lost Pipes in a claiming race.
Each horse competing in that contest was available for purchase at a specified price, which in Pipes' case was $30,000.
"Eclipse has a program that we call our Blue Moon Fund," said Jack Sadler, who is Eclipse's vice president of operations. "Each racehorse partnership that is formed donates to this fund."
After Eclipse loses horses like Pipes in claiming races, Sadler and his colleagues continue to follow their careers.
When they think it's time for those thoroughbreds to retire from competition, they use money from the Blue Moon Fund to acquire the animals so they can arrange for them to enjoy comfortable lives away from the racetrack.
Pipes ran in a claiming race on Feb. 4 at Laurel Park in Maryland, and trainer Michael Trombetta, who was representing Eclipse, got the gelding for $5,000 after his sixth-place finish in a nine-horse field.
Rhodes sent an Equine Rescue truck with a trailer to Laurel to pick up Pipes and bring him here.
Anne Campbell said she didn't know about Eclipse's plan for Pipes until after everything "was all done."
She called the effort to claim the gelding and transport him to Aiken a "magnanimous gesture."
Pipes is a "wonderful reminder of Cot," added Anne, who has been to Equine Rescue's farm to visit the former Dogwood runner.
Anne's husband was known for putting together successful partnerships to race horses such as champions Storm Song and Inlander in addition to Palace Malice and Summer Squall, who was Storm Song's sire (father).
In a deal finalized in 2013, Cot sold his list of Dogwood clients to Eclipse, but he continued to campaign thoroughbreds on his own without those partners.
Through his ownership interest in Pipes, Cot "arranged for our whole family to have little teeny pieces of the horse so we could all feel connected," Anne said. "There was so much pleasure and joy in seeing him (Pipes) run and now for him to come to Aiken is just the most heartwarming and compassionate story."
Anne, Sadler and Eclipse are making donations to Equine Rescue to help pay for Pipes' upkeep.
The gelding won three races and earned $209,324 during his career.
Aron Wellman is the founder and president of Eclipse. Brian Spearman is the chairman.
Equine Rescue of Aiken also is known as Aiken Equine Rescue.