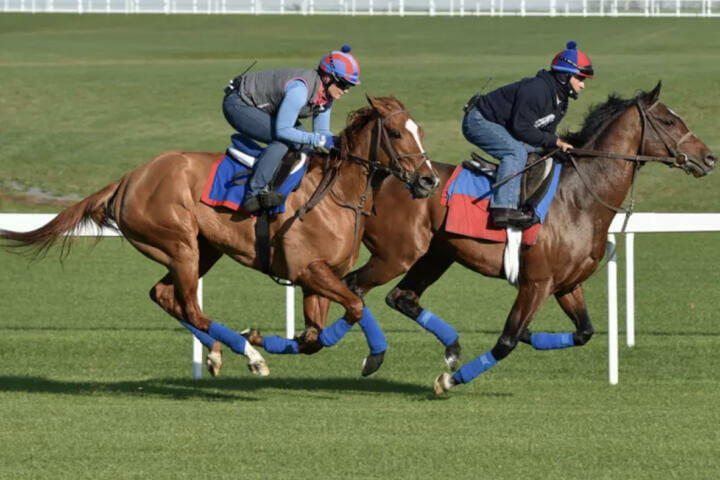 For Sharing, A Different Kind of Tribute
ByJ.N. Campbell HorseRacing.net
Here is a different kind of tribute. It begins by reminding yourself to observe those incremental signposts in all life, which are often invisible to the naked eye. Applied to the business of Thoroughbred racing, that speaks to just how uncertain and fleeting, it all can be. The distance variances are shocking and can grind slowly. It's like the 24 Hours of LeMans, except even longer… All the equine connections can do as they move forward in time, since a Christopher Nolan-esque reversion is still not yet possible, is to adopt what I've found is a countercyclical approach to solving the problems that arise.
That is precisely what Eclipse Thoroughbred Partners, led by the imminently capable Aron Wellman, and Herringswell Stables consummate trainer, Graham Motion, spent 2020 implementing when it came to the health and well-being of their prize filly, Sharing. A week ago, their efforts seemed thwarted, when news was released that this daughter of Breeders' Cup winner Shared Account and several other purple bloodlines of royalty, had to be summarily retired. These two principals have been through this before (Motion trained Shared Account, after all), but even with that in the corner, it is still woefully deficient to call it hard. They did their best to lament the news. Wellman said she, "exhibited special ability," and Motion, described her as, "one of the best I trained."
A mishap was the cause, and in that moment hopes for a robust 4-yr-old campaign and beyond were decimated. Tributes and coverage were rife in the turf media markets. Some optimists argued that at least she could still breed, and that we could look forward to her offspring circling a track someday. Whispers from some corners, of an apologist sort, seemed to suggest that it is not like she had passed away. From my own perspective, I was left wanting when it comes to these two reactions and others. I wondered why anyone felt the need to comment at all or offer such superficial reactions to something that is ever-present in this sport we love so much—namely the fragility of it all.
Instead of recounting all of Sharing's stellar performances, and there were numerous, I want to instead focus attention on what Wellman and Motion, their partners, and their staffs, did throughout Sharing's nearly 2 years of competitive racing. They, and many, many others who were connected to Eclipse T and Herringswell in Maryland, including Gainesway Farm in Kentucky, kept this filly at her best. Her talent, bloodlines, and running ability were impressive, but that wasn't all. Humans involved themselves on all fronts.
The collective "they" were the ones who discussed angles across countless calls, weighed options when it came to her health, scheduled works on the grass or AW, adjusted travel arrangements, spoke to vets, conferred with jockey's agents, and looked to solve a host of foot-related problems that plagued her throughout 2020, all while a pandemic raged. Their commitment to Sharing was resolute because it was not just an investment they were protecting, but a part of their family.
That particular point gets rather lost in a story like this, and it naturally does, but it shouldn't. We know that Thoroughbreds are bred industrially to run, and when they cannot, they retire with a certain record or a certain amount of earnings—immortally imprinted into Equibase. But just like those staunch advocates of "Aftercare," who want to ask, and rightly so, what is next for these former runners? Conversely, the connections are left with a similar, albeit fundamentally different question, of what to do with those emotional attachments that were formed? That invariably is something they ponder and turn over and over.
To answer the latter, this bunch is continually challenged by that complex kinship network that is built over time with a horse like Sharing; and thus, makes her retirement so devastating. To combat the threat of it occurring at any moment, there are mechanisms that are employed, safeguards, which they hope will stave off the inevitable. That is where a sort of countercyclical approach comes into play. An economic term that became prevalent during the 80s, it seems applicable here because it is meant to alleviate fluctuations in a fiscal cycle that can wreak havoc across complex systems. At times, you need to be able to cool down the economy on an upswing or stimulate it when it is on a downturn. It's a complicated process of turning dials and flicking switches that visually evokes a Wood Allen film. The material point is that the Fed does it, so why can't a Thoroughbred's connections?
Someone like Motion is all too familiar with countercyclical implementation. He has spent a career trying to slow down or speed up a horse's reaction to everything from injuries to the entry for a "next out." Timing becomes centrifugal, especially when it is part of your stable. Wellman's position is ingrained in this process too. He is not stationed in the cheap seats or in an armchair; rather, he is serving as a power outlet for everything from information dissemination to partner management. Too much current… and a blackout ensues; too little… and you cannot run a toaster. Sharing's 2020 became a series of countercyclical policies.
After that auspicious Santa Anita Breeders' Cup win in 2019, the filly took some time off. She had surprised many with a late-surge-of-foot, as Manny Franco guided her down the lane. That only raised the expectations and the emotional investment for 2020. The hope was that they might be able to find a spot for her in a race at Tampa after the calendar turned, a track that Motion likes to frequent early in the year. Their lawn competition happens to be one of the best kept secrets in American turf racing, especially since Gulfstream Park is flashier and cards way more races. The timeline became too tight according to Sharing's conditioner, and the first of several foot problems started. They would become an issue again and again. Each time something related to this malady arose, Team Sharing reacted. Issues became roadblocks as a trip to the UK was almost shelved a month before. The pandemic was one thing, but her health became another.
When she competed this past year, whether it was at Churchill Downs (2x), over at Royal Ascot (2nd to Alpine Star in the Coronation S.), or back out in California in the fall at Del Mar, and then, Santa Anita, her feet were watched closely as she headed towards the wire. All of us watching could see that energy she exuded, her frame led by that lovely white blaze of a stripe down her face, capped by a brilliant diamond, flowing like silk chiffon from a Valentino gown.
Sharing was a special runner, as many have surmised. She was precisely that, because of the human beings who surrounded her, loved her, and felt such emotion about her. Unlike her anatomy which turned hostile down below the fetlocks, her gentle nature was full of fluidity, coupled with a sanguine temperament. Those who knew her, stayed up late worrying about her feet, concerned themselves with which specialists to bring in, and kept her veterinary state at the forefront of their minds. Their efforts were not in vain.
Acknowledging that story, and understanding their connection to Sharing, might help us appreciate that they cannot run forever. We must enjoy them while they are out on the track or in training. That is because nothing ever lasts; Motion, Wellman, and the rest, know this deep down. One last question surfaces: Aren't these runners just like all of God's creatures? They have the ability to elicit a highly-emotional experience for those that recognize it. At some point, when we are invested so profoundly at all levels we have to grapple with the ramifications of fragility. It is the very nature of the Thoroughbred. Countercyclically speaking…
https://www.horseracing.net/us/news/breeders-cup-winner-sharing-horse-retired