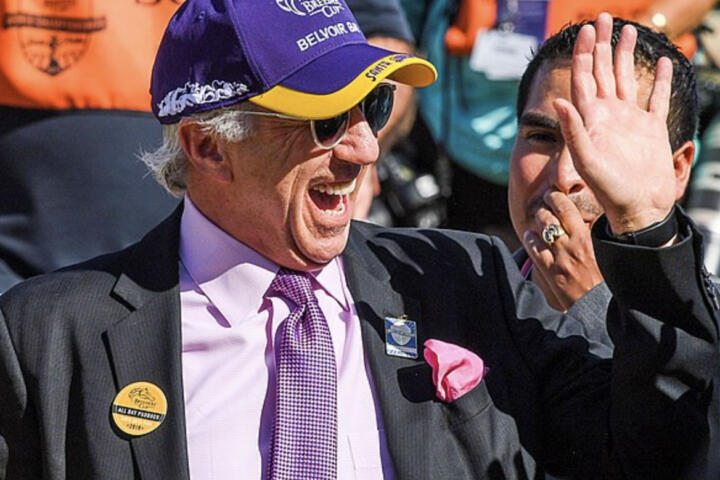 Eclipse Partner Gary Barber's Love Affair With Racing
By Lenny Shulman BloodHorse
As we exit 2020 with a less than fond farewell, the departed year did occasionally allow slivers of sunshine to slip through. Horse racing, for instance, found itself well positioned to survive in a largely spectator-free universe, having surrendered to remote gambling long before the COVID pandemic. And Thoroughbred owner Gary Barber, building upon a wondrous 2019 season, enjoyed 19 graded stakes victories in 2020 heading into the year's final week and the opening of Santa Anita Park's winter/spring season.
Considering the Thoroughbred Owners and Breeders Association named Barber the National Owner of the Year for 2019, his ability to back that up with a second season of staggering successes is particularly noteworthy. As owner or co-owner, the South African native notched seven grade 1 tallies in 2020 among those graded scores and 30 stakes wins worldwide. In 2019 he enjoyed five grade 1 wins, 12 graded victories, and 33 global black-type triumphs. In each season he scored a Breeders' Cup win (Belvoir Bay in the 2019 Turf Sprint, G1T, and Vequist in the 2020 Juvenile Fillies, G1), and he copped his first classic trophy when War of Will  took the 2019 Preakness Stakes (G1).
But Barber, who now calls California home, isn't simply lounging around and running a racing stable. He has what he calls "a day job," serving as chairman and CEO of Spyglass Media Group, which develops and produces films and TV series worldwide. He also helmed Metro-Goldwyn-Mayer Inc., the iconic film studio, for nearly a decade, steering it out of bankruptcy into the black. His credits as producer, executive producer, or financier include "The Sixth Sense," the "Ace Ventura" films starring Jim Carrey, "Seabiscuit," and Academy Award winner "Memoirs of a Geisha."
Sure, Barber makes his living from the visual arts. And he is a sports fanatic who attends every Los Angeles Lakers game and has season tickets for baseball's Dodgers and the NFL's Los Angeles Chargers. But the passion in his voice rises to its highest pitch when he discusses his horses. He is up before the sun talking to his trainers and his partners. He studies race replays, sheets numbers, and speed figures. He anxiously anticipates upcoming stakes events in which he'll have contenders.
"There is a lot of work, and I do a lot of it myself because I enjoy it," Barber said. "It's an everyday thing Monday to Monday. Having the passion for it is key. The passion for the sport and care for the horse are what have driven me. I love the lead-up to the races and trying to figure the angles. Most times that's better than the actual results."
Barber, 63, got his first taste of the racetrack when he and his friends went to Turffontein Race Course in Johannesburg in their relatively tender years. In addition to the attraction of the equine athletes, Barber was drawn to the opportunity to punt ("gamble," in U.S. terms), and established an instant affinity for the sport.
Despite a stint as a certified public accountant, Barber still decided to enter horse ownership after emigrating to the U.S. in the 1980s. He claimed horses early on, then began stepping up his participation when "The Sixth Sense" became a hit after its 1999 release. Barber entered into what has become a long-standing participation in Team Valor partnerships.
"I've always had a portfolio approach because in the early days, I didn't have the income to own horses on my own," Barber noted. "My first big horse was The Deputy, who won the 2000 Santa Anita Derby (G1), and who was the springboard for Barry (Irwin of Team Valor) and me to own horses together. We've had a good measure of success, as well as many that didn't work out. You know this isn't an easy game; it's challenging. You have to have staying power, and you have to have belief. But you also have to have passion for the game and enjoy it."
Added the former CPA, "It's not the most disciplined way to use your disposable income."
In the early 2000s Gary and his older brother Cecil owned a portfolio of horses together. Cost of Freedom, a $50,000 claim, ran out five stakes victories, including the Ancient Title Stakes (G1), and a placing in the 2009 Sentient Jet Breeders' Cup Sprint (G1) for them.
The parade of Barber-owned stakes winners grew more pronounced thereafter. Lexie Lou won the Queen's Plate in 2014, and Jack Milton  took the Maker's 46 Mile Stakes (G1T) the following year. Also in 2015, Catch a Glimpse gave Barber his first Breeders' Cup winner, scoring in the Juvenile Fillies Turf (G1T). Tourist  (Barber had produced a film called "The Tourist") came along to win the Breeders' Cup Mile (G1T) in 2016, and Wonder Gadot added another Queen's Plate to Barber's résumé in 2018.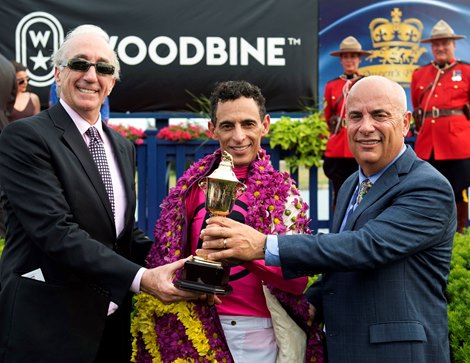 Barber not only has partnered with various entities over the past decade, but has also diversified how he has acquired stock. He breeds, shops at auctions, buys into active racehorses, and still claims. As a result, bloodstock agents are continually ringing him up hoping to make a sale.
"I have to weed through the offers, put them through the strainer, and see if they pass the smell test," Barber noted.
Said trainer Mark Casse, who conditions many of Barber's runners, including War of Will, grade 1 winner Got Stormy, Lexie Lou, and Wonder Gadot, "The horses come from every direction. I've gotten emails from Gary that he just bought a weanling the night before in Japan. We bought Lexie Lou as a 3-year-old, Catch a Glimpse as a galloping 2-year-old, and War of Will out of a 2-year-old sale in France (purchased by Casse's brother Justin). Gary is so good at spotting young horses that are running. He's not afraid to take a shot; that's for sure."
Barber took a shot in 2020 on a 2-year-old Nyquist  filly named Vequist, whom his partner Adam Wachtel identified as a purchase candidate after she had finished second by a nose in her debut at Parx Racing July 29. Wachtel Stable and Barber bought 75% of Vequist, who has subsequently won the Spinaway Stakes (G1), finished second in the Frizette Stakes (G1), and won the Juvenile Fillies.
"How many people would buy, for a lot of money, a horse that ran second at Parx?" Barber asked rhetorically. "We looked at the sheet numbers, and Adam and I put our minds together. She's been amazing and could be the Eclipse winner." (Vequist was named champion 2-year-old filly of 2020 a few weeks later.)
Barber played an active role in the success of Got Stormy, whom he bought as a maiden through international bloodstock agent John McCormack. Sent to Casse, Got Stormy won the Fasig-Tipton De La Rose Stakes at Saratoga Race Course in 2019, and Barber got it in his mind to run her back one week later against boys in the Fourstardave Handicap (G1T).
Remembered Casse, "Gary prefaces quite a few sentences by saying, 'You're going to think I'm crazy…', and that was one of them. He thought because she had won so easily, we should run her back in a week. He left it to me to see how she was training, and we galloped her the morning that entries were being taken for the Fourstardave, and she came back bucking and jumping, so I told him I couldn't discourage him from running her. So we did, and the rest is history."
Added Barber, "Sometimes you just have to go with your gut."
Although most trainers would rather do self-dentistry than listen to an activist owner make suggestions on where to run, Barber appears the exception to the rule. Peter Miller, who has trained for Barber for nearly 15 years and has developed such stars as grade 1 winners Comma to the Top, Belvoir Bay, Get Her Number, and grade 2 winner Laura's Light for Barber, readily welcomes the input.
"He's an action guy, and so am I, which is why we work so well together," Miller said. "Neither of us is afraid to wheel one back quickly. We discuss spots; we discuss riders. He's very involved, which is a bad thing with a lot of owners. But with Gary, it's a good thing because he's so sharp and knowledgeable. I want his opinion, and it's great to feel that we're in it together. He knows the ins and outs, and the ups and downs."
Barber has been more than willing to ride the current trend of partnerships in Thoroughbred ownership. Besides Team Valor, he has entered into multiple deals with Wachtel, and with Aron Wellman's Eclipse Thoroughbred Partners.
"It's a combination of social and financial considerations," said Barber. "Sometimes it's part of the deal if you identify a horse you like, and the original owner wants to stay in. So you make an accommodation for that. In most cases I want to be the managing partner to make sure the racing career is right. I've had great success with partners and have no problems with that, while also doing quite a bit on my own as well."
While he stated that he mostly invests in fillies because of their potential residual value, Barber is flexible enough to scoop up a prospect such as War of Will, whom he procured for just under $300,000 at an Arqana 2-year-old sale in France. War of Will proved to be a good horse to own in whole as the son of War Front , out of the Sadler's Wells mare Visions of Clarity, took the Lecomte Stakes (G3), Risen Star Stakes Presented by Lamarque (G2), and Preakness in 2019 before adding the Maker's Mark Mile in 2020 and banking nearly $1.9 million. War of Will is just beginning his stud career next to his sire at Claiborne Farm this season.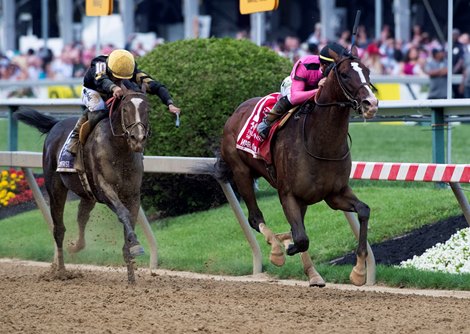 Barber also keeps a hand in breeding, which makes sense as he helps support several of his runners who have gone on to stallion careers. Barber has maintained a substantial interest in three such graduates, keeping the majority of War of Will, 75% of Jack Milton (who stands at Crestwood Farm), and a "big piece" of Tourist at WinStar. He recently sold his interest in Boisterous after breeding several stakes horses by him. He usually breeds out of fillies and mares that have come through his racing program. And he's excited about supporting War of Will, "who has the looks, the race results, and a great pedigree page, with Best in Show in his female family.