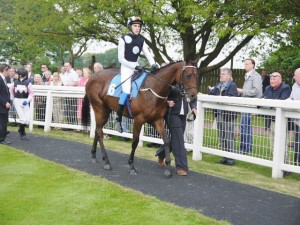 Judy In Disguise to Carry Eclipse Colors in G3 Albany S. at Royal Ascot
Judy In Disguise will make a historical start for Eclipse Thoroughbred Partners when she takes her place in stall 7 of 19 debutantes in the $100,000, Group 3 Albany Stakes at Royal Ascot on Friday. Tom Queally, fresh off of an armchair ride aboard the invincible Frankel in Tuesday's curtain opener to the Royal meeting, will don the baby blue and black Eclipse colors in Friday's starter, which is scheduled to be run over a demanding 6 furlong uphill straightaway at the famous racecourse in the United Kingdom.
The bay daughter of Elusive City, who is 2 for 3 lifetime after losing her perfect mark while encountering a horrendous trip as the betting favorite in the Hillary Needler Trophy 3 ½ weeks ago, is set to launch from post 7 of 19. With rain expected to soften the Ascot turf course for 48 hours prior to the running of the Albany, it is too early to know what effect the post position will have on the running of the race.
Judy In Disguise's conditioner, Bill Turner, will tighten the girth on Eclipse's filly with a sense of quiet confidence about him. The old-fashioned trainer provided, "It was my own fault that Judy did not fare better in the Needler, as I gave awful instructions to the jockey that day and it no doubt botched up the whole thing. But that was then and this is now and our focus all along has been the Albany and I could not be more delighted with the manner in which Judy is entering this race. She had a lovely piece of work over the weekend in which she outworked Lady Phill (14th of 27 in Wednesday's Group 2 Queen Mary Stakes).
"The ground was rock hard at Beverley a few weeks ago and if the rain comes, as it is expected to do, I do think it will be to the benefit of Judy, as she will prefer a more forgiving surface," Turner continued. "She should also appreciate the added distance, as she's been crying out for 6 furlongs all spring. I'm tickled to have Tom (Queally) in the saddle, as I think he'll suit Judy well and I know he'll give her an honest ride. If she maintains her composure prior to going down to the starting stalls, I think she'll run a respectable race. It's a tough field with some exceptional connections, but we like our filly and will truck her over to Ascot with confidence."
Judy In Disguise was uncharacteristically hot and bothered in the pre-race proceedings at Beverley, which has caused Turner and Eclipse to employ a strategy of saddling the filly as late as possible and bring her to the raucous Ascot paddock after each of her 18 rivals have been tacked up and paraded around the ring. The delay tactics will minimize the amount of time Judy is exposed to the stressful environment and if timed right, will allow the filly to go straight onto the course to warm up after Queally has been legged up without too long of a procession.
On sheer Racing Post Ratings, Judy In Disguise is 1 of 3 fillies who carry a figure which exceeds the 100 plateau. Her 105 Racing Post Rating ranks her 3rd amongst the 19 entrants, behind only Newfangled and Agent Allison.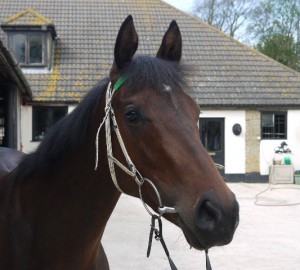 Newfangled, a daughter of New Approach conditioned by the legendary John Gosden and owned by Princess Haya of Jordan, is a potential superstar in the making and figures to be a hot betting choice as she enters the Albany off the heels of an extraordinary debut in which she blitzed home 7 lengths in front of her competition in a 6 furlong affair 2 weeks ago. Gosden has had the Albany on the docket for this filly all season and the debut prep on June 9th must have delighted the brilliant trainer to no end. She is said to be coming into the Albany in impeccable form and figures to take a lot of beating.
Although rated 99, Sendmylovetorose is another well fancied filly who broker her maiden in scintillating fashion a few weeks ago when she won by daylight in a maiden fixture in Ireland for Andrew Oliver. Having won at this trip is a huge advantage as this stage of the year, as not many fillies have been afforded the opportunity to prove their stamina at 6 furlongs. 'Rose did so with ease in fine style and could be any kind.
As one might imagine, a 19 horse field comprised of inexperienced, unseasoned fillies is a difficult race to handicap, especially with the condition of the ground still up in the air. The Albany is a true test of stamina and is often run a messy race with plenty of physical contact. It is not uncommon to see an incredibly strung out field by the time the winner hits the wire, with several entrants struggling to complete the circuit. The best results stem largely from the cleanliness of the journey, in which lucks plays a huge factor.
Eclipse President, Aron Wellman offered, "It is quite a thrill to have a runner at the Royal Ascot meeting. Our company policy is never to run in important races simply for the sake of doing so, as we always want to go into any race, let alone big races, with a conviction that our entrant has a legitimate chance to win, or gain valuable black type. On form and class, Judy In Disguise falls right into the thick of the Albany and while it is impossible to predict how the chips will fall, we're convinced that she is deserving of a shot in this prestigious fixture.
"Our filly hints that 6 furlongs will be to her liking, as was evidenced by her powerful gallop-out in the Needler," Wellman said. "And according to Bill (Turner), she will thrive with some cut in the ground, which is expected. To this point in the meeting, it looks as though the speed on straightaway races has been potent, but that has been on good to firm going and it is anticipated to ease considerably ahead of the Albany, so there's no way of knowing now if that trend will hold true. Judy has tactical speed and she's pretty handy, so it will be up to Tom (Queally) to feel his way through the race and determine what the best strategy will be once the gates open.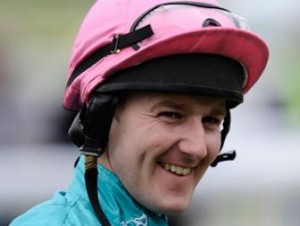 "We're honored to have Tom (Queally) carry our colors and we're very much looking forward to the grand experience of having a quality runner at Royal Ascot. It is a true privilege and while we will soak up the festivities and have as much fun as we can, we will do so while adhering to the values and tradition of the historical meeting."
According to each network's program schedule, both HRTV and TVG will be carrying live coverage of the Albany Stakes. Post time for the affair is 2:30pm GMT, 9:30am ET and 6:30am PT. Coverage is scheduled to begin 30 minutes prior to the race.
For a glimpse at the entire field set to do battle in the Albany Stakes:
http://www.racingpost.com/horses2/cards/card.sd?race_id=557045&r_date=2012-06-22#raceTabs=sc_