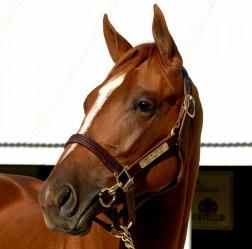 Flying Rapunzel will be Eclipse's First Freshman Runner of the Season
When Flying Rapunzel makes her career debut at Arlington Park on the 4th of July, she will be representing a series of "firsts" for Eclipse Thoroughbred Partners:
The daughter of Tale of the Cat will be the first domestic 2 year-old starter of the season for the stable;
She will be the first ever public auction acquisition by Eclipse to make the races;
She will mark the first time the baby blue and black will make an appearance at Arlington Park in Chicago; and
Flying Rapunzel will be the first horse to be trained by Wayne Catalano for Eclipse.
A $30,000 Keeneland September Yearling purchase, Flying Rapunzel has been a push-button filly since she joined the Eclipse roster last fall. Despite being a May foal, the chestnut filly has marched through the early stages of her career like a filly who means business, both at Goldmark Farm in Ocala where she got her initial lessons in being a racehorse and since she joined Cat Man's main string in Chi-Town in mid-May.
"This filly has been as straight forward as they come," Catalano acknowledged. "She came to me in good shape and she indicated to us right from the get-go that she wanted to get it on, so we got her right into our program and she's never looked back. We're real pleased with how she's come along."
"Flying Rapunzel has shown us she's got some run in her and she's done everything right," Catalano added. "I think she'll run a respectable race. She's been good from the gate and we've got a solid foundation underneath her, so I don't see any excuses going in."
Eclipse President, Aron Wellman offered, "We take the approach with our babies that they tell us when they're ready to progress. Flying Rapunzel has always been precocious and although she's a late foal, she always hinted that she'd be a pretty early developer. When Eddie D. and I bought her last September, we kind of thought she'd be a fast type filly and from what Wayne has reported, it sounds as though that very well may be the case.
"Having not had the luxury of seeing her breeze recently in person, it's hard for me to get a real gauge on what to project from her in her first start and we're really just looking to get a solid race into her and to provide her with a positive initial game day experience," Wellman said. "Wayne is one of the best in the business when it comes to developing young talent, so we know we're in good hands.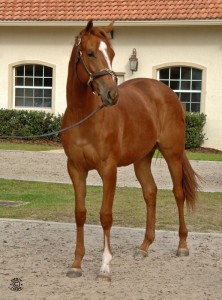 "We're looking forward to getting this filly's career underway, to establish ourselves in Chi-Town and to get to work with Wayne. Wayne and I go back a few years to my Team Valor days and he was a key player in developing Kentucky Derby winner Animal Kingdom for that stable. Despite the shift in trainer for that colt heading into his sophomore campaign, Wayne was a class-act through and through and has remained a loyal supporter of mine and he's always rooting us on. We're proud to have Flying Rapunzel with him and we hope it's the first of many horses we'll campaign with him.
Wellman concluded, "This is a special race for us. When we first formed Eclipse, Mr. Ducchossois was one of the first individuals to reach out with a personal note, congratulate us on the formation of the company and our early successes and extend an invitation to his beautiful track in Chicago. We were honored by the gesture and we're thrilled to have a runner at Arlington, which will hopefully be the first of many in the years ahead. We have some Chicago locals in this partnership and it would be great to provide them with a thrill at their home track."
Post time for the Independence Day card at Arlington is 3:29 CT. The race can be viewed live on HRTV or via video stream at www.twinspires.com or www.xpressbet.com or www.tvg.com.