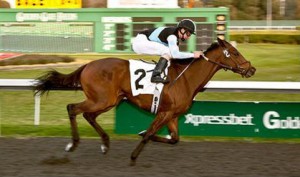 Judy In Disguise Romps Home To 7-Length Victory In Stateside Debut
Judy In Disguise could not have been any more brilliant in dominating her United States debut on Saturday in an Allowance race for 3 year-old fillies at Golden Gate Fields in Northern California. The 7-length margin of victory and the dominant fashion in which the score was achieved was jaw-dropping to say the least, as was the final quarter Judy ripped off in :23 3/5, which is virtually unheard of by the Bay on the synthetic surface known as Tapeta.
Last seen donning Eclipse colors across the pond at the prestigious Royal Ascot meeting in England in the Grade 3 Albany Stakes in June, Judy In Disguise was slow to adapt to American style training methods, but came around in a big way while blitzing to an authoritative win on debut.
The Simon Callaghan trainee had shown plenty of zip in her first 2 tries in the U.K. last spring and the speed on display 7 months ago is what inspired Eclipse to acquire the daughter of Elusive City, try her at Royal Ascot and then import her to Southern California.
"Judy was bought as a filly with much promise, but after a difficult experience in the Albany at Royal Ascot and several months of uninspired training in California, we began to have our doubts," Eclipse President Aron Wellman admitted. "She did start to come around little by little the past 6 weeks or so, but to say that we were confident she'd put forth the type of performance she did on Saturday would be an outright fib.
"Fortunately, she looked every bit the filly we thought we purchased last season in what could be described as a truly breathtaking run," Wellman said. "The fact that she did what she did the way she did it kind of took us by surprise, so it's hard to get too far ahead of ourselves in terms of plotting out a race path, but now that she's totally out of conditions, she warrants consideration for Stakes without question. Simon (Callaghan) and his staff have done a superb job bringing Judy along at her own pace and credit must also be given to our partners, who endured a lengthy wait to get her going. It appears their patience in allowing what we needed to do to posture Judy for success may pay off yet. We're excited about her future prospects."