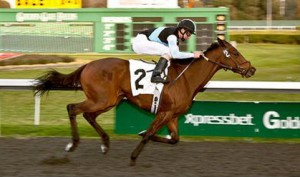 Eclipse Poised For Huge Action Weekend
Judy In Disguise provided her connections with a welcome surprise 2 weeks ago when she dazzled in her North American unwrapping off a 7 month break from action when she scampered over the Golden Gate Tapeta en route to a jaw-dropping 7-length victory. The coming-out party of sorts will either be further celebrated, or be buzz-killed on Saturday when Judy wheels back off 2 weeks rest in a salty rendition of the $75,000 Sweet Life Stakes scheduled to be run down the toboggan slide turf course at Santa Anita.
Carded as the 8th race, with a post time of 4:07 pm PT, the Sweet Life will mark the return of Judy to Stakes action. Her 2 tries in such company in Great Britain did not fare so well, but without any foreseeable option on the horizon, trainer Simon Callaghan and Eclipse have decided to go for the gusto.
"Judy is full of energy," Callaghan reported. "I cannot imagine a young filly coming out of a fast race like she had and the long van ride to and from San Francisco, any better. We took her for a spin last weekend to get a proper gauge on her fuel tank and it appears we're back on full. These fillies can trick you sometimes, but I can't see any reason not to give her a try in this race. We have nothing to lose."

Eclipse President, Aron Wellman echoed Callaghan's perspective in stating, "It's asking a lot of a young filly to do what we're asking her to do, but all the signs are there that she's up to the task. We're not so much concerned about whether she'll run her race, so much as whether she's ready for the type of caliber fillies she's in against on Saturday. There are a few other wickedly fast fillies signed on and some pretty classy ones too, so Judy will not only have to adapt in terms of her style, as she'll most likely have to stalk the pace early and attempt to pass horses the final quarter, but even more so in terms of class. It'll be interesting to see how she responds."
Saturday's race can be seen live on HRTV or online at www.xpressbet.com, www.betfair.com or www.twinspires.com.
Capo Bastone Makes 3 Year-old Debut Saturday in Gulf Allowance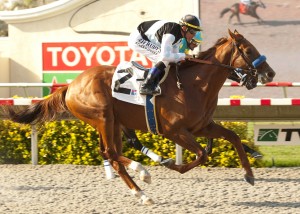 Everyone knows what Capo did last season at age 2. Everyone knows what he didn't do, too. And, for those keeping score, there's plenty of talk about the "what could have been" scenarios. But, on February 16th, 2013, none of that matters. The time for Capo to prove he's the man he's been lauded to be is now and while his 3 year-old debut is hardly a must-win, pressure cooker predicament, there's no question that an encouraging, high-level performance will be required in order for the "Underboss," to prove he's worthy of becoming a made man.
Todd Pletcherand Eclipse have carefully selected a first level Allowance race scheduled to be run around 2-turns in Hallandale Beach, Florida to kickstart Capo's sophomore season. John Velazquez, who got a feel for the copper colt in the Del Mar Futurity last summer and has been on Capo's back for the past month, will do his best to dial up a favorable trip from post 5 of 8 traversing 1 1/16-miles around the Gulfstream Parkoval.
Pletcher has had Capo under his shedrow since the beginning of December and the silver-haired training wizard has become increasingly more comfortable with Capo Bastone in recent weeks.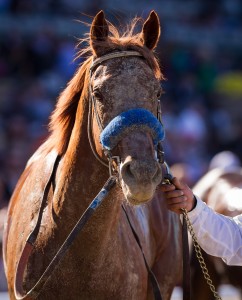 "It took us some time to get a handle on Capo and his tendencies, but he's pretty much been a straight shooter from the start," the Toddymeister stated. "We've made some tweaks here and there without trying to reinvent the wheel and having John (Velazquez) on his back week in and week out has really been beneficial. Capo has strengthened considerably over the past month and we think we've got him plenty fit to run well on Saturday, without having tightened the screws too hard by any means. Our primary focus is to get a good, solid race into him and have him moving forward so that hopping onto the Derby trail is justified."
Eclipse President, Aron Wellman offered, "When we mapped out a path for this colt in November, all we wanted was for Capo to be ready to run in early to mid February. We missed the race we thought we wanted to launch his season with, but in hindsight, that may turn out to be a blessing in terms of timing and overall fitness. Saturday's race has a solid bunch of colts lined up against our horse, so there's no way it'll be a walk in the park, but all we're looking for is a promising, useful run to posture Capo for a shot at some Derby points.
"Poise is the name of the game when it comes to not just qualifying, but preparing a horse to perform at peak capacity come Derby day," Wellman reasoned. "We have always looked at February as a preparatory month and if Capo earns his way into a 50-point prep in March, excellent. We've put him in a position for him to go out and justify himself as a legitimate Derby trail candidate. We are where we want to be."
Saturday's race, which goes as the 9th on the and has a post time of 4:35pm ET can be seen live on HRTV or online at www.xpressbet.com, www.betfair.com or www.twinspires.com.
Amira's Prince Jumps into Deep Waters Saturday in Grade 2 in Florida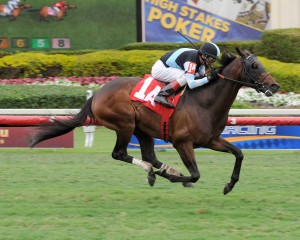 Amira's Prince has been perfect in each of his 2 outings to date on American soil. He puts his unblemished record on the line in a big way on Saturday, however, when the dark son of the Galileo sire, Teofilo, dives head-first into the deep end of the pool when he mixes it up with 9 other colts in the Grade 2, $150,000 Mac Diarmida Stakes at Gulfstream Park.
Hall of Fame trainer, Bill Mott, will provide a leg up to fellow Hall member, John Velazquez, who will have to call upon his vast skill and experience in order to provide Amira's Prince with a trip capable of landing him in the winners' enclosure from post 9 of 10 going 11 furlongs on the weeds in Hallandale Beach, Florida. Post time for the Mac, which goes as the 10th on the card, is 5:05pm ET.
Mott, who has done a superb training job developing Amira's Prince since he arrived I his barn in November, said, "The colt was doing well before his first race in December, he was doing good before his race in January and he's doing just as well, if not better, going into this race in February. And, there's no doubt, he's going to have to step up his game considerably to at with the kind of colts he's in against on Saturday. We feel like he's up to the challenge. We could have quite easily waited for the Pan American, but Amira's Prince is training so nicely for us that I think it'd be unfair to keep him in the barn. We think he's poised to take another step forward and we're excited to see how he does against Graded company."
Eclipse President, Aron Wellman said, "Bill (Mott) and his crew have done a sensational ob with Amira's Prince. We've had the luxury of being able to run him through his conditions and he's deserving of a chance at this kind of race. My initial instinct after the NW2 win on January 19th was to give he colt and Bill plenty of time to recover and the Pan American looked like Plan A. But, when Bill Mott says a horse is thriving and there's no reason to wait, well, then it's time to strike while the iron is hot. The wide draw isn't doing Amira's Prince any favors, but it looks like there's a lot of speed to his inside, so John knows him well and we have all the confidence in the world he'll make the right moves and give us our best chance to win."
Saturday's race, which goes as the 9th on the and has a post time of 4:35pm ET can be seen live on HRTV or online at www.xpressbet.com, www.betfair.com or www.twinspires.com.