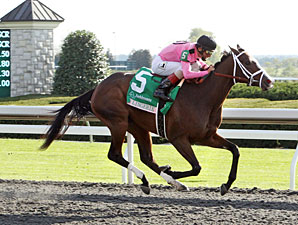 In Lingerie Heads to BC, But Race Undecided
In Lingerie is scheduled to take a plane ride from Kentucky to California Oct. 9 and "our thought at the moment" is for her to participate in the Breeders' Cup World Championships next month at Santa Anita Park, said Aron Wellman. But he's not sure which race she will contest.
Interviewed Oct. 9, Wellman is the president of Eclipse Thoroughbred Partners, which races In Lingerie in partnership with Gary Barber. The 3-year-old Empire Maker filly won Keeneland's Oct. 7 Juddmonte Spinster Stakes (gr. I), which is a Breeders' Cup "Win and You're In" Challenge race for the Ladies' Classic (gr. I).
"I would have to say that the top two choices would be the Ladies' Classic and the Filly & Mare Turf (gr. IT), in no particular order," Wellman said. "And then there are a couple others that may come into play as well. It will be sort of a team decision between myself, my partner Gary Barber, and (her multiple Eclipse Award-winning trainer) Todd Pletcher, of course. The Breeders' Cup rules are pretty generous now. You can actually apply that credit that you've earned as a result of the "Win and You're In" for the Ladies' Classic to any race, so that's pretty nice."
Wellman isn't in a real hurry to select In Lingerie's Breeders' Cup target. The World Championships will be held Nov. 2 and 3.
"We're just trying to keep all options on the table and not commit to any one particular spot at this time," he said. "We'll give ourselves as much time as need be and if the time comes and we feel the best situation for us is to cross-enter her in a couple races, we'll do that."
An earner of $712,265, In Lingerie didn't make her career debut until this past January, and she has won four of her seven career races. She has earned $712,265 while never finishing worse than third and is undefeated in three outings on Polytrack. Her efforts include victories in the Bourbonette Oaks (gr. III) and Black-Eyed Susan Stakes (gr. II) along with a third-place finish in the TVG Coaching Club American Oaks (gr. I) and a runner-up performance in the Alabama Stakes (gr. I). Questing won both the CCA Oaks and the Alabama.
"Right now the Ladies' Classic division just happens to be exceptionally deep," Wellman said. "Obviously, you're talking about the ones under consideration right now being Royal Delta, My Miss Aurelia, Questing, and Awesome Feather, all of which are tremendous fillies. We're not shying away from any of them per se, but it just happens to be a very deep and contentious race at this moment. Our filly is pretty versatile, and she has a tremendous amount of stamina. We're just going to try to put our heads together and come up with the best option for her."
In Lingerie has been entered in the Fasig-Tipton Kentucky November select mixed sale, but Wellman said "we're keeping all our options open" about whether to continue to race the bay filly beyond the Breeders' Cup or sell her. He added that being entered in the auction "won't have any impact on our choice of which Breeders' Cup race she goes into."
Because of the Spinster victory, "we believe she has propelled herself back into championship consideration for an Eclipse Award for 3-year-old filly," Wellman said. "She won the Black-Eyed Susan and now she's the only 3-year-old filly to have beaten older mares in a grade I (this year). We believe that sort of puts her back in the mix. The Breeders' Cup is the Breeders' Cup; we're just going to put her in a position that we think postures her for maximum success."
Other Eclipse Thoroughbred Partners horses under consideration for the Breeders' Cup are Tara From the Cape, campaigned in partnership with Barber and Debmar Stables, and Capo Bastone. Tara From the Cape, who finished fourth in the Oct. 5 Darley Alcibiades Stakes (gr. I) at Keeneland, is scheduled to be on the plane headed to California Oct. 9 with In Lingerie. A 2-year-old daughter of Leroidesanimaux, Tara From the Cape won the Thomas (Tuck) Greene Memorial Stakes on turf at Del Mar and was second in the P.G. Johnson Stakes on grass at Saratoga Race Course. Capo Bastone finished third in the Sept. 29 Frontrunner Stakes at Santa Anita and is a winner. He is a 2-year-old son of Street Boss.
Reflecting on In Lingerie's Spinster victory, Wellman called it "a huge honor," then added: "It was quite humbling to win such an important race at Keeneland. It was a very special thing. I'm just really happy for the filly and our partners. Obviously, we're very happy for Todd, who had done a tremendous job with this filly over the year. We feel very fortunate."