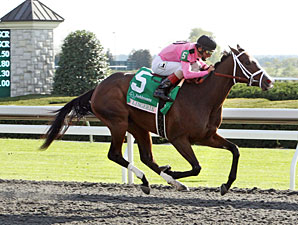 Eclipse Profiled In Forbes
The Racy In Lingerie Pays Off For Eclipse Thoroughbred Partners
Contributor: Teresa Genaro
Two years ago, a yearling bay filly went through the sales ring at Keeneland. Her sire, Empire Maker, won the Florida Derby, Wood Memorial, and Belmont Stakes, and he finished second in the Kentucky Derby. Still, no one was much interested in the filly; bidding reached $22,000, less than her reserve, and she left the ring unsold.
Last weekend, she returned to the site of her ignominious beginning and emerged a star.
On Sunday at Keeneland Race Course, In Lingerie won the Grade 1 Spinster Stakes, one of the country's most prestigious races for fillies and mares. It was her third graded stakes victory, her fourth victory in seven races; she's the kind of filly that Thoroughbred owners dream about.
In Lingerie is owned by Gary Barber and Eclipse Thoroughbred Partners, the latter a fledging ownership group that got its start in August of 2011. Its 35-year-old president, Aron Wellman, previously worked for Team Valor International, the Thoroughbred partnership that owns 2011 Kentucky Derby winner Animal Kingdom. Eclipse ran its first horse a year ago this month.
Last January, Wellman was watching a race from Turfway Park in Florence, Kentucky; while Turfway hosts several major stakes races, its fields in January are not necessarily full of budding superstars. The seventh race was for 3-year-old fillies who had never won a race, running for a purse of $22,000, of which $13,200 would go to the winner.
"I loved her race," said Wellman last summer of In Lingerie's debut, which she won by more than six lengths. In business for barely three months, he knew he wanted to make an offer, and he knew she wouldn't come cheap.
He acted quickly—he characterized it as "aggressively"—and recruited 15 partners to buy shares in the filly. While most Eclipse partnerships aren't that large, Wellman needed enough people interested to cover the filly's purchase price, which he declined to disclose.
She's more than made it worth the purchase price, never finishing worse than third and earning $712,265 on the track. Wellman has entertained offers to sell her, but, he said, none has been the "right fit."
Following her win in the Spinster, a "Win and You're In" race for the Breeders' Cup Ladies Classic, In Lingerie will point to the Breeders' Cup at Santa Anita in early November, though Wellman and his partners haven't decided in which race she'll run. Nor have they decided whether they'll own her for much longer: she's catalogued for the November sale at Fasig-Tipton, where the offers are sure to exceed the $22,000 offered two years ago.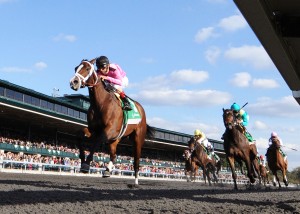 "My job as managing partner of Eclipse Thoroughbred Partners," Wellman said this week, "is to put our partners in the position to be able to maximize profits when the opportunity arises. Our job is to try to put money back in partners' pockets."
He took care to note, though, that buying into a racehorse is not recommended if you're looking to make a profit.
"We never classify owning horses through Eclipse Thoroughbred Partners as an investment," he said. "If you're seeking entertainment value and participation with really high class horses, and you want to try to weave in a lifestyle element that goes along with owning high class horses, and you understand the risk associated and are willing to write the check and never see another penny, this is for you.
"In Lingerie is the exception, not the rule," he went on. "You hope that she makes up for the eight or nine you swung and missed on."
Asked to speculate what In Lingerie might be worth, Wellman laughed. "I'll tell you after the Breeders' Cup," he said.
He continued, "I have a ballpark figure in my head, and I've spoken to Gary Barber; we have Meg Levy of Blue Water Sales who will consign the filly for us whenever she does go through the sales ring. Between the three of us, we've got ballpark figures in our head.
"None of them will be disclosed," he added.
Wellman's phone has been ringing since In Lingerie's Grade 1 win, which, Wellman said, "propels her into a different hemisphere. She's a collector's item, in terms of her pedigree, her physique, and her résumé."
Wellman and his partners will have a decision to make: sell the filly at a time when her value is guaranteed to be high, or continue to race her. She's run twice on synthetic surfaces, winning both times, offering an intriguing option in March of 2013.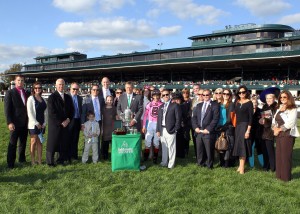 "She's a synthetic track freak," Wellman said enthusiastically, "and that automatically brings into play the Dubai World Cup, and that's a $10 million race. There's no ceiling for a filly like this at her point in her career."
Still, Wellman knows that his first responsibility is to his partners. "She's unique, and not the sort of filly that comes to market that frequently. When you're in a position when you have positive options, you need to keep them all open and on the table.
"And hopefully they'll want to wheel any profits back into another opportunity we can provide."