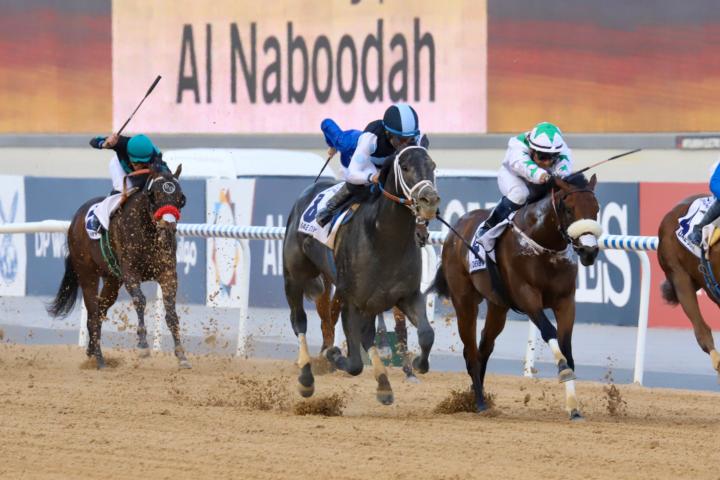 Eclipse's Gray Magician Qualifies For Kentucky Derby
Connections to horses on the Kentucky Derby 2019 bubble take note: Gray Magicianhas two tests left to pass before earning his way into the May 4 race at Churchill Downs.
Aron Wellman, president of co-owner Eclipse Thoroughbred Partners, said the recent UAE Derby (G2) runner-up is set to breeze both of the next two Saturdays at trainer Peter Miller's San Luis Rey Downs base in California.
"We all very much would love to participate in the Kentucky Derby, but we really only want to go there if we know we have a loaded gun," Wellman said. "Considering the circumstances — he's traveled around the world and back and run a hard race — we don't want to get too out in front of ourselves."
Wellman added that Gray Magician will "have to be doing exceptionally well" to head to Churchill Downs. The son of Graydar has already taken a winding path in his young career.
Purchased by Eclipse after his first start, the colt took on more ownership, then transferred to Miller, for a breakout Nov. 24 maiden score going a mile at Del Mar. It was 9 1/2 lengths back to the runner-up in Gary Barber and Adam Wachtel's first race as partners.
From there, Gray Magician ran fourth in Santa Anita's Sham Stakes (G3); didn't like a new style sitting at the front in a Jan. 31 allowance; and took on top Maryland-bred Alwaysmining, finishing second in the Feb. 16 Miracle Wood at Laurel Park.
"He actually ran, on figures, the best race of his life," Wellman said. "He came back and was doing so well that we really thought Dubai was the right target to stretch him back out to two turns and see if he'd like a classic distance. We also wanted to employ a lot more patient tactics.
"We got the performance we always thought he was capable of. He moved forward in all respects. He's not out of the question in terms of his numbers in the race."
Gray Magician's fourth-place finish in the Sham, combined with the UAE Derby finish, put him one point into the prospective field. Next on the bubble are Florida Derby (G1) runner-up Bodexpress at 40; Signalman and Anothertwistafate at 38; Sueno at 32; and Bourbon War at 31.
"It appears as though he has handled everything really well," Wellman said of Gray Magician, who's more than two weeks removed from his final prep. "In fact, he's probably exceeding our expectations in terms of his energy level, the condition that he's carrying, and sort of the vigor with which he's training.
"That's why we're keeping everything on the table at this point. We're really just going to try our best to monitor him as closely as possible and get a gauge for whether we think he's up to the task."