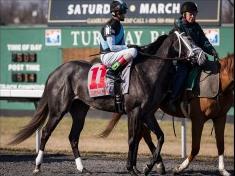 Eclipse Thoroughbred Partners Expands Charitable Partnership with Susan G. Komen Greater Cincinnati Affiliate for 2013
Expanded partnership aims to bring mobile mammography screening services to uninsured women in the Greater Cincinnati / Northern Kentucky area including workers within the thoroughbred community.
May 1, 2013, Springboro, OH: In 2012, Eclipse Thoroughbred Partners formed a charitable partnership with the Susan G. Komen Greater Cincinnati Affiliate whereby a percentage of race earnings won by the company's star filly, In Lingerie, were donated to the charity. As In Lingerie put forth victories in the Grade II, Black Eyed Susan Stakes, Grade I, Spinster Stakes, as well as solid finishes in both the Grade I, Coaching Club American Oaks and Grade I, Alabama, she helped execute on Eclipse Thoroughbred Partners' vision of raising money for the Cincinnati Affiliate of Susan G. Komen. In all, In Lingerie's success helped raise approximately $30,000 for the Greater Cincinnati Affiliate in 2012.
With Eclipse Thoroughbred Partner's operational offices located within the region, and with many of the company's staff members or family touched directly or indirectly by breast cancer, the Eclipse team is focused on providing support to the local affiliate whereby money raised is earmarked for programs in the Tri-State community including the heart of Northern Kentucky's Bluegrass region. Founded in 1997 as the Susan G. Komen for the Cure Greater Cincinnati Race for the Cure (RFTC), the Cincinnati affiliate has grown from a RFTC event with 2,700 participants realizing an approximate $170,000 in revenue to a combined Race/Affiliate revenue of over $1.9M in FY2012. Since its inception the Susan G. Komen Greater Cincinnati Affiliate has funded over $8.6M in programs local to Eclipse Thoroughbred Partner's main location to address screening, education, and treatment of breast cancer.
In an effort to continue 2012's success, Eclipse Thoroughbred Partners has expanded its' partnership with the local Komen affiliate for 2013. Beginning with runners slated for races at Churchill Downs over Kentucky Derby weekend, each filly within the stable running in a Graded Stakes race will run as part of a unique program that Eclipse Thoroughbred Partners has structured to benefit the surrounding region. Under the newly announced partnership, any time an Eclipse filly wins a Graded Stakes race in 2013, Eclipse Thoroughbred Partners will underwrite the costs of providing a day of mobile mammography screening services to uninsured women in the Tri-State area including planned programs for backside workers located in Northern Kentucky. Different from the prior year's partnership, this program applies to all fillies in the company's stable, as well as underwrites a specific program within the Komen Affiliate's geographic area.
Lee Midkiff, Eclipse Thoroughbred Partners' Chairman, commented, "We are honored to have expanded our partnership for 2013. Last year, In Lingerie helped us raise a significant amount of money for the organization which we hope to build upon this year by expanding it to all of the fillies in our program, as well as directing the money raised to specific programs within Ohio, Indiana and Kentucky region."
About Eclipse Thoroughbred Partners: Launched in 2011 and with offices in Dayton, OH, and Del Mar, CA, Eclipse Thoroughbred Partners forms racing partnerships with its' primary focus on acquiring thoroughbreds that have already run on the racetrack and who Eclipse believes possess "blue sky" potential to make a serious mark at the highest level the sport has to offer. Since seeing its' first runner hit the track, Eclipse Thoroughbred Partners has been represented by runners such as In Lingerie, winner of the 2012 Grade I, Spinster Stakes at Keeneland and multiple Grade II winner Amira's Prince.