Charlie Em Makes Eclipse & Stateside Debut Saturday in G3, $100,000 Senorita at Hollywood Park
Charlie Em is slated to make her Eclipse and U.S. debut on Saturday in the Grade 3, $100,000 Senorita Stakes at soon-to-be demolished Hollywood Park. The fireball filly, who had a taxing freshman campaign while racking up 3 wins from 8 trips to post, including a narrow defeat in a Listed race in Germany in her final start in Europe, will be accompanied by Garrett Gomez on her maiden stateside voyage, which is scheduled to kick off at 3:38 pm PT.
Gomez and Charlie Em will launch from post 7 of 8 sophomore fillies set to do battle over a flat-mile on the green in Inglewood.
Charlie Em has made a positive impression since Paddy Gallagher has started to get serious with the daughter of Kheylef.
"This filly has come around really nicely for us the past 6 weeks," the Irishman accented. "We gave her a lot of time to acclimate and it seems like it's done the trick. She's filled out physically and mentally she's on the muscle. I haven't been too hard on her leading up to this, so it wouldn't surprise me at all if she was a little short on fitness for this. The main thing is that she has a good experience and improves from the run. We consider her a nice prospect with a bright future."
Eclipse President, Aron Wellman offered, "I've been important young fillies to California for several years now. We've been very fortunate to have brought in some high-class sorts who have blossomed in the U.S. and developed into major winners. Most of the time, you know pretty quick whether a filly from Europe is going to excel on U.S. soil as they tip their cap in their training and physique.
"Without getting to far ahead of ourselves, Charlie gives me the impression she's the type that will thrive here," Wellman provided. "I know Paddy has been very conservative about how he's brought her along and I don't expect for her to be totally cranked for this race by any stretch of the imagination, but in analyzing her training and her improved condition, I suspect that she will run a respectable race and punch way forward with the race under her girth. I've got a good feeling about Charlie and I'm excited to see how she performs for us tomorrow."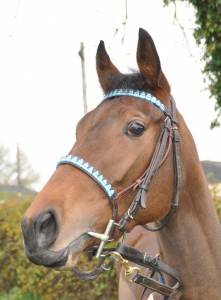 Wellman then reflected on the significance of the race in stating, "The announcement this week regarding the closing of Hollywood Park was hardly unexpected, but it is very, very sad that the imminent closing of this historic venue is a reality. I ran my first Graded Stakes horse in the Senorita Stakes at Hollywood Park in 2005 when Three Degrees was beaten a nose, we won the race with Valbenny in 2006 and we were 3rd in the event last year with Byrama.
"The Senorita has been an important race for me and several of the partners involved with Charlie Em, so while it's hard to comprehend that this will be the final renewal of this affair, it would be nice to make yet another positive mark on the race's history. I'm not sure how many horses Eclipse will run at Hollywood this meet or next, so we're going to try to savor every experience we can before the curtain closes."
The Senorita is the 6th on the Saturday card and can be seen live on TVG or video streamed at www.betfairtvg.com, www.calracing.com, www.twinspires.com or www.hrtv.com.