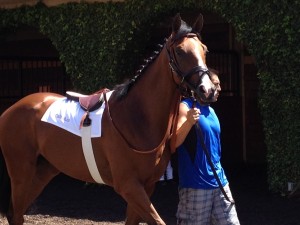 Eclipse Sends Out 3 Runners in Stakes at Del Mar Wednesday
PARISIAN PRINCE TO RUN RIGHT OFF THE PLANE IN OAK TREE JUVIE TURF
It's been 6 weeks since Parisian Prince caught the eye of Eclipse Thoroughbred Partners when he captured his debut in auspicious fashion at Ayr Racecourse in the South of Scotland. And it will be 7 days from the time he left his home in the North of England until he lines up in the gate at Del Mar versus 9 other freshman colts aiming to take down the $100,000 up for grabs in the Oak Tree Juvenile Turf on Wednesday.
Parisian Prince was acquired by Eclipse several weeks ago, at which time a plan was hatched to import the son of Chineur to Southern California with the intent of running him directly off the plane. A van ride to Prestwick Airport, followed by a direct flight to LAX, a quick jaunt over to Hollywood Park to clear a 36-hour quarantine and a cruise down the 405 from Inglewood to Del Mar, was all it took for the strapping bay colt to get to where he need to be to lace 'em up and be ready to throw it down Where The Turf Meets The Surf.
As of the writing of this story on Tuesday afternoon, everything had gone as well as Eclipse and trainer Simon Callaghan could have expected. Callaghan observed, "Parisian Prince is a really taking colt with loads of scope and a pretty good mind about him. He's come over here and made an incredibly favorable impression in a brief time span. Anything can happen in the race, but I do know we've got a colt with a lot of ability on our hands who figures to make a really good 3 year-old. We're thrilled with his condition and although we've just galloped him, it's easy to see by his stride that he's a very talented sort."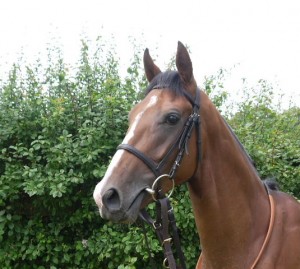 Eclipse President, Aron Wellman chimed in, "It's always a huge risk when you bring any horse across the world and ask it to run in a race within days of it's arrival and that risk is magnified when it comes to young, inexperienced horses like Parisian Prince. Our intention all along has been to aim for this race, but pull the plug if there was even the slightest indication that he wasn't up to the task. But, even though I'm looking for a reason not to run him, he's given me nothing but smiles all week long.
"It's impossible to predict what will happen come race day," Wellman stated the obvious. "But I do know we can expect him to a) break from the gate slow, b) be slightly hesitant around the sharp turns and c) express reluctance to switch leads coming into the home stretch. If he can somehow manage to minimize the effect each of those factors will play on his performance, he gives us the impression that he's ready to run a real race. The key will be to get him as much cover as possible, allow him to follow the pack and hopefully reserve plenty for him to finish up with interest. No matter how things play out, we're enthused about the long term prospects this colt offers."
BYRAMA REVERTS TO 1-TURN SPRINT IN POLY EXPERIMENT AT DEL MAR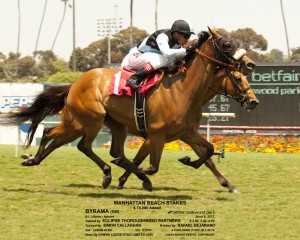 Byrama has had a bit of a rough summer at Del Mar, having turned in her only 2 off the board performances of her 10 race career at the seaside stand, both of which resulted in 4th-place finishes at 2-turn routes. Having been competitive, yet thoroughly exposed at distances which require her to traverse 2 bends, Byrama will be given an opportunity to regain her best form on Wednesday when she takes on 8 foes in the $85,000 CERF Stakes, a 6 furlong Polytrack dash set to kick off at 3pm on closing day at Del Mar.
With recently minted Hall of Fame jockey, John Velazquez, coming from New York to ride Eclipse's Grade 1 Del Mar Futurity entrant, Capo Bastone, the stable pegged Velazquez with the assignment on Byrama, who will be making her first ever appearance on a surface that wasn't green. She's drawn post 2 of 9 runners and Simon Callaghan will reapply the hood for Wednesday's affair.
"Byrama is tough as nails and seems to have handled her 2 races down atDelMar exceptionally well," Callaghan noted. "It's clear now that she is far better at abbreviated distances, as her closing kick is just stronger. The Polytrack is the main question, as well as stepping up against older fillies for the first time. She's trained well and seems comfortable on the synthetic, but until you run them on it, you never know. Our plan is to get her settled and come with a run. If she takes to the Poly, it opens up a lot of options for her as the year moves on."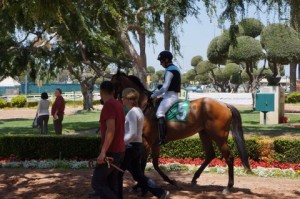 Eclipse President, Aron Wellman added, "We're bringing Byrama back on shy of 3 weeks rest, but she's a filly who takes her races in stride and she's so hearty that we believe she's capable of firing on the short turnaround. There's a race down the hill at Santa Anita at the end of the month, but the timing is good for her to still be able to make that, so we're not compromising her. She worked beautifully over the Poly last week. She was really fluid over it. If she can translate her a.m. affinity for the surface to the afternoon, she'll be rolling late."
CAPO BASTONE IS FOCUSED FOR GRADE 1, $300,000 DEL MAR FUTURITY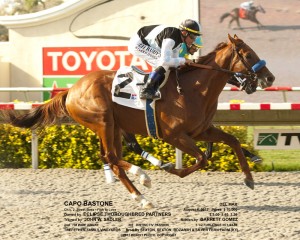 When Eclipse Thoroughbred Partners acquired a hulking son of the first-year sire Street Boss via private sale at the OBS March 2 Year-Old-In-Training Sale, Eclipse President Aron Wellman projected that the colt could very well be a legitimate prospect for the Del Mar Futurity.
After being dubbed a Thoroughbred Daily News "Rising Star" as a result of his jaw-dropping win on debut a month ago, Capo Bastone is right where his connections hoped he'd be the day they bought him and the Eclipse brethren will learn a whole lot about their red colt at 5:30pm PT on Wednesday when he goes toe-to-toe with the best the So Cal freshman class has to offer in the Grade 1, $300,000 Del Mar Futurity.
Eclipse has adopted a take-no-prisoners approach to the Futurity, an important historic fixture which has played a major role in Breeders' Cup and the 3 year-old Classics implications for many years. The attitude could not be any better summed up by looking no further than who Eclipse has tabbed to pilot Capo Bastone, the recently anointed Hall of Famer, John Velazquez, who will navigate a 7 furlong journey from post 2 of a dozen juveniles.
Wellman provided, "Garrett (Gomez) gave Capo an incredible ride in his debut. He schooled him and still got the money. When Garrett asked for more time to decide between Capo and Know More for the Futurity, we opted to turn to John (Velazquez), who was all too happy to come west for the day to ride our promising colt. We have the utmost respect for Garrett and his business, but we couldn't take any chances and went ahead to secure John. We're thrilled to have a rider of John's caliber in this important Grade 1 and we have a tremendous amount of confidence in him every time he sports the baby blue and black Eclipse silks."
Conditioner John Sadler has seen his stable cool off drastically at the seaside in recent weeks and suffered an unconscionable 5 seconds last week alone, 4 of which were decided by a nose. Despite the recent mini-slump, Sadler and his main man, Larry Benavidez, are extremely pleased with the manner in which Capo Bastone is coming into the Futurity.
"Capo couldn't be doing any better," Sadler smiled. "He's done everything we've asked of him and even though we think he's more brilliant on conventional dirt, he seems to handle the Poly atDelMar just fine. His workouts have come over a deep and tiring racetrack since his race, which we hope will play to his advantage. Capo is fit, happy and ready to run a big race. We're right where we want to be."
Wellman commented, "Any time you jump from a maiden race to a Grade 1 it's a monumental challenge. Fortunately, many of these colts are in the same boat. We've always thought highly of Capo and even though his workouts since his win haven't been as brilliant as we were used to seeing before, he's done nothing wrong and all the signs are present that he's in tip-top form.
"The key to this race will be pace, shape and whether John (Velazquez) can manage to provide Capo with a clean run from an inside post. In an ideal world we would have been drawn further outside because it's really tough for a young horse to be stuck down inside of a huge field coming out of the 7 furlong chute, but we must play the hand we're dealt and the fact that Capo has experience with an inside run is somewhat comforting.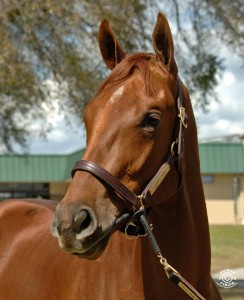 Wellman prognosticated, "I see Capo being significantly closer to the pace in the early going that he was in his debut. The main thing is that he's traveling on the bridle. John will be asked to keep Capo on the bridle for as long as possible, while keeping him within striking distance. The longer he can wait to give him his head, the better. The shorter the burst that Capo is asked for, the better. If it unfolds the way we want it to, Capo drafts in behind the first pack or 2 and carries John to the far turn. Hopefully, John will feel as though he's loaded at the 3 furlong marker and if he can gradually let out a notch on Capo without asking him for his prime explosive move until the quarter-pole, I think he's going to come home with a full head of steam.
"We are in this race with win on our mind," Wellman said. "But, it is not absolutely essential. The most important thing is that Capo validates himself at the level and is doing his best running in the stretch. This is a very gifted horse with long-term goals in mind, so if he stays on that trajectory, we're going to be pleased at the end of the day."
Wednesday's races on the closing day card can be seen live on TVG or online at www.tvg.com, www.twinspires.com, www.calracing.com or www.xpressbet.com.