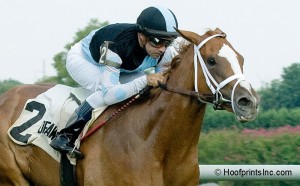 Tara From The Cape Takes Aim at $100,000 P.G. Johnson Stakes at Spa
Tara From The Cape did what she was asked to do in her Eclipse and Todd Pletcher debut earlier this month when she ran away and hid from her competition in the $50,000 Thomas "Tuck" Greene Memorial Stakes at Delaware Park. The trip to Delaware accomplished plenty, including a black-type win to add to the well-bred filly's resume and in providing her with valuable experience traversing 2 turns on the sod.
On Wednesday, the waters get deeper for Tara, as she'll face the sternest test of her career to date when she tackles 9 other freshman fillies in the $100,000 P.G. Johnson Stakes atSaratoga. Aside from stepping up into the big time nature of an important Stakes race atSaratoga, Tara's task has been made more challenging by being dealt a poor post at the draw, having landed "center field" 9. Ramon Dominguez, who can do no wrong at the current Spa stand, will have to call upon all of his skill to navigate a journey from a far outside box going 1 1/16-mies on the inner turf course in order to provide Tara with any opportunity to land herself in the mix.
On the bright side, Tarahas trained consistently and consistently well since her Stakes score and heads into the P.G. Johnson clicking on all cylinders.
Pletcher offered, "We're very pleased with how Tara has trained since coming back from Delaware. Her win there was workmanlike. Nothing to knock your socks off, but she did what she had to do. The most important thing is the way she's responded since the race, which has been very encouraging. Her 2 workouts here over the dirt at Saratoga have been very sharp and she seems to have strengthened for us. She's willing in her exercise and getting more professional by the day. The post is no bargain and Tara will have to take another significant step forward in the P.G. Johnson, but we're confident she's going to make a good account of herself."
Tara From The Cape will unquestionably have to improve to land a blow in this prestigious hundred-grander, which is considered a major stepping-stone on the road to the $1 million Breeders' Cup Juvenile Fillies Turf on November 2nd at Santa Anita. The P.G. Johnson field is deep and chock full of talented fillies with the right to rise straight to the top of the division.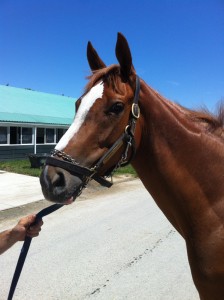 Eclipse President, Aron Wellman said, "With the exception of the poor post, we're right where we want to be with Tara. We knocked down a Stakes with her and provided her with a useful learning experience early in the month and she's trained forwardly in recent weeks for us. The timing is good and she appears to be thriving, so we're entering this important race as well as we could hope for.
"The post is a major concern, especially on the inner turf course which is tighter and perhaps a tad more conducive to speed that come-from-behinders," Wellman acknowledged. "Tara has speed and can put herself into the thick of the race, but how much we want to use her and risk getting hung out wide will be left up to Ramon. He's pushing all the right buttons, particularly on the turf, so we can think of no better jockey to have on our team in this heat. In a perfect world, Tara breaks well and can file over to save some ground heading into the first turn while tucking in behind the leading group.
"If Ramon can manage to get her to the 2 or 3 path without gunning her, I'll feel good early," Wellman envisioned. "Then, we just want her into the bridle and churning at a comfortable rhythm up the backside, reserving herself while staying within contention. At the 3/8-pole, if Ramon has horse beneath him, it will be go time. If it's gone smooth enough to that juncture, it will be a matter of who can finish the fastest. Tarais on the upward trajectory we'd hope she'd be on at this stage and if she can take another forward step, we'll be happy. This is a deep race loaded with talented fillies, so an encouraging performance will keep us on target."
Post time for the 8th on the Wednesday card at The Spa is 4:55 ET.
The race can be viewed live on TVG or HRTV or online at www.xpressbet.com, www.twinspires.com or www.tvg.com.