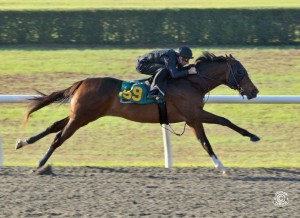 Eclipse Lands A Trio Of 2 Year-Olds At OBS March Select Sale In Ocala
Eclipse Thoroughbred Partners has made a significant, yet calculated move into the acquisition of equine talent at the 2 year-old-in-training sales.
Eclipse President, Aron Wellman, has worked the past 2 weeks at the Barretts March Select Sale in Pomona, California, as well as the OBS (Ocala Breeders Sales) March Select Sale in Ocala, Florida. Eclipse bid on just 2 prospects at Barretts, but went home empty-handed. The larger, more diverse OBS sale proved to be a different story, however, as Eclipse was able to secure its' top 3 rooky draft choices, each of whom Wellman believes possess blue-sky potential.
On Day 1 of the Select Sale, Eclipse bid in a stout son of the proven Deputy Minister sire, Dehere. The bay colt, who has been named Holden On, was incredibly impressive in his breeze show preview. He zipped through his first eighth in a brisk: 10 1/5 and galloped out a quarter in: 21 2/5, 3 panels in a wicked: 33 4/5 and kept rolling to the half-mile marker in: 47 4/5 while proving a handful to pull up.
"Holden On is a tank," Wellman described. "He's got a big, strong shoulder and powerful hind quarters. In his workout he put on a stellar display of speed, but what was even more intriguing was that he kept rolling for a half-mile, despite his rider doing everything in his power to pull him up. Based on his pedigree and build, Holden On figures to be fast and precocious, yet he has a lot of quality and class about him, so I don't expect for him to sizzle and fizzle. For a colt who figures to be at his best sprinting, he has a long, fluid stride. He reminds me of a Bo Jackson-type athlete.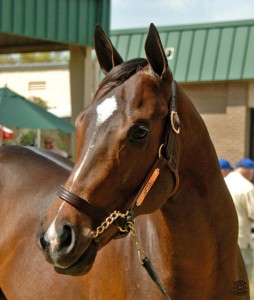 "Mentally, there's no better way to describe him than as a cool dude," Wellman said. "In fact, in the moments before he was set to go into the ring, his handler was leading him over to little kids so they could pet him. I'd never seen that before. Most young horses are cranked up in that environment and here he was allowing children to smack him upside the head. I've got him pegged as a Saratoga baby and it would be no surprise to see him make a name for himself this summer. Fasten your seatbelts!"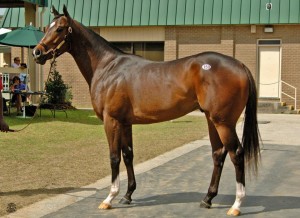 Holden On will be trained by the east coast training prodigy, Chad Brown, a disciple of the Hall Of Famer, Bobby Frankel. The burly bay has already settled in at Brown's barn at Palm Meadows in Boynton Beach and will make his way to Saratoga at the end of April where he will be prepared for his career debut at The Spa.
"That Dehere colt was a stud out there on the track," Brown stated outside the sales ring after being told by Wellman he'd been tabbed to train. "I've got nothing but green pen notes all over his page and when I write in green, that means the horse was money," Brown explained. "I'm really appreciative of the opportunity to train a quality prospect for Eclipse."
To watch the video of Holden On's workout at OBS CLICK HERE
After a solid day 1 in Ocala, Eclipse looked to double-up on Day 2. The company landed its' only 2 prospects on the slate.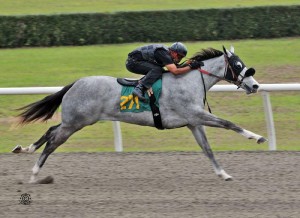 The first Day 2 addition to the roster came in the form of a gorgeous, grey filly by the extremely highly touted 1st crop sire, Tiz Wonderful. Named, Ravishingly, this amazon of a filly carried her Hip 271 saddle towel through an eighth in a solid: 10 2/5, a quarter in a sharp: 21 3/5 and galloped out 3 poles in: 34 3/5.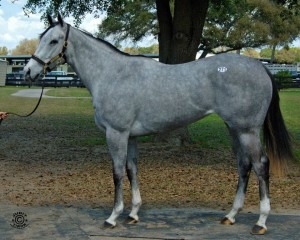 "Ravishingly was a love at first sight filly for me," Wellman admitted. "In my opinion, she was the standout filly of the sale. On the track she absolutely floated like a gazelle. She exhibited an efficient, natural, rhythmic stride that you don't see too often, especially for a robust filly. Physically, she's exceptional. She stands over an insane amount of ground. Despite her massive size (a 52-inch girth barely does the trick!), she's also refined, incredibly well balanced, front to back, top and bottom and her limbs are fantastic. She has a beautiful head and an eye that just melts you. If she were a human, she'd be the equivalent of a professional volleyball player with supermodel looks. The photos we've got of her show her off, but when you see her in person she'll make your knees buckle. She's that exquisite.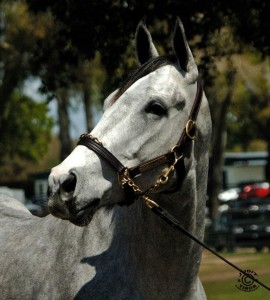 "I'm in no rush with Ravishingly," Wellman remarked. "She's a big filly who will require some time to grow into herself. I think she's got Kentucky Oaks potential. We'll take our time and allow her to tell us when she's ready to kick on. I project she'll be race-ready sometime this coming fall at Belmont Park. This filly has unlimited upside and she's pure class."
Ravishingly has been sent to the Payton Training Center in Ocala, Florida where she will be conditioned by J.J. Pletcher before heading to New York to join the Todd Pletcher shed row.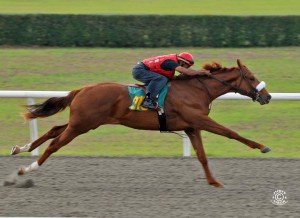 "She's a really, really nice filly," Pletcher commented after huddling up with Wellman. "I'd be delighted to train her. I do think it's a prudent idea to give her some time at my dad's farm with the idea of bringing her to New York late-spring or early-summer. Time is on her side and she figures to blossom as she matures."
To watch the video of Ravishingly's workout at OBS CLICK HERE
The final draft selection by Eclipse was Hip 315, a striking son of the Grade 1-winning, 1st crop sire, Street Boss. Capo Bastone, as he has been named, put on a jaw-dropping display of athleticism by zipping through an eighth in a smoking: 10 1/5, a quarter in a fast: 22-flat and cruising by the 3 furlong marker in: 34 4/5.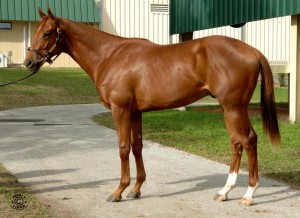 "Capo Bastone is a LeBron James-type," Wellman explained. "Despite being a late-April foal, he's a man amongst boys. He's got an immense amount of height and depth to him. For such a tall and long colt, he has tremendous speed and agility. He's powerful, yet elastic. While I wouldn't dismiss the idea that he can be a high caliber performer at 2-turn distances, I anticipate Capo Bastone developing into a sensational miler. He appears to have that unique blend of a high cruising speed and ample stamina. He's an all-star."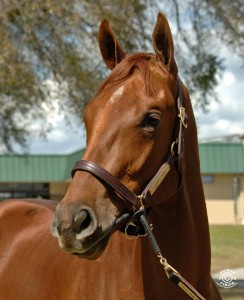 Capo Bastone has settled into his new digs in the barn of John Sadler in Southern California where he will be postured for a summertime debut at Del Mar.
Sadler, who was stabled next door to Capo Bastone's daddy, Street Boss, throughout his illustrious career offered, "I was very, very familiar with Street Boss and the first time I laid eyes on this colt I couldn't help but notice how similar father and son were in every way. Capo Bastone is a grand, exciting colt."
To watch the video of Capo Bastone's workout at OBS CLICK HERE
The Eclipse freshman class now stands at 5 members:
Ravishingly (filly by Tiz Wonderful trained by Todd Pletcher on the east coast)
Holden On (colt by Dehere trained by Chad Brown on the east coast)
Capo Bastone (colt by Street Boss trained by John Sadler in southern California)
Miss Lucky Sevens (filly by Big Brown trained by Paddy Gallagher in southern California)
Flying Rapunzel (filly by Tale of the Cat trained by Wayne Catalano in mid-west)
"The 2 year-old-in-training sales came at an ideal time on the calendar for us," Wellman noted. "The season has yet to kick off in Europe, so there are not many prospects on the horizon for us to acquire privately abroad until around June. Domestically, until the Triple Crown season concludes it's traditionally very difficult to acquire quality prospects, so I envision a lull in activity on the off-the-track acquisitions here at home as well.
"This has been our foray into the 2 year-old sales, which can be tricky, but they are also a proven source of top-notch performers," Wellman added. "We conducted thorough due diligence and stayed very disciplined and selective in determining which prospects to add to our stable. We know where each horse came from and each horse's style matches the farm/trainer/consignor from where they came.
"I believe that we were able to identify highly talented athletes for really good value. Part of why were able to land such strong prospects at reasonable prices stems from the fact that we took some chances on some young horses who are by 1st crop stallions. I am very high on Tiz Wonderful, Street Boss and Big Brown and I think each one of them will be a hit this season," Wellman added. "To balance that out, we also acquired 2 youngsters from proven sires in Tale of the Cat and Dehere. It's a really solid mix of pedigree and a diverse combination in terms of the types of horses we acquired, from dirt to turf, sprinters and routers. The common denominator for each of our 2 year-olds is physical quality and poised demeanors. Each of the 3 were composed throughout the sales process and we are incredibly excited to see how each of them develops as their careers launch in coming months."
To learn about how you can participate in an Eclipse partnership formed to campaign any one of the promising 2 year-olds mentioned above, please feel free to contact us any time at Info@EclipseTBPartners.com.