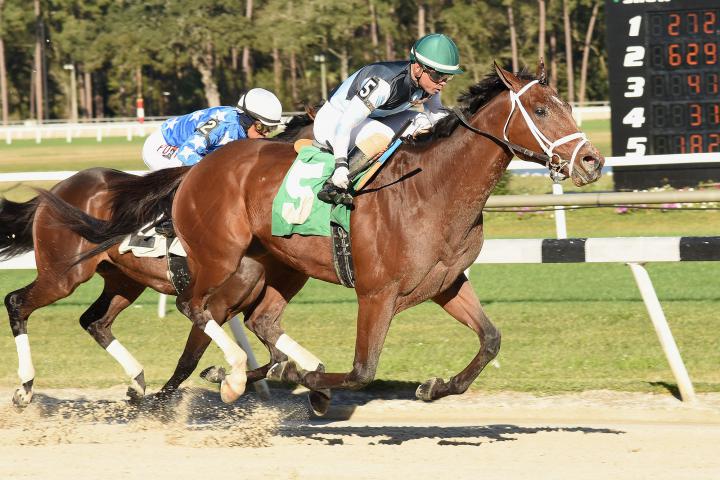 Eclipse Hits The 100th Win Mark!
It was a monumental moment for Eclipse on Wednesday when the promising 3 year-old colt, All World, captured a Maiden Special Weight affair at Tampa Bay Downs, as it marked the 100th time the Eclipse silks have crossed the wire in 1st place since the stable was launched from scratch just a touch over 4 years ago.
"We've had some phenomenal victories in major races all over the country over the past 4 years and to hit the century mark in what seems like a pretty narrow window of time is a true testament to our partners, the horses who put their heart on the line for us and to everyone on the team who contributes to Eclipse's success," Eclipse President Aron Wellman reflected.
"What made the milestone even that much more meaningful was that the entire Eclipse staff was at Tampa to celebrate the achievement together," Wellman smiled. "It was just a Maiden win at Tampa, but we commemorated our 100th win by leading All World into the winners' circle together.
"I thought it particularly poignant that All World is comprised of a partnership with an equal amount of original Eclipse partners and former Dogwood Stable partners who have made the transition into the Eclipse program by virtue of the humbling endorsement from the industry icon, Mr. Cot Campbell. The icing on the cake was that All World was bred by Town & Country Farms, who is also a wonderful racing partner of Eclipse's. It was a family affair every which way!
"And, with our Chariman, Brian Spearman, a former Dogwood partner in attendance, Jack Sadler and Bill Victor, former Dogwood employees and Kelsey Marshall, Eclipse's Director of Partner Relations from the birth of the company, all there to share this special moment, it was a true representation of the marriage and healthy blend between Eclipse and Dogwood," Wellman conveyed.
With only 1 other runner the past 2 weekends, Eclipse hit paydirt this past Sunday when Street Lou captured his career debut at Gulfstream Park. Street Lou (below) joins a distinguished list of progeny of the sire Street Boss to win their debut for Eclipse. Eventual Grade 1 heroes Capo Bastone and Danza, as well as the highly talented fillies, Capriana and Undisputed, all won at 1st asking for the baby blue and black.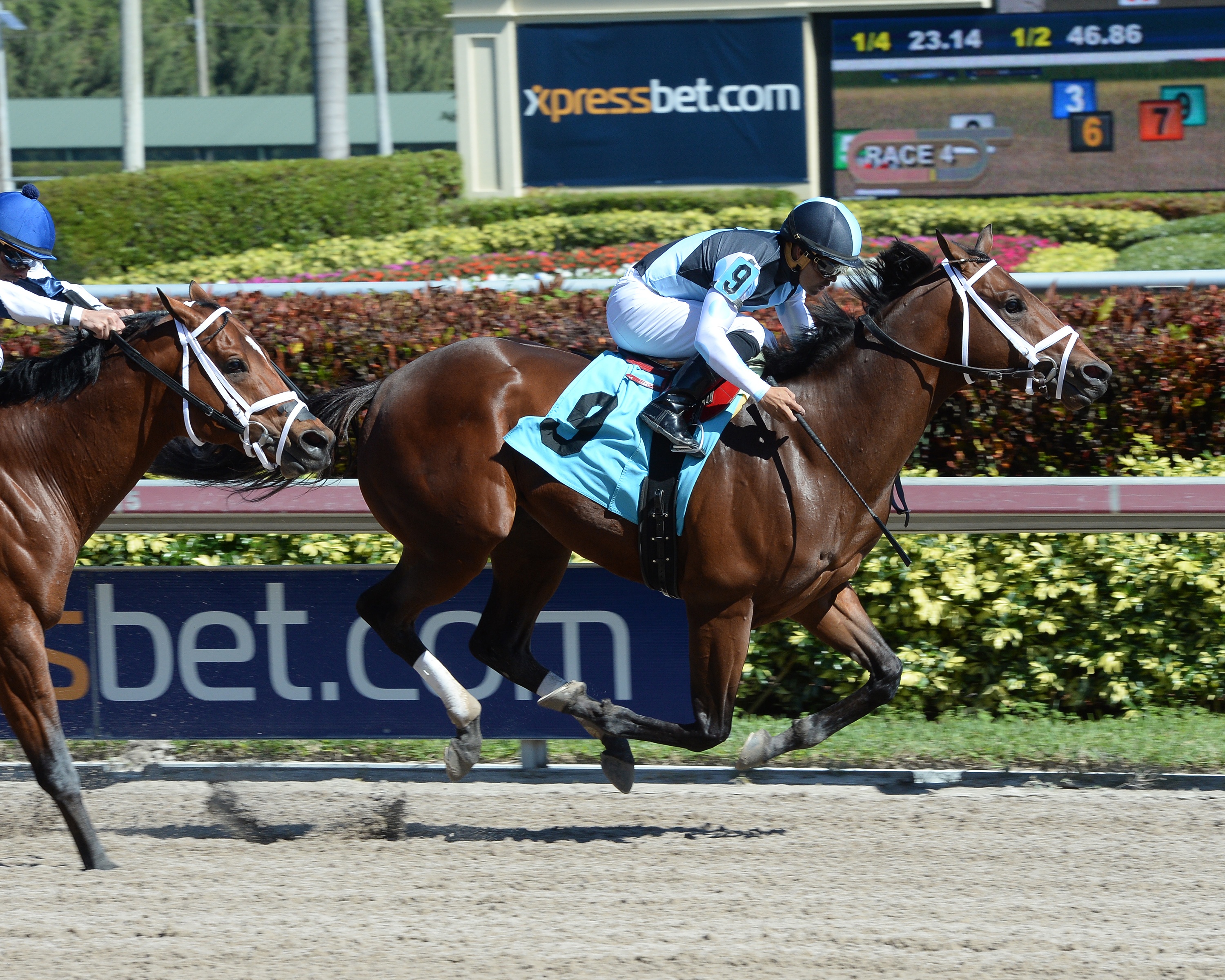 Eclipse made no bones about the fact that last season's 0 for 18 slump to start 2015 was unacceptable and not to be tolerated, so kicking off the 2016 stand at a robust 5 wins from 18 starts with several other strong in-the-money finishes is precisely the statement Eclipse strived to make and we are focused and intent on carrying that solid output and momentum throughout the year.

This coming weekend marks the 3 year anniversary of one of the most legendary days in Eclipse history. 3 years ago Saturday the baby blue and black silks were carried to victory at Gulfstream Park by eventual King's Bishop Champ, Capo Bastone, who won an Allowance to propel himself onto the Kentucky Derby Trail, and Amira's Prince stormed home to score in the Grade 2, $250,000 Mac Diarmida. Hours later on the West Coast, Judy In Disguise won the Sweet Life Stakes at Santa Anita, capping off a monumental day for the fledgling stable.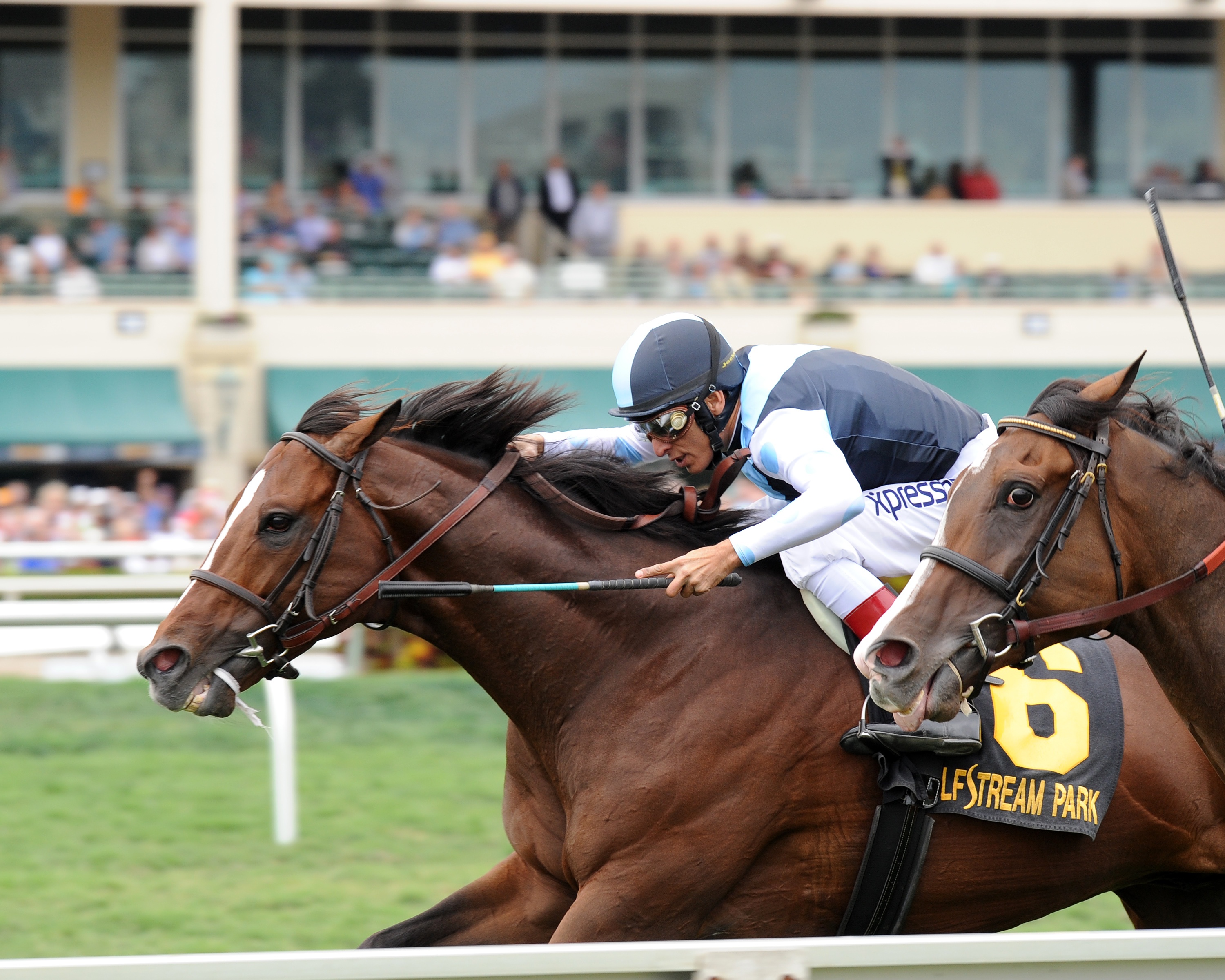 Over this Valentine's/President's Day weekend, Eclipse is presented with a few legitimate opportunities for the stable to keep the heat on. War Correspondent (right) is poised for his best in the Grade 3, $150,000 Tampa Bay Stakes in the Lightning City on Saturday. The regally bred son of War Front ran considerably better than looked in his much needed comeback race last month and gets his main man, John Velazquez back in the tack for this important fixture.
Over in So Cal on Saturday, Lady Valeur (below) looks to build on her auspicious U.S. debut 4 weeks ago when she stretches out to 9 panels on the Santa Anita sod. The jump from a 6 1/2-furlong hill race to 1 1/8-miles on the flat isn't totally ideal, but the Euro import filly is booming, flashed loads of talent and class in her 1st try on U.S. soil and should take plenty of beating with Hall of Famer, Gary Stevens in the saddle.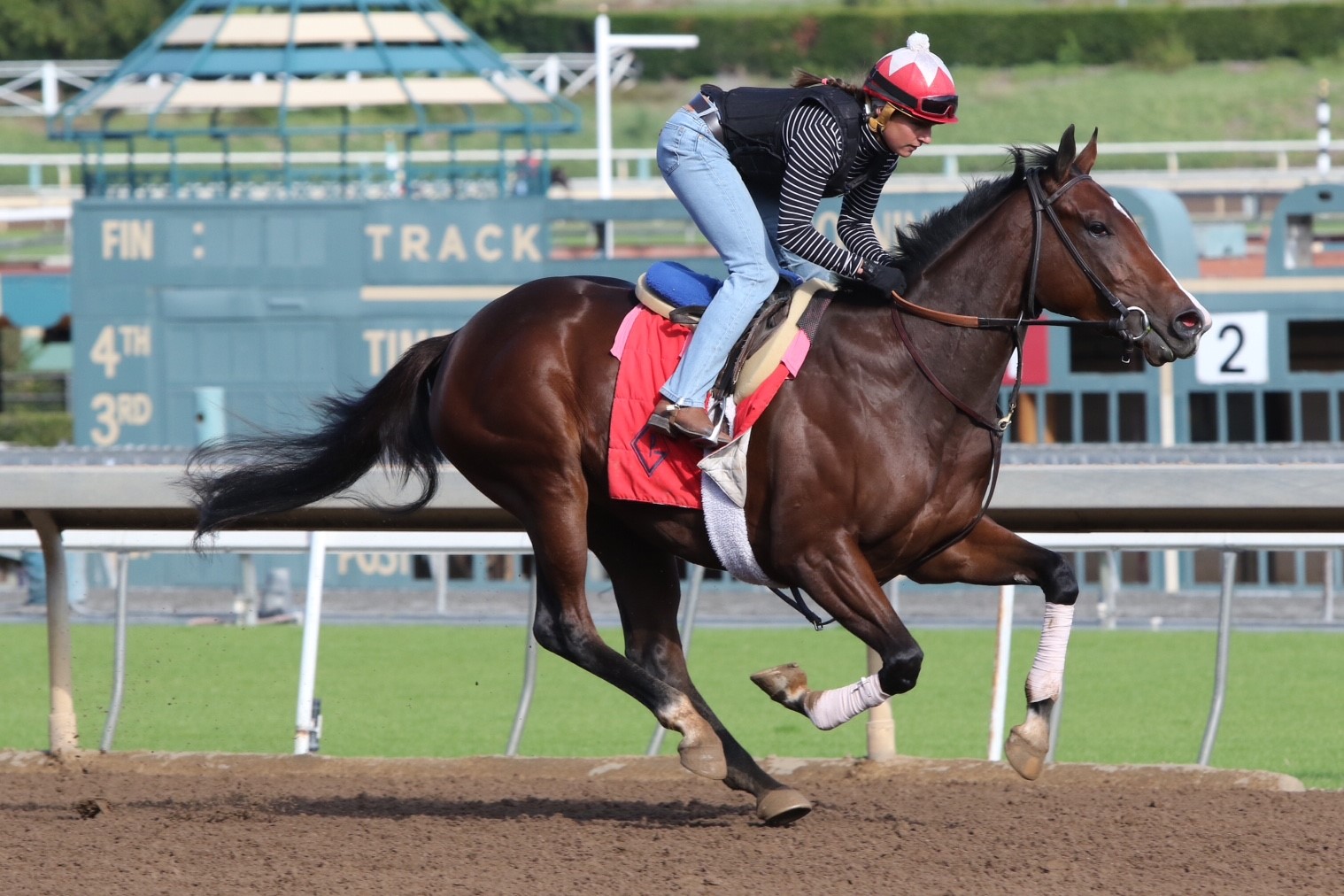 On Sunday, Strong, a son of Harlan's Holiday, is realistically spotted for his maiden voyage, yet must overcome the 10-hole going 1 1/16-miles on the turf at The Gulf.
Off the playing field, Eclipse has been particularly quiet on the buying front for several months. This is partially by design after a relatively aggressive year of acquisitions in 2015. The fundamental basis for the lull in buying activity is wanting partners to catch their breath while culling non-productive stock from their portfolio and winning races and churning purse money with their quality runners, in conjunction with the fierce competition in the private market driving prices up to the premium-plus level.
"We are cognizant and appreciative of the massive support our partners have shown us for 4 years and we really turned it up a notch last year and everyone responded exceptionally well," Wellman acknowledged. "So, we've made a concerted effort to make moves to explore realistic exit strategies with several of our lower quality horses, provide some return and free up capital while reducing overhead so partners can always find comfort in their respective stables.
"We have been working the private market hard for prospects, but we refuse to overpay for stock, so we're staying disciplined and sticking to our guns," Wellman explained. "We have had huge success at the 2 year-old in-training sales, so with those auctions right around the corner, we feel fresh and focused to maintain our track record of landing major Grade 1 talent on a yearly basis. We're pumped up for sales season and looking forward to rolling up our sleeves and scouting and drafting stars for our partners to enjoy at good value for money."

Eclipse will launch the 2 year-old sales season at Fasig-Tipton at Gulfstream Park on March 2nd and will focus a high level of activity, as usual, at the OBS March sale in Ocala on March 15th and 16th.
Believe Big!