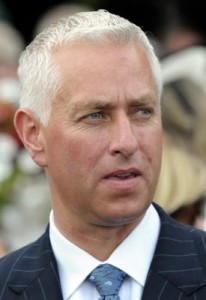 Eclipse East Coast-Based Fillies On Target For Allowance Prep Races
Eclipse Thoroughbred Partners has had a quiet start to the Gulfstream Park winter stand, but things could heat up considerably for the stable in coming weeks as its' star sophomore fillies are rounding into form in South Florida for trainer Todd Pletcher, who happens to be enjoying a banner season in Hallandale Beach and just this past weekend notched his 3,000th career victory, a monumental milestone.
Both Sweet Cat (below), who topped off a stellar freshman season for Eclipse with a third-place finish in the Grade 2, $1 million Breeders' Cup Juvenile Fillies' Turf and the blue sky prospect, In Lingerie, who was acquired by the stable privately after a devastating win on debut, are training much to the delight of Pletcher at the Palm Meadows Training Center near Boynton Beach, Florida.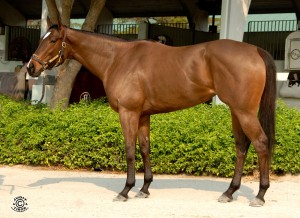 Sweet Cat, who, by design, has been idle from race action since the Breeders' Cup, has been impressing in her morning exercise of late, including two 5 furlong drills the past two weeks, one of which was of the black letter variety and the next which was the second fastest on the morning.
"Sweet Cat seems to have made a positive transition from her 2 year-old year to her 3 year-old season," Pletcher noted. "Physically, she's lengthened and gained strength in all the right places. Mentally, she's always been a class act and continues to do everything the right way. Her breezes the past two weeks have been solid and she should be on point for a race in coming weeks. We're very satisfied with her current condition."
Sweet Cat is being pointed to an allowance race scheduled for 1 1/16-miles on the turf at Gulfstream Park on February 26th. She will be reunited with jockey John Velazquez, who has been aboard the daughter of Kitten's Joy in 3 of her 4 lifetime outings. The allowance race will serve as a springboard for what Eclipse and Pletcher anticipate will be a tilt at the Grade 1, $500,000 Ashland Stakes over the Keeneland Polytrack on April 7th.
In Lingerie made an auspicious debut in mid-January when she ran away and hid from her rivals en route to a 6 ¼-length victory sprinting at Turfway Park. A daughter of the ultra-hot sire, Empire Maker and out of the Grade 2 winning Storm Cat mare, Cat Chat, In Lingerie is bred to be any kind and is training like it as well since being acquired by Eclipse and MGM Chairman and CEO, Gary Barber and being transferred into the care of Pletcher.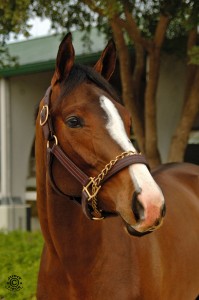 "In Lingerie has made a highly favorable impression since she came to our program about a month ago," Pletcher remarked. "She's breezed four times for us now and she's impressed us more and more every week. She's behaved herself for the most part, which can be a concern for a daughter of Empire Maker out of a Storm Cat mare, and she certainly appears to possess all the tools of a good race filly. We couldn't be more pleased with her progress."
Eclipse and Pletcher would have preferred to have been able to run In Lingerie (above) in an allowance race around a one-turn mile at Gulfstream, but the race has been written for 1 1/16-miles, which is a newly developed two-turn race at the South Florida racetrack. Pletcher has secured the services of Velazquez for In Lingerie. The jump from a 6 furlong dash over the Turfway Park Polytrack to a route over conventional surface in the Big Leagues is an ambitious one, but one that Eclipse and Pletcher agree In Lingerie is capable of handling. Depending on how In Lingerie fares on February 24th, she may be postured for a grander leap into Graded Stakes company.
"It's pretty early in the season, but both Sweet Cat and In Lingerie are right where we want them to be at this stage," Eclipse President, Aron Wellman stated. "We gave Sweet Cat plenty of time to recharge her batteries after two phenomenal races to close out her 2 year-old campaign and she's hinting to us that her best is ahead of her yet. Todd (Pletcher) and I have been looking forward to an opportunity to run her on a synthetic surface, so if she executes in coming weeks, we would be eager to take a swing in the Ashland.
"In Lingerie is an incredibly exciting filly and we feel honored to have her in our stable," Wellman added. "Between her pedigree, talent and the positive manner in which she's trained in recent weeks, we are quite optimistic about her prospects. In Lingerie is a filly who should only improve with age and seasoning, so we're taking our time with her so as to afford her every opportunity to develop into a top-drawer filly.
"It's a testament to our racing partners that we have been able to add such tremendous fillies to our roster at such an early stage in our company's existence. Our partners have stepped up to the plate to do what it takes to play this game at the highest level and we embrace the opportunity to take them to the top of the mountain," Wellman concluded.