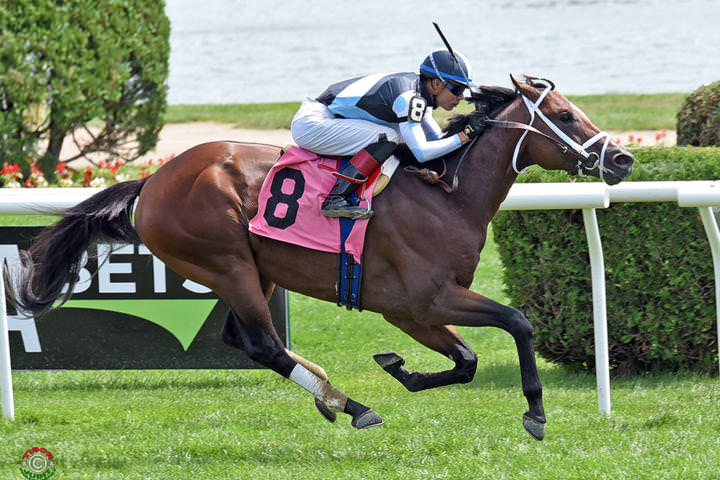 Eclipse Bags 2 Wins On Saturday At Saratoga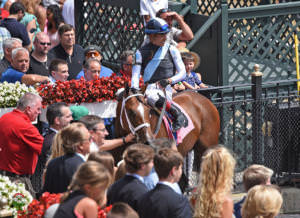 Hieroglyphics (left) and El Dulce created a magical afternoon for Eclipse Thoroughbred Partners proving best in their respective starts at Saratoga on Saturday.
The Saratoga race meet opening July 21 and extending through Labor Day is a celebration of the horse. Saturday afternoons each week provide top class racing by top class horses. The atmosphere is electric and having your horse reach the winner's circle is the ultimate thrill.
The Eclipse three-year-old colt, Hieroglyphics, a son of Pioneerof the Nile, broke sharply and sat in second stalking the leader for the first ¾'s of a mile. Confidently ridden by Jose Ortiz, when asked the question, Hieroglyphics answered in a big way. At the eighth pole, he began putting distance between himself and the field coming home 1 ¾ lengths in front.
Eclipse President Aron Wellman commented, "This is as polished of a performance as we have seen from Hiero and it was really encouraging to see him dominate his competition while earning a hefty $50K+ payday for the effort, which pushes him over the $100K earnings mark.
While Hieroglyphics' debut at Saratoga last summer was not what we were looking for, he has developed into a solid colt with stakes in his future. Since being moved to the turf, Hieroglyphics has had two wins and three seconds in six starts.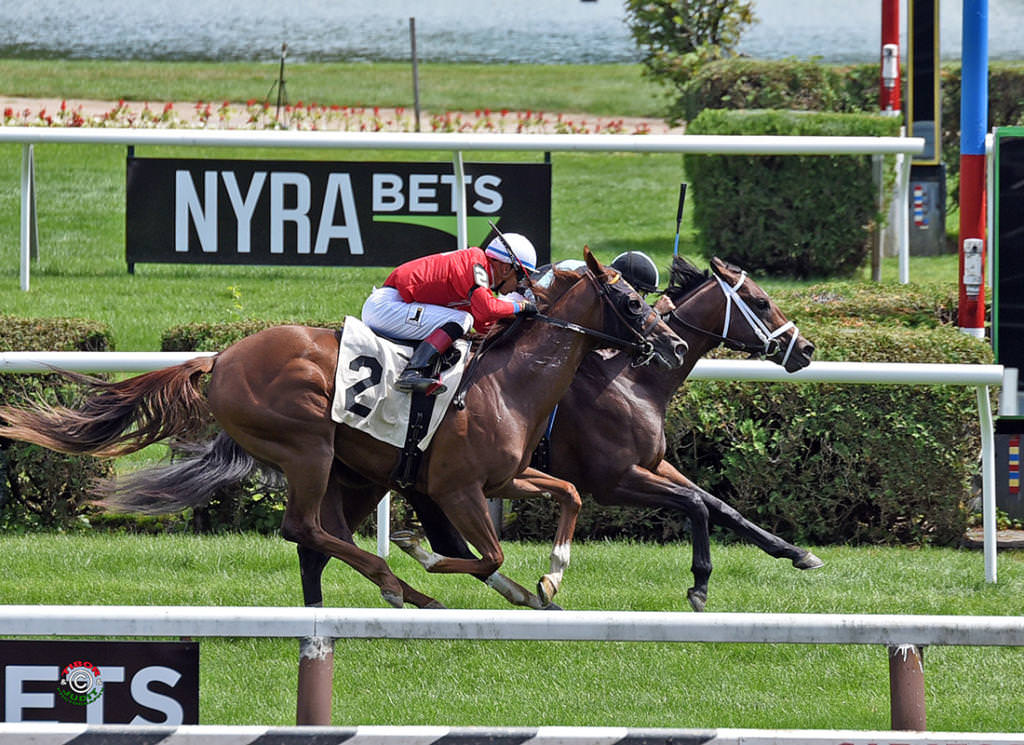 Just one hour later, two-year-old El Dulce (above), a son of Twirling Candy, showed great courage capturing his debut in a five and one-half furlong turf race. El Dulce broke like a bullet taking the lead out of the gate. While racing on the inside, El Dulce was pushed along into the stretch. He put that foe away and then was confronted by another. Inside the eighth pole, Hall of Fame jockey John Velasquez put El Dulce into a position to be eye-to-eye with his competition. El Dulce would not be denied winning by a neck.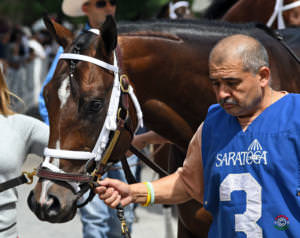 Following the race, Aron said, "El Dulce has been a machine in preparing for his debut, including breezing two consecutive weeks from the gate, which is no easy task, so to see him go and produce the goods at the Spa is a wonderful sign and massively gratifying for all involved."
The fact El Dulce (right) did not let anyone pass him in the gallop out following the race, let's us believe he had more left in the tank and will not necessarily be restricted to sprints.
Both of these colts are trained by Todd Pletcher.
After the first seven days of racing, Eclipse Thoroughbred Partners has two wins and a third with its first three starters.
Believe Big!