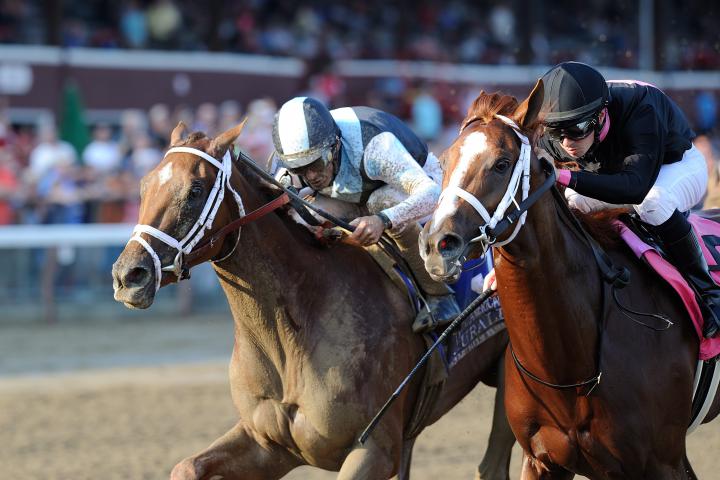 Saratoga Special: Curalina – Coaching Club American Oaks 2015
Reprinted from The Saratoga Special July 23, 2017 edition
Saratoga Memories
Presented by Keeneland Sales
Every horse starts somewhere, even Saratoga superstars. Keeneland Sales helps The Saratoga Special look back at some memorable graded stakes winners – and Keeneland graduates – at the Spa. We'll look back, re-connect and dig up some memories. Enjoy.
Curalina
Coaching Club American Oaks 2015
By Joe Clancy
When the name Curalina comes up, Susan Atkins remembers singing a lullaby to a "redhead with a beautiful star on her forehead." Aron Wellman remembers bidding on a yearling and hoping nobody else saw what he saw under "a little too much baby fat."
Atkins (the filly's breeder), Wellman (the head of owner Eclipse Thoroughbred Partners) and pretty much anyone else who had anything to do with the daughter of Curlin went along for a magic ride from sweet foal, to Keeneland September yearling to promising 2-year-old to a three-time Grade 1 winner.
Her big Saratoga moment came in the 2015 Coaching Club American Oaks, which she won by disqualification over I'm A Chatterbox, but she also made her career debut here, finished third in the 2015 Alabama, won the 2016 Shuvee (Grade 3) and finished second in the Grade 1 Personal Ensign. Produced from Atkins' Graeme Hall mare Whatdreamsrmadeof, Curalina won six of 13 starts and earned more than $1.5 million before selling to Japan's Shadai Farm as a broodmare.
Curalina was cool from the beginning, according to Atkins who (with her late husband Clint) bought Mare Haven Farm on Kentucky's Frankfort Pike in 2004 and dove into racing and breeding. They renamed the place CASA Farm for their initials (and because it felt like home) and put together a small broodmare band.
New York-bred Whatdreamsrmadeof placed in a Grade 2 for Atkins on the track, and delivered a star on Kentucky Derby Day 2012.
"She was incredible as a foal," said Atkins of Curalina. "Whoever touched her or was around her got to know that. I'll never forget the day her mother went to the breeding shed and I stayed back to watch her in the stall, just to talk to her. She wanted to be talked to and petted and I told her, 'Don't worry, Mommy's going to be right back.' "
Atkins sang a song she'd made up for her children long ago, and watched the filly fall asleep.
CASA breeds for the sales market and sent Curalina to Keeneland September in 2013. Consignor Denali Stud got a winner.
"We were just the agent, so can't take too much credit," said Denali's Craig Bandoroff. "I'd seen her a few times and she was always a real pretty filly with plenty of quality. She was raised at a good place."
Wellman was hooked by Hip 1185 from the beginning by her walk, her balance, a big overstride – oh and her eyes and ears and presence too.
"The thing that's etched in my brain about the process is she was so smart, so classy and she had extremely alert and attentive ears," he said. "She had a really sharp, bright eye and she took everything in that was around her, not in a nervous way but in a classy way. That's what made me connect with her so strongly, those intangibles you try to pick up on. A lot of times we misread these horses and we think we see something that never materializes but that was not the case with her."
Bidding from the center aisle near the doors, Wellman went to $125,000 and signed the ticket for Eclipse and Dogwood Stable in the early days of the partnership between the two organizations that has now turned solely to Eclipse.
"At that time, 125 was a lot of money for us," said Wellman. "It still is, but then there were a little bit more nerves about it. I was very thrilled, but nervous at the same time."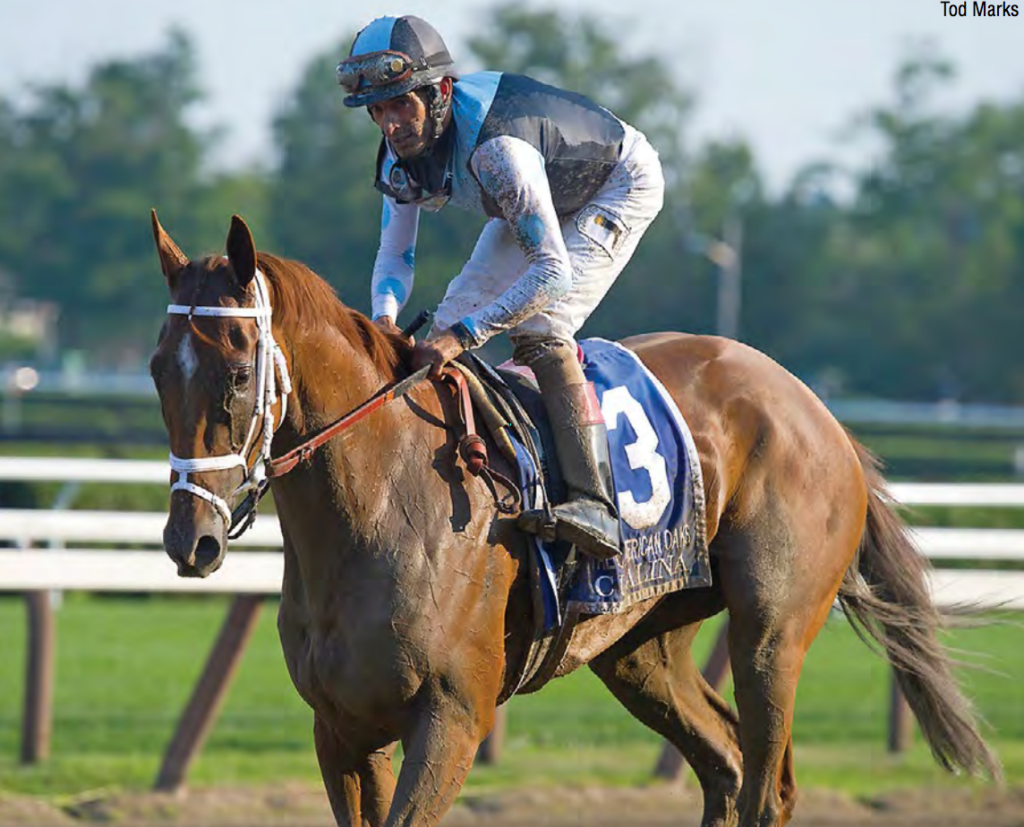 On the flip side, Atkins watched with mixed emotions.
"It always hurts when you sell them because you really don't want to," she said. "You tell yourself you're in business. I was so proud of her, but I'm proud of all my horses. Going through the ring she was such a little lady."
Curalina eventually went to Todd Pletcher and drew attention with a workout over the Oklahoma training track a few days after the Belmont Stakes in 2014. The unraced filly breezed three-eighths, galloped out a half-mile. Wellman liked it. Pletcher did too.
"Where'd you buy that filly?" the trainer asked after putting down his binoculars. Wellman took it as a positive sign. Curalina made her debut at Saratoga in late July. She got bumped and shuffled back at the start, raced greenly and wide around the turn, failed to switch leads in the stretch and still finished second. Pletcher and Eclipse nearly ran the maiden back in the Spinaway at the end of the meet, but some shin issues sent her to the sidelines until 2015.
She won her first four starts that year, rising from Gulfstream Park maiden to dual Grade 1 winner with victories in the Acorn at Belmont and the Coaching Club at Saratoga. Though the final decision came in the stewards' stand, the latter win proved plenty satisfying for Wellman and six Eclipse partners who waited out a lengthy process.
"We got beat a nose," said Wellman. "It felt like an eternity. You always want to win on the square no matter what, especially a Grade 1, but we were obviously elated. It was gratifying to see the filly have such a blockbuster moment. Winning a Grade 1 at Saratoga is the ultimate. It was very, very special."
Curalina capped 2015 with Grade 1 starts against older fillies and mares, finishing second in the Beldame and third in the Breeders' Cup Distaff. As a 4-year-old last year, she dominated the Grade 1 La Troienne at Churchill Downs and returned to Saratoga to take the Grade 3 Shuvee in another romp before placing second (by a half-length) to Cavorting in the Grade 1 Personal Ensign.
The racing career came to a close with a sixth in the Breeders' Cup Distaff in November, and she joined one of the world's top broodmare bands at Shadai, where she was bred to Japanese Triple Crown winner Deep Impact.
For more and to keep up with everything at Saratoga this summer, check out The Saratoga Special online.