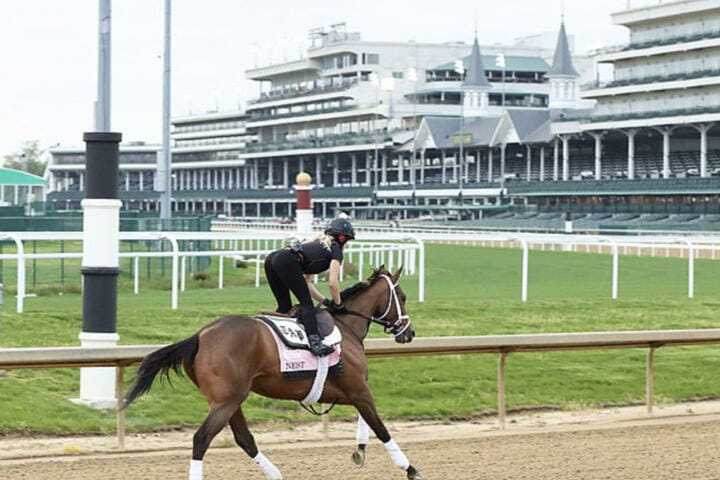 Different Roads Take Wellman, Repole to Kentucky Oaks
By: BloodHorse
They came to racing from contrasting backgrounds, from different angles, on opposite coasts. Californian Aron Wellman was born into it, a son of owner-breeders Michael and Cory Wellman, whose joint wedding present to each other was a racehorse. New York City native Mike Repole, a son of Italian immigrants Benny, a waiter, and Annie, a seamstress, had no family connection to Thoroughbreds.
Wellman and Repole had humble beginnings while learning the basics—Wellman from the ground up, Repole from the Daily Racing Form. At 8, Wellman was mucking stalls at Del Mar, where he worked for 16 summers as a hot walker, groom, and "quasi-assistant trainer" for Jude Feld and Bill Shoemaker until he graduated law school in 2002. At 13, "Mike from Queens" would cut school and take a bus to Aqueduct Racetrack, where he'd "find the nearest old man and see if he'd place my bets."
Besides an early obsession with racing, Repole, 53, and Wellman, 44, share relentless drive and world-class business savvy. Repole got rich in the sports-beverage industry. In 2007, Coca-Cola paid $4.1 billion for a company he co-founded, Glaceau, maker of Vitaminwater and Smartwater. Last November, he sold BodyArmor, which he also co-founded, for a reported $5.6 billion. Wellman has made his mark leading Thoroughbred partnerships.
Five years ago, Repole Stable and Wellman's Eclipse Thoroughbred Partners hooked up, and May 6 their star filly Nest  will run in the Longines Kentucky Oaks (G1) at Churchill Downs. Repole's only Oaks runner, Unlimited Budget , was third in 2013. Wellman is 0-for-2 with Speech  (fourth, 2020) and Silsita  (10th, 2013).
"Aron is a really good guy to work with, and I consider him a friend, not just a partner," Repole said. "He loves the game, and we're both passionate. Of course, any time you have a top horse, especially a co-favorite for the Oaks, then the partnership is great."
The late Cot Campbell created Dogwood Stable in 1969 and pioneered the concept of sharing risks and rewards among multiple owners. In 2013, Dogwood merged with Wellman's Eclipse Thoroughbred Partners, which was established in 2011.
"I consider it one of my greatest professional achievements to get Cot's blessing to take over," Wellman said. "I consider it the ultimate endorsement for someone who makes his living with racing partnerships."
Nest's trainer, Todd Pletcher, has four Oaks trophies, one short of Woody Stephens' record. He got started even earlier than Wellman, as a 7-year-old hot walker for his father J.J. Pletcher.
"Mike and I each had horses with Todd, so that's how we met," Wellman said. "We've had eight or 10 horses together, and it's a privilege to be associated with Mike. Before Nest, our best one was Moretti . He won two stakes, but when a horse who cost $900,000 earns ($367,250), I guarantee you that Mike doesn't count it as much of a victory."
Repole's motto is "Think big, dream bigger," and hopes are high for Nest, who's 4-for-5. Her 8 1/4-length runaway April 8 in Keeneland's Central Bank Ashland Stakes (G1) validated her as a serious Oaks contender. She blew open the 1 1/16-mile race while four-wide on the stretch turn, bursting clear under Irad Ortiz Jr. Despite being geared down, Nest went the final sixteenth in a snappy 6.3 seconds. Pletcher "was happy to see Irad wrap up on her late, take care of her for hopefully a bigger one down the road."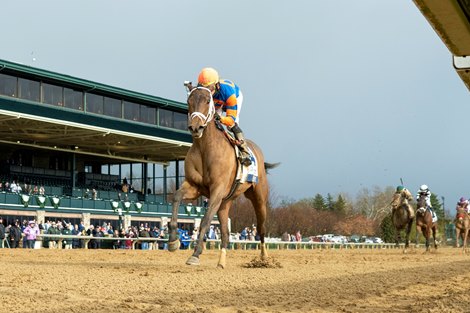 It was the third consecutive stakes victory for Nest, whose only defeat came in her second start, a third-place finish in the Tempted Stakes (G3), a one-turn mile at Belmont Park last Nov. 5. She's already won at the Oaks' 1 1/8-mile distance despite a wide trip Dec. 4 in the Demoiselle Stakes (G2) at Aqueduct.
"She's three-quarters of a length from being perfect, and as a Curlin   out of an A.P. Indy mare, she wants every bit of a mile and an eighth," Wellman said. "The last three or four months she's matured so much under Todd's tutelage, and we hope she's the one."
As for her unusual name, it's a play off her dam, Marion Ravenwood , as in a raven's nest. It's not a grabber like Stopchargingmaria , a filly Repole named for his wife's spending habits. He suggested Nest Egg, but it was taken.
"Mike is a tough guy to name horses with, and he likes to wait until the last second to name them," Wellman said. "She was ready to run, and we'd thrown around a bunch of names for quite a while, but it was time to get into the entry box, so Todd was pressing us quite a bit.
"Finally, I suggested Nest. Mike wasn't enamored with it, but Todd made the executive decision to name her Nest. She ran within the week at Belmont and ran off the screen. Mike was elated but still worried her name might hold her back from being a really good horse. Thankfully it's worked out all right."
Curlin, a two-time Horse of the Year, stands for $175,000 at Hill 'n' Dale Farms. Nest's price at the September 2020 Keeneland Yearling Sale was $350,000, about $123,000 more than the average for a Curlin yearling filly, according to Equineline.com.
"If she couldn't run, she'd be seen as expensive," Wellman said. "Now that we know she can, it looks cheap." The only horse currently running for Eclipse/Repole has earned $623,050, a rarity after five starts.
Wellman looks at a pedigree only after he's seen the horse in the flesh. "I'm a physical guy above all," he said. "Like in the NFL Draft, you're trying to find a good, young athlete. We viewed Nest as an elegant, athletic, and well-balanced filly. We're just fortunate to own her."
So is 84-year-old Michael House, a longtime owner-breeder who ran his first horse in 1971.
"After we signed the ticket, Michael asked if he could buy-in," Wellman said. "He really deserves to be associated with a filly of this caliber. He's had a number of stakes winners, and to have him with us is really cool for the team."
Back in the day, Feld was House's trainer, and as a boy Wellman rubbed some of House's horses at Del Mar. House recalls him as "a good kid who worked hard."
"Jude would throw me in the back seat of his Cadillac at 4:30 in the morning," Wellman said. "He'd cover me with pages from the Racing Form and sneak me past security so they wouldn't know an 8-year-old was in there."
House had the honor of leading Nest to the Ashland winner's circle. "That was fun," he said. "It was a rainy, miserable day, but the way she ran made it all worthwhile."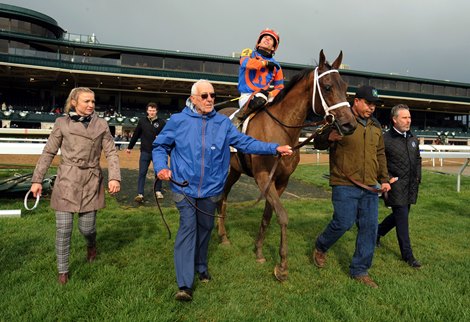 House will attend the Oaks but will skip the madness of Derby Day. Repole will be there all weekend with his usual entourage of 50 to 75. "I'm looking forward to it, like always," he said, "but it will be a lot of stress and not much sleep."
Pletcher Does It All
The key to Team Nest is Pletcher, racing's all-time earnings leader and a seven-time Eclipse Award winner. He and Wellman have collaborated "for 10-plus years." Pletcher also trained Tapwrit  , who in the 2017 Belmont Stakes presented by NYRA Bets (G1) produced Eclipse Thoroughbred Partners' only Triple Crown victory, which it shared with Bridlewood Farm and Robert LaPenta.
Wellman liked Tapwrit's looks so much that he was willing to spend $1.2 million, Eclipse's first seven-figure yearling. The son of blue-chip sire Tapit   was worth it.
"There's nothing like winning an American classic," he said. "It's the ultimate to have a young horse win at the highest level."
Among Eclipse's 19 grade 1 wins are the 2021 Qatar Racing Breeders' Cup Sprint (Aloha West ) and the 2019 Breeders' Cup Juvenile Fillies Turf (Sharing ).
Pletcher has been Repole's main trainer since 2008, and he conditions "more than 50" of Repole's roughly 200 runners. Together they won the 2010 Breeders' Cup Juvenile (G1) with Uncle Mo  , 2011 Travers Stakes (G1) with Stay Thirsty  , and 2019 Longines Breeders' Cup Classic (G1) with Vino Rosso  . Repole introduced Pletcher at his Hall of Fame induction last August.
"Todd is a total freak of nature," Wellman said. "Shortly after I became vice president of Team Valor in 2007, Barry Irwin assigned me to spend a week with Todd at Palm Beach Downs, and it was the most educational week of my life. I wrote an article for our newsletter entitled 'Todd Pletcher: The Corporate Cowboy.' He blends an innate understanding of horsemanship with knowledge of the business side. He's extraordinarily intelligent, and a family man who carries himself with such class."
To Wellman, Pletcher is "the master."
"I feel so fortunate to be with the greatest trainer of all time in his prime," Wellman said. "All credit goes to Todd. There are very few lulls in his output of wins and stakes wins. He makes it look so easy and he's so poised that I feel at times he's taken for granted."
Repole agrees.
"I think Todd may even be a little underrated," he said. "In baseball, he'd be a five-tool player. In basketball, he'd be a guy who can play every position. He wins with everything—colts, fillies, 2-year-olds, 3-year-olds, older horses, going long and short, dirt and turf. When you talk about the top all-around trainers, there's nobody who comes close to him. He's the best, and I'm starting to think he's the greatest of all time, too."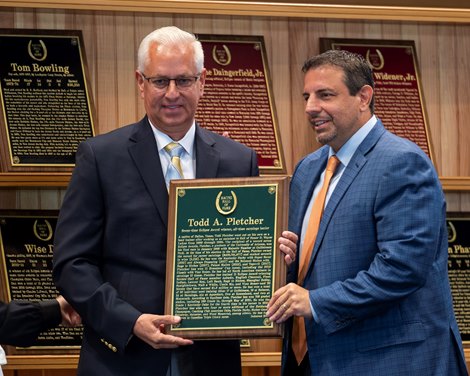 Pletcher took last year's Oaks with Malathaat , another daughter of Curlin, and no trainer has won it back-to-back since his mentor D. Wayne Lukas did it in 1989 and 1990.
Nest breezed what Pletcher called "an easy half-mile" in :49 4/5 for Ortiz on Friday morning at Churchill. She finished strong, with a final furlong in :12. "Nest is improving race by race," Ortiz said. "We've really loved her since day one. Hopefully, we can get lucky that day."
She'll have to repeat her Ashland performance against a loaded bunch. Last year's division champion, Echo Zulu  (5-for-5), and Kathleen O.  (4-for-4) are undefeated, and Secret Oath  ran a solid third against males in the Arkansas Derby (G1).
"It's been a long time since we had an Oaks field as deep in proven quality," Wellman said.
Repole thinks the Oaks' big four would be among the top 10 betting choices if they were in the Derby.
"It's a terrific field," Repole said. "I'd rather be in a boring race and be a big favorite. This way it will be very exciting but also high anxiety. But I think Nest is going to win the Oaks."