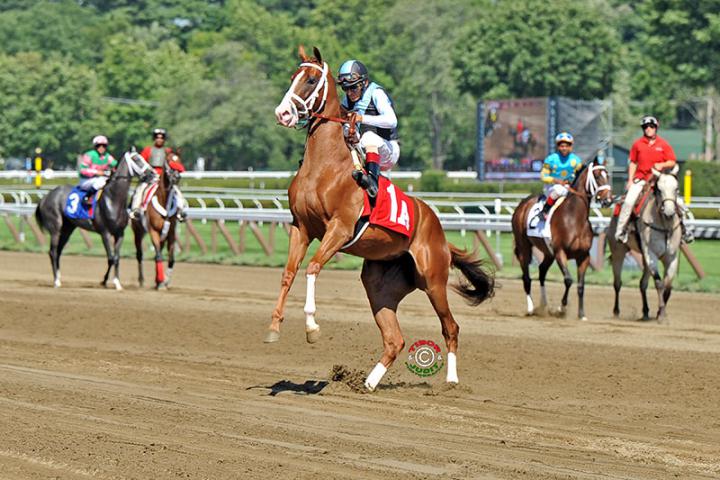 Destin & Curalina Headline Massive 10 Runner Lineup For Eclipse This Weekend
The summer is really starting to heat up and so is the Eclipse stable with a potentially monster weekend on tap as 10 runners are slated for action this weekend, including a trio of major Stakes engagements at Saratoga.
Opening week at Saratoga proved fruitful for the baby blue and black as Jumby Bay (right) made an auspicious debut, running a much better than looked 4th, beaten just 1+ lengths in a tough Maiden Special Weight affair after misbehaving in the post parade; Delicate Lady rallied boldly to be 3rd in a stiff Allowance after stumbling badly at the start; and Pinstripe streaked to victory when dipped in to cash, putting Eclipse on the scoreboard early in the stand.
At Del Mar it was a productive week as well, highlighted by Lady Valeur's stellar 2nd-place tally in the Grade 2, $200,000 San Clemente Handicap, punching her ticket to the prestigious Grade 1, $300,000 Del Mar Oaks on August 20th. American League ran into a buzzsaw and had to settle for 2nd as well, while Orejas took all the steam at the windows, but was eliminated at the start when getting hammered by the foe to his outside and being bounced off the pine.
This coming weekend is action-packed from coast to coast with 10, yes 10 runners slated to sport the baby blue and black silks between this afternoon and Monday (weather permitting for several turf entrants). While there's no doubt this game requires optimism and hope, Eclipse prides itself on its' realistic perspective about the stable runner's chances week in and week out and it appears that every single entrant of the 10 are live in their respective spots and not one figures to be a price heavier than 5-1 by the time the gates spring open.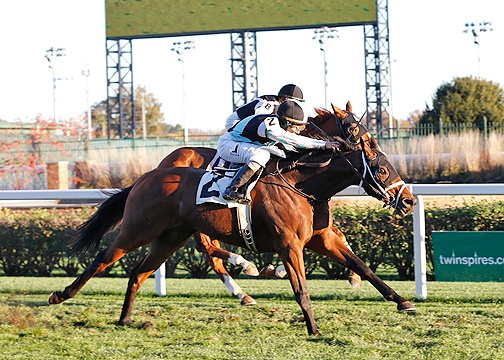 The festivities launch this afternoon with a trio of runners in 3 separate locales. The elder statesman of the roster, Patrioticandproud (left), gets the party started in a turf marathon Allowance at Woodbine. The venerable gelding has racked up over $620,000 in earnings lifetime and looks like he's all set to pose for photos today with a meaningful girth-tightener in tow. Patrioticandproud unites with the legendary Mark Casse-Patrick Husbands duo in Toronto.
At Saratoga, Strong is hoping the rain stays away and that he gets a chance to flex his muscle in a conditioned claiming race with Javier Castellano in the saddle. The gelded son of Harlan's Holiday is mired out in the 11-hole and must navigate a trip, but should make his presence felt in the lane for Todd Pletcher.
Over on the West Coast, Spindle spirals into a Maiden Claiming event that appears ripe for the taking. She should find her friends at Del Mar for trainer Peter Miller, who provides a leg up to the hungry journeyman, Norberto Arroyo, Jr.
Saratoga will be the focus of the Eclipse brethren on Saturday with Destin (below) lacing 'em up for the Grade 2, $600,000 Jim Dandy. Destin's agonizing nostril defeat in last month's Belmont Stakes will never be forgotten, but he could make a major statement if he topples the likes of Creator, Mohaymen and Governor Malibu in the historic affair, which serves as a prelude to the Mid-Summer Classic, the Travers Stakes, in 4 weeks time. Destin is on top of his game and could propel himself into stardom if he delivers the goods.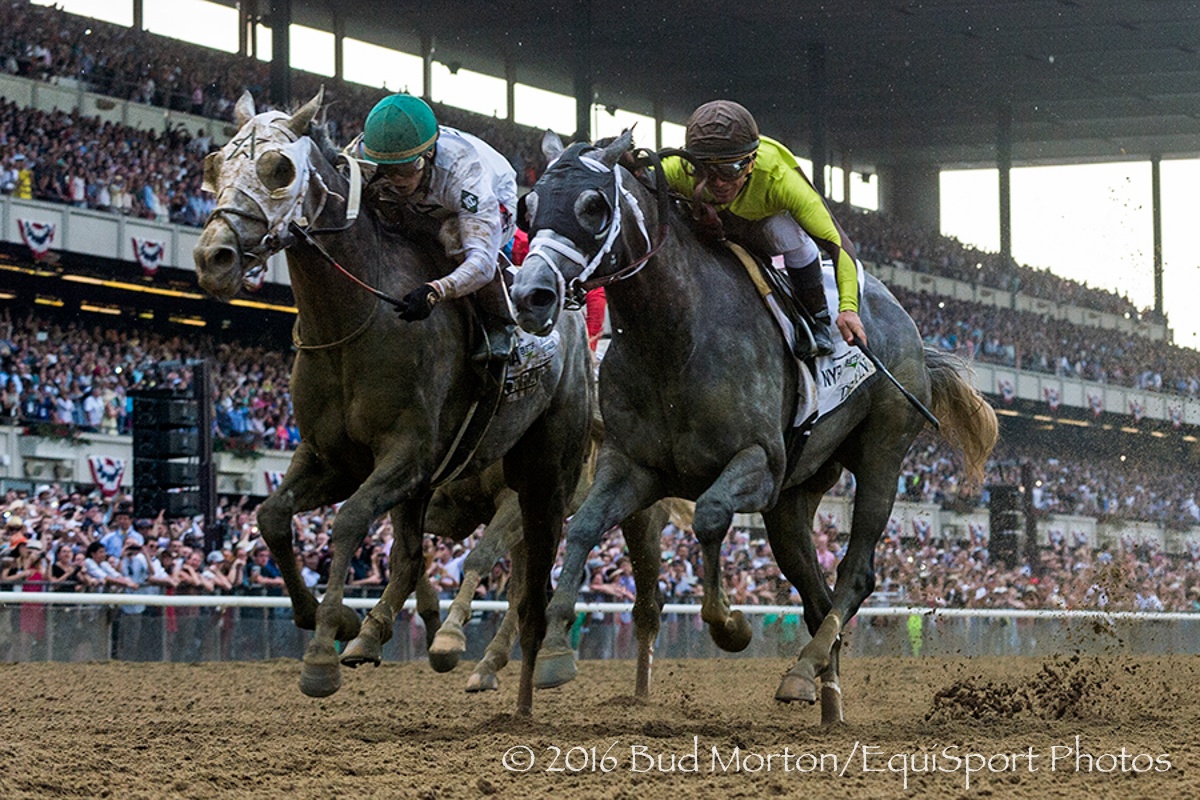 Empress Jingu tests the turf on the Jim Dandy undercard. The Warrior's Reward filly was dynamite at 1st asking, winning with style, but laid an egg 2nd time out at odds-on. She's being reverted to a grass dash for T-Pletch with Florent "Frenchy" Geroux taking the reins from the wood. If this miss takes to the weeds, she could ring the bell.
The Saturday action concludes in Kentucky when Optical sees if he can make it back-to-back wins with Didiel Osario on board again for Wayne "Cat Man" Catalano. Optical woke up last time at Ellis, but will have to take another step forward to string together wins, despite the generous race placement.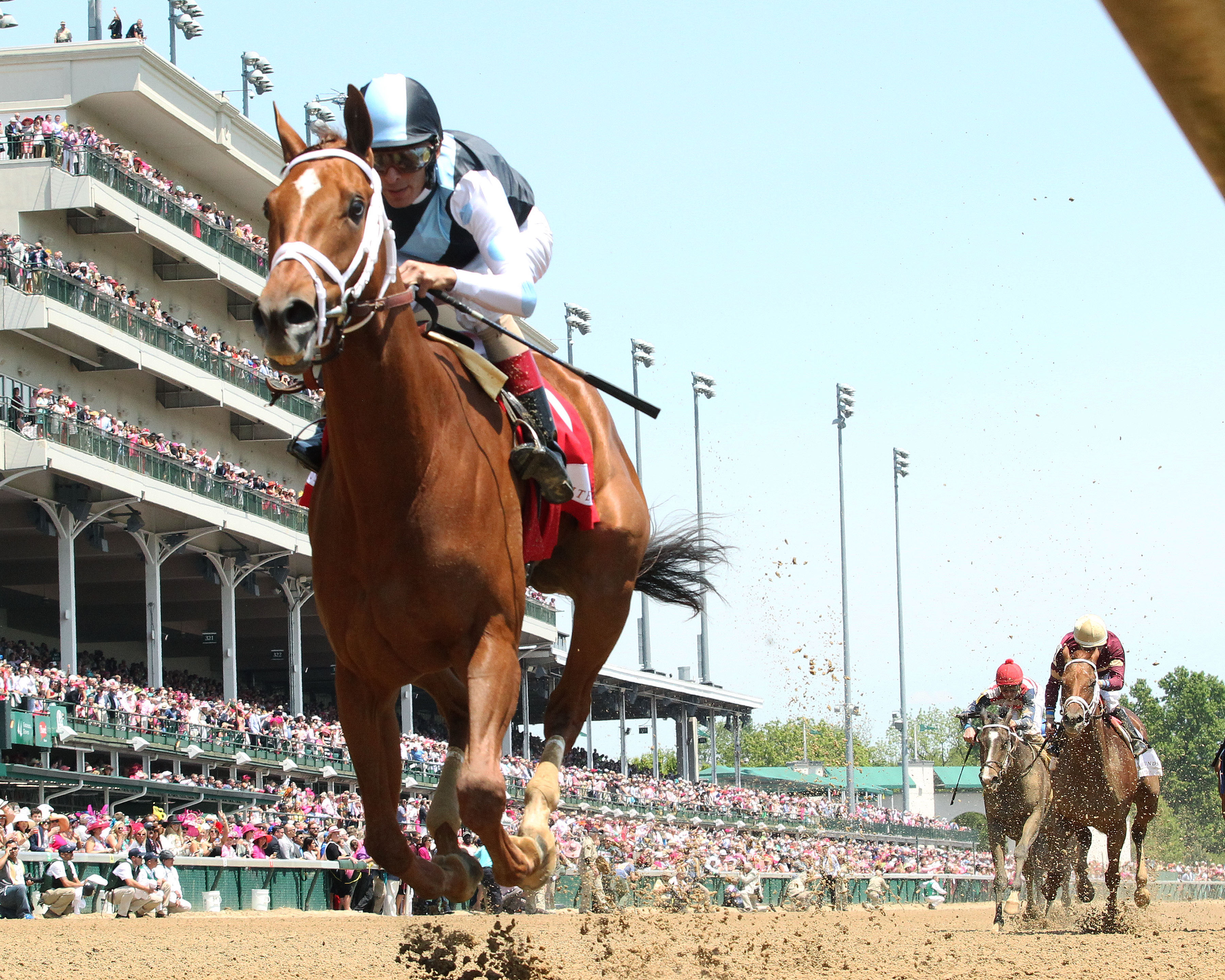 On Sunday, Curalina (right) headlines the triple-header Eclipse lineup in the Grade 3, $200,000 Shuvee Handicap at Saratoga. Curalina has run in 7 consecutive Grade 1 races, winning 3 of them, including last year's rendition of the CCA Oaks (check out her lawn jockey gracing the Saratoga grounds by "The Post Bar"), so theoretically this dip into Grade 3 company should provide her with significant class relief.
The franchise filly for Eclipse will be a prohibitive favorite to take care of business in this affair, but Eclipse, Todd Pletcher and John Velazquez will not be taking anything for granted as the highweight in the field and with the proverbial target on her back. Everyone will have their game face on, most importantly, Curalina, who is in fine fettle leading up to this engagement.
If the weather cooperates, Caribbean will attempt to earn his diploma in high level Maiden Claiming fixture at The Spa. The gelded son of Harlan's Holiday adds shades for this test with Velazquez in the irons for Pletcher.
The ultimate Pletcher-Eclipse runner on Sunday will be Cowboy Rhythm, a strapping son of Tapit who has made just 1 start for Eclipse since being acquired last November, which resulted in an encouraging 2nd-place finish at The Gulf. The gray colt will team up with "Jersey" Joe Bravo at Monmouth Park in race 13 on Haskell Day, a 1 mile and 70 yard Allowance. Cowboy Rhythm is a colt ripe with talent and he appears ultra-live in this spot by the Jersey Shore.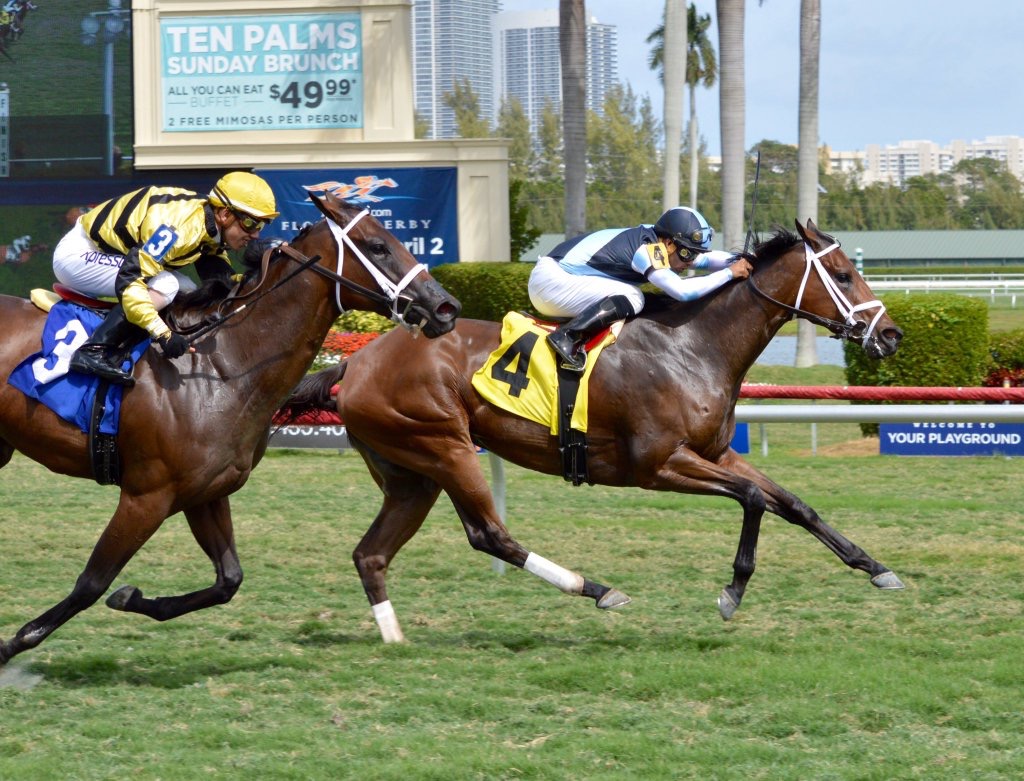 As if the weekend action wasn't enough for the Eclipse brethren to sink their teeth into, there's a bonus play on Monday at The Spa when the flashy filly, Brinkley (left), takes to the stage in the $100,000 Coronation Cup rocketing 5 1/2-poles on the sod. Brinkley began her season a perfect 2 for 2 in grass dashes and she reconnects with her pilot on both of those occasions, Luis Saez, again on Monday. Brinkley's foray into Stakes company 2 months ago turned into a fiasco, but she's eligible to rebound in a big way for Pletcher and Eclipse when she let's it rip seeking the crown in the Coronation Cup.
Eclipse is proud to offer support to many industry related charities and among those causes Eclipse maintains consistent support for is the Permanently Disabled Jockey's Fund ("PDJF").
The PDJF is hosting an Awareness Day at Saratoga on Saturday and in honor of the event, the partnerships who comprise ownership of Eclipse's star colt, Destin, including Twin Creeks, and star filly, Curalina, have generously agreed to donate 1% of each runner's earnings from their races this weekend, to the PDJF, a figure which Eclipse is happy to match.
It is always wonderful to see Eclipse partners give back to the game and taking care of fallen jockeys is an absolute must, so we are pleased to see our partners continually stepping up to do the right thing.
To learn more about PDJF and the Awareness Day at Saratoga on Saturday, please check out: www.pdjg.org
Believe Big!