Eclipse Supports First-Crop Sires
By: Christine DeBernardis TDN
Eclipse Thoroughbreds' Aron Wellman took home one of the higher priced yearlings sold during the early part of Tuesday's session when signing the ticket on a $235,000 filly from the first crop of Violence (Hip 61).
Consigned by Taylor Made Sales Agency, the dark bay is out of the unraced Pioneerof the Nile Mare Stella's Dream, a half-sister to stakes winner Little Miss Zip (City Zip), who sold to Rock Ridge Thoroughbreds for $115,000 while carrying this foal at the Fasig-Tipton February sale.
"She's a big, beautiful filly," Wellman commented after signing the ticket near the back of the pavilion. "She's just a very correct individual, smooth walker and is a very light on her feet for such a big filly. She just has a lot of presence about her at all times. We inspected her on several occasions over the past few days and from the first moment we laid eyes on her until she literally just left the ring, she just had an incredible amount of class, intelligence and quality to her."
As for his attraction to the sire, Wellman said, "Violence was a brilliant horse and unfortunately I don't think we got to see the best of him. He was precocious, a Grade I winner at two. He won sprinting at Saratoga first time out, overcoming a lot of trouble, then stretched his speed out and won the [GI] Cash Call Futurity."
The purchase of the Violence filly came just a short time after the Eclipse President went to $145,000 to secure Hip 33 (below), a filly by fellow first-crop sire Animal Kingdom.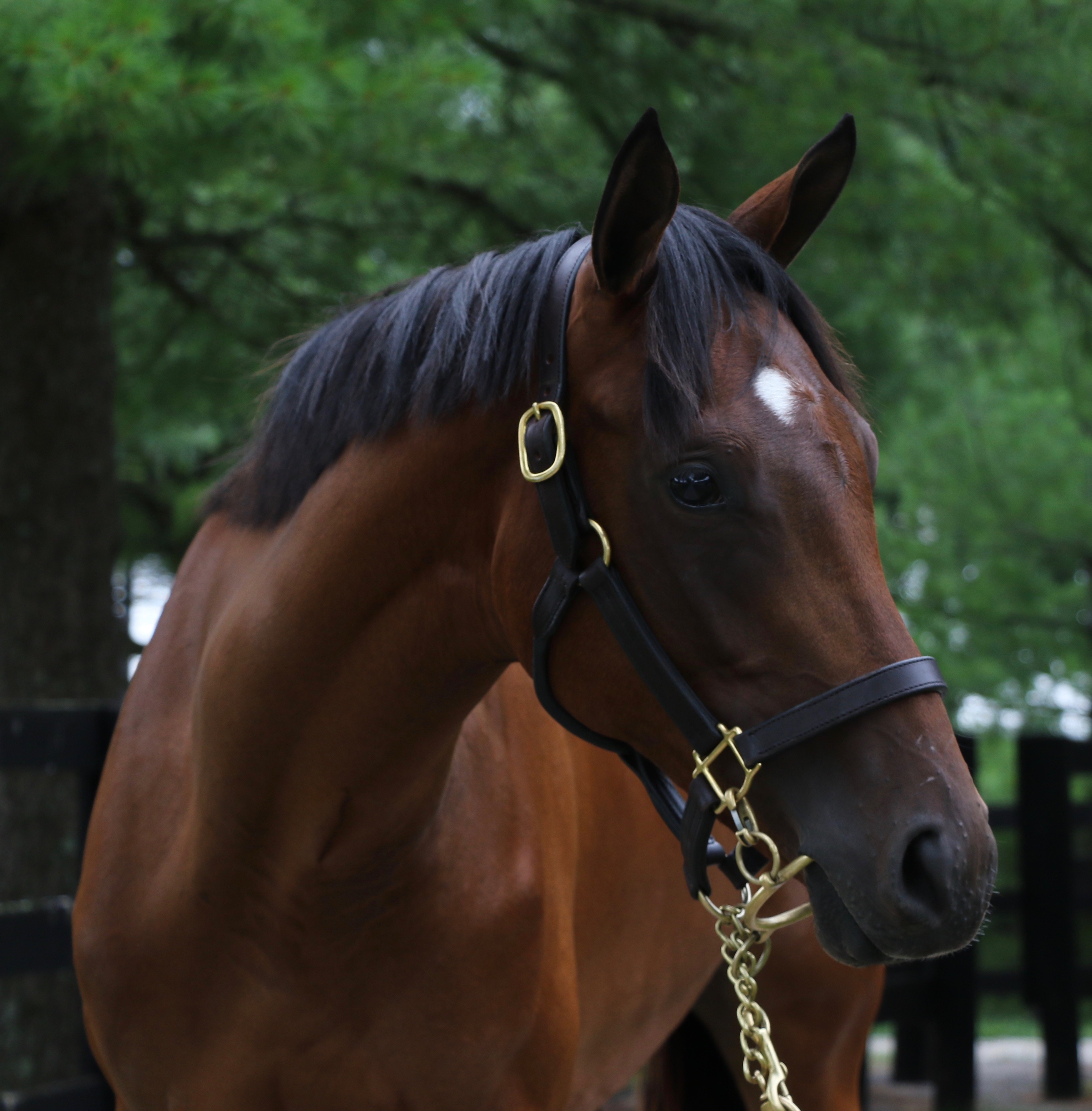 Bred by Nursery Place, Donaldson and Broadbent, the bay was sold to Bonne Chance Farm for $90,000 as a weanling at the Fasig-Tipton November sale and was consigned by Gainesway here. Out of the SP Set'n On Ready (More Than Ready), she hails from the family of English Highweight Lucayan Prince (Fast Play), who was also GISP in America.
"I have a very close connection to Animal Kingdom from my days at Team Valor, so I was very familiar with him from when we sent him through the sales ring as a yearling," Wellman remarked. "I've seen a lot of the Animal Kingdom offspring down in Australia and up here and he is certainly throwing a nice individual. That filly in particular really had the shape that he had as a baby and throughout his career, so we are really excited to get that filly. She's a neat package."
Wellman was not necessarily targeting freshman sires with his selections, but he did see these two specific stallions as positives when choosing these fillies.
"It just so happens to be that way," Wellman said of his purchase of two first crop fillies. "This sale in particular can tend to be that way. It used to be a first-crop sire showcase essentially, but I think that this is a really nice crop of first year sires. Obviously, we bought an Animal Kingdom and now a Violence, two of those first crop stallions that have been on our radar. I think there is a lot of quality there."
The July sale is just the first yearling sale of the season with Fasig-Tipton's Saratoga sale just a month away and the Keeneland September sale to follow shortly after. However, Wellman thinks there is plenty of quality and good opportunities right here.
"I think this is a great opportunity to buy quality horses because people tend to keep their money in their pockets waiting for Saratoga and September," the 39-year-old said. "But, I think, they definitely bring good horses to this sale and good horses come out of this sale every year. Both of these fillies, I have no doubt if they were up in Saratoga or September, I think would have come in at a bit more money. It's early, but we are not afraid to go ahead and bid one in if they think that the quality is there and it's the right individual." – @CDeBernardisTDN