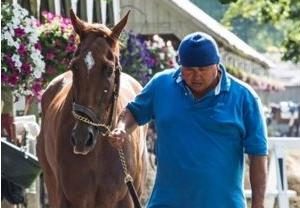 Curalina is the 2015 Aiken-Trained Horse of the Year
By: Dede Biles of the Aiken Standard
Eclipse Thoroughbred Partners' Curalina has come a long way this year.
She won her first race in March and then developed rapidly into one of the country's top female Thoroughbred runners.
On Thursday, the Aiken Thoroughbred Racing Hall of Fame and Museum announced in a press release that Curalina is the 2015 Aiken-Trained Horse of the Year.
"It's an award that has been received by some extraordinary racehorses in the past, and it's a true feather in Curalina's hat to join that esteemed list," wrote Eclipse President Aron Wellman in an email to the Aiken Standard.
To be eligible for Horse of the Year during a particular season, an Aiken-trained Thoroughbred must win at least one grade I race or reach the $1-million mark in career earnings.
Both Curalina and another Aiken-trained horse, Godolphin Racing's Wedding Toast, qualified. Because they each captured two grade I races, their earnings in 2015 were compared to determine the Horse of the Year winner, said Lisa Hall, the Hall of Fame and Museum's coordinator.
It was close, with Curalina's $990,200 barely topping Wedding Toast's amount of $988,756.
"We have the upmost respect for Godolphin's operation and to beat out such a phenomenal mare like Wedding Toast is tremendous," Wellman wrote. "She was equally as deserving."
A 3-year-old chestnut filly, Curalina triumphed in the grade I Acorn Stakes and the grade I Coaching Club American Oaks. In the latter race, she got the victory when the stewards at Saratoga Race Course in New York disqualified the first finisher, I'm a Chatterbox, for interference in the stretch.
Curalina's other 2015 efforts included a runner-up finish in the grade I Beldame Stakes, which Wedding Toast won, and third-place finishes in the grade I Alabama Stakes and the grade I Longines Breeders' Cup Distaff.
Wedding Toast was favored in the Distaff on Oct. 30 at Keeneland in Kentucky. The 5-year-old mare ran near the front of the pack early, but faded to 11th in the field of 14 fillies and mares.
Mike and Kari Schneider, who live in Aiken in Three Runs Plantation, are members of the Eclipse partnership that owns Curalina. They also were members of the Dogwood Stable partnership that owned Palace Malice, who was the Aiken-trained Horse of the Year in 2013 and 2014.
"It's quite an honor to have been involved with two horses that have received that award," Kari said. "It's special to us because we live in Aiken and we got to watch them train here."
Both Curalina and Palace Malice were based at Brad Stauffer and Ron Stevens' Legacy Stable while they were in Aiken. Limehouse, who was the 2005 Aiken-trained Horse of the Year, and Quality Road, who was the 2009 and 2010 Aiken-Trained Horse of the Year, also spent time at Legacy Stable.
"We had Curalina here for the first time as a yearling and then she returned to us last winter, " Stauffer said. "We always thought she was good filly and to have her go as far as she has and win the races that she has is a thrill. It's nice to have a horse that you say is nice and they prove you were right."
Curalina won four of her seven races in 2015. During her career, she has captured four of her eight starts and earned $1,006,800 while never finishing worse than third.
Curalina is the third female to win the Aiken-Trained Horse of the Year award since its creation in 2002. The others were Country Star in 2007 and It's Tricky in 2011.
In December, Curalina is scheduled to come back to Aiken and get ready for the 2016 racing season.
Curalina will be honored during a 2 p.m. ceremony on March 20, 2016, at the Hall of Fame and Museum. The event will be free and open to the public, and memorabilia from Curalina's 2015 racing season and career will be on display.
The Hall of Fame and Museum is in Hopelands Gardens at 135 Dupree Place.
2015 – Curalina
2014 – Palace Malice
2013 – Palace Malice
2012 – Alpha
2011 – It's Tricky
2010 – Quality Road
2009 – Quality Road
2008 – Midshipman
2007 – Country Star
2006 – Bob and John
2005 – Limehouse
2004 – no horse Eligible
2003 – Wando
2002 – Congaree
http://www.aikenstandard.com/article/20151112/AIK0101/151119786