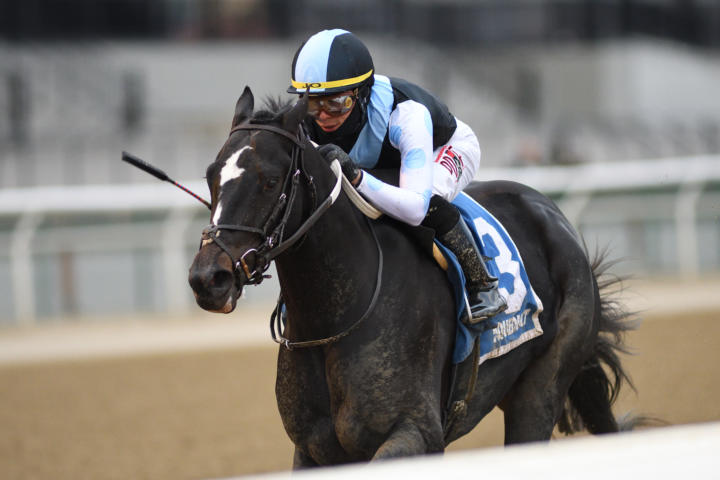 Cantankerous Independence Hall easily wins Jerome
David Grening Jan 01, 2020
OZONE PARK, N.Y. — There was more a sense of relief than revelry from the connections of Independence Hall after their excitable colt made a successful, albeit nerve-wracking, 3-year-old debut in Wednesday's $150,000 Jerome Stakes at Aqueduct.
Despite acting up in the paddock to the point where he was saddled on the walking ring and then breaking last, Independence Hall proved too classy for his five rivals, recording a four-length victory in the Jerome to remain undefeated in three starts while earning 10 qualifying points to the May 2 Kentucky Derby.
Prince of Pharoahs and Bourbon Bay dead-heated for second, finishing 11 1/4 lengths clear of fourth-place finisher Celtic Striker. Polar Bear Pete and Dubai Bobby completed the order of finish. Inside Risk scratched.
Independence Hall was sent off the 1-10 favorite based on his powerful 12 1/4-length victory in the Grade 3 Nashua here on Nov. 3. He acted up in the paddock that day and in the post parade, according to Michael Trombetta. For that reason, Trombetta had sent Independence Hall to Aqueduct from Fair Hill in time to school the horse in the paddock and get him two mornings of training over the track prior to the Jerome.
Still, Independence Hall gave his connections some anxious moments in the paddock as he fought his handlers, nearly sitting down at one point, and then kicked the back wall of the saddling stall twice. Trombetta wound up saddling Independence Hall on the walking ring.
Independence Hall seemed fine when jockey Jose Ortiz climbed aboard and he didn't act up while on the track warming up.
In the gate, Independence Hall was moving and had turned his head just before the doors opened. He broke last.
The slow start enabled Ortiz to guide Independence Hall, who broke from post 2, to get outside and in the clear. He was three wide, only a half-length behind pacesetting Dubai Bobby and a half-length in front of Celtic Striker through a half-mile in 47.47 seconds.
Independence Hall moved to the lead entering the far turn. He was 1 1/2 lengths clear turning for home while in the three path. Ortiz did have to resort to the whip four times in the stretch and Independence Hall responded, getting his final quarter in 24.73 seconds.