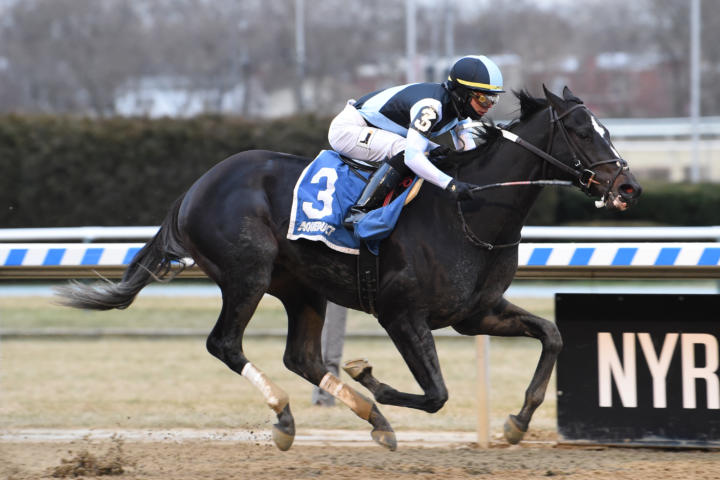 Independence Hall's a Kentucky Derby 2020 trail work in progress
By Jonathan Lintner January 02, 2020
The connections of Independence Hall proved this week that they have both a smart horse and a fast horse on the 2020 Kentucky Derby trail.

But, "We've got some things we definitely have to work on," said Aron Wellman, president of Eclipse Thoroughbred Partners.
In the minutes leading up to Wednesday's Jerome Stakes at Aqueduct, the son of Constitution grew rambunctious upon realizing this wasn't just another walkthrough toward his third career start. It was race day.
Trainer Michael Trombetta called Independence Hall a "wild man" in the paddock. While Trombetta stopped short of labeling it a problem, "it's a concern," the trainer added.
"He definitely knows the difference between schooling and game time," said Wellman, with Eclipse Thoroughbred Partners campaigning Independence Hall along with Twin Creeks Racing Stables and the duo of Kathleen and Robert Verratti.
In addition to antics in the paddock, Independence Hall got away last of six in the Jerome. That's because when the gates opened, his head was cocked to the side.
Independence Hall had little trouble in his prior start, an open-lengths victory at the same one-mile Aqueduct trip in the Nashua Stakes (G3). On debut, however, he also broke slowly Sept. 21 at Parx Racing and was similarly guided out wide to put talent on display.
Independence Hall went on to defeat an overmatched Jerome field by four lengths, hitting the wire under jockey Jose Ortiz in 1:37.27. The effort registered an 84 Beyer Speed Figure, a respectable number given the awkward beginning.
"We were all in agreement that this was a very logical starting point," Wellman said of the 3-year-old campaign. "It's hard to keep an improving and energetic 2-year-old turning 3 on the ground for that long, but Mike Trombetta did an incredible job. Everything worked out well between the Nashua and today. We're just glad to see him take care of business today."
Independence Hall will ship next to Tampa Bay Downs, where the Feb. 8 Sam F. Davis Stakes (G3) could stretch him around two turns for the first time. Wellman did emphasize that "everything's on the table" in regards to a next race spot.
"The beauty of getting him started today is it keeps everything in play," he said. "When Mike says the time is right, there will be a race for him. That's the Triple Crown trail. There's lots of options."
It does appear unlikely that Independence Hall would stick around for the March 7 Tampa Bay Derby (G2). Partners in the colt won the race in 2016 with Destin, who then trained up to the Kentucky Derby. Tapwrit went from the Tampa Bay Derby to the Blue Grass Stakes (G2).
Both finished sixth on the first Saturday in May.
"We got good results in the Belmont," Wellman said, with Destin second and Tapwrit a winner, "but the Derby we didn't show up in."
And it's the Derby that he called "the main focus."
When planning Independence Hall's prep schedule, "We'll huddle up as a partnership and hopefully not botch it on the human side," Wellman added, "because we think we've got the horse."

Horse Racing Nation's senior writer, Matt Shifman, contributed to this report.