There's only one Independence Hall, but in a sense there's two.
There's "Paddock" Independence Hall and "Game Time" Independence Hall.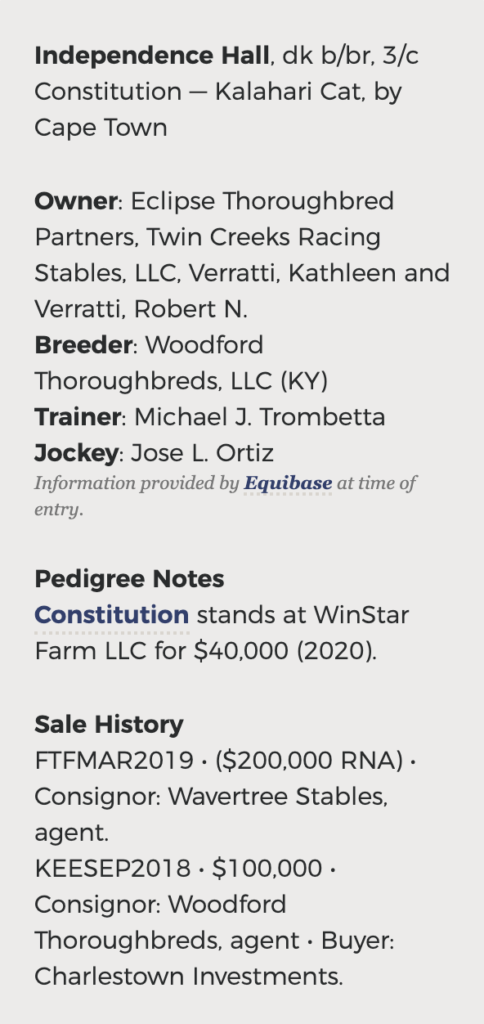 "Paddock" Independence Hall is an impetuous, newly turned 3-year-old who can make quite a fuss and be a handful to saddle and control before a race.
"He's a racehorse, not a play horse," said Randy Gullatt of Twin Creeks Racing Stables, part of the colt's ownership group. "That's where that energy comes from."
Yet once it's game time and he's embroiled in a race, that rambunctious behavior morphs into an impressive display of speed.
The undefeated son of Constitution  made it three wins in as many tries by starting the new year with a handy four-length score in the $150,000 Jerome Stakes for 3-year-olds at Aqueduct Racetrack, using the Jan. 1 race to increase his combined margin of victory to 21 lengths.
"He was a wild man in here (before the race), but we'll work on that, and hopefully he'll give us a break next time. He gets to bouncing around on the brick and gets all excited," trainer Michael Trombetta said. "I'm happy to get the win."
The win was not much of a surprise for a horse bet down to 13-1 in the initial Kentucky Derby Presented by Woodford Reserve (G1) future book wagering.
Owned by Eclipse Thoroughbred Partners, Twin Creeks, and Kathleen and Robert Verratti, Independence Hall ($2.20) was sent off as a 1-10 favorite over five seemingly overmatched rivals. It was his first start since a 12 1/4-length victory at Aqueduct in the Nov. 3 Nashua Stakes (G3) while setting a stakes record of 1:34.66 for the same one-turn, one-mile distance as Wednesday's 2020 debut.
The win in the 150th edition of the Jerome also provided the son of the Cape Town mare Kalahari Cat with 10 qualifying points in the Road to the Kentucky Derby series.
"I rode him like I had the best horse," jockey Jose Ortiz said. "I didn't want to be a hero and get stuck behind horses. I rode him like the best horse, and he was."
The victory in 1:37.27 was not as impressive as the Nashua, but that was to be expected two months after such a monstrous win.
"He didn't look like he did the last time," Ortiz said, "but the track was very tiring. I thought he did a good job for not running in two months. I'm sure he can be better than he was today, but we're very pleased with the effort."