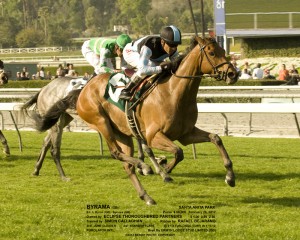 Byrama Punctuates Rollercoaster Weekend For Eclipse TB Partners
The natural ebb and flow of a racing stable was on full display this past weekend as Eclipse Thoroughbred Partners sent out 3 of its' highly regarded fillies on the right and left coast at Gulfstream Park and Santa Anita. Amazingly, each filly went to post as the prohibitive favorite in their respective races, including Sweet Cat and Byrama who were odds-on to pose for photos. By the time the sun set on Sunday evening, the scoreboard read: 1 win, 1 second and a disappointing fifth.
The weekend kicked off on Saturday when the stable's lone conventional dirt filly, In Lingerie, made her Eclipse debut in a salty allowance race at Gulfstream Park. Sent off as the 8-5 choice amongst a talented mix of lady sophs, In Lingerie compromised her winning chances significantly when she reared violently once the back doors were shut behind her in the gate, ejecting John Velazquez in the process. In Lingerie then went to her knees, only to pop up back to her feet. When the starter sprang the latch, In Lingerie was being held by an ear, her tail and her bridle, which caused her to lose her balance and depart from the gate in a tangle, thus sacrificing early position.
Despite enduring a claustrophobic journey throughout, In Lingerie extricated herself at the head of the lane, but could not make much of dent into the insurmountable lead built up by the buzzsaw, So Impressive. In Lingerie kept on resolutely to be a clear second, better than 3 lengths to the good of the third place finisher.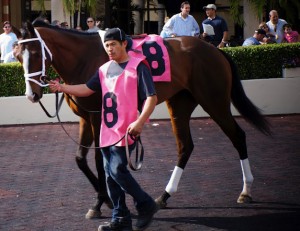 "All things considered, it was a pretty darn good performance by In Lingerie," Todd Pletcher reasoned. "Naturally, we think highly of her and would like to have won the condition, but the winner (Zo Impressive) is a serious filly and she had the luxury of a perfect trip, while In Lingerie was her own worst enemy in the gate and had to overcome a lot. She certainly proved that she can compete in the real world against top notch fillies and if we can iron out some of her behavioral quirks, the sky is the limit."
Eclipse, co-owner Gary Barber and Pletcher will huddle up in coming weeks to map out In Lingerie's near term campaign, although the Grade 3, $100,000 Bourbonette Oaks at Turfway Park in Florence, Kentucky on March 24th is one of the team's primary options.
The biggest surprise of the weekend came on Sunday when Sweet Cat flopped in her seasonal unveiling at Gulfstream Park at odds of 2-5. Although training like a bomb and turned out in immaculate condition by Pletcher and enjoying an ideal trip on the greensward in Hallandale, Sweet Cat inexplicably spit out the bit at the 3/16ths pole and checked in a non-threatening fifth.
"What a shocker," Johnny Velazquez reacted after dismounting the multiple Graded-placed filly. "Sweet Cat was just cruising all the way around there, having fun. Going into the far turn I didn't think there was any way we could lose. I kind of sensed she had lost her focus about halfway through the far turn, so I knuckled on her and her ears went straight up. I tapped her right-handed and I got no response. I was stunned. She showed no resistance and no desire to compete whatsoever. She felt tremendous, but her mind just wasn't in the game today."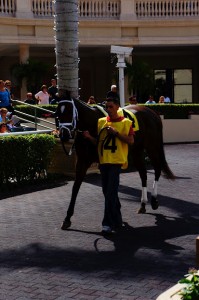 Pletcher added, "I'm just as astonished as Johnny. Sweet Cat has breezed exceptionally well all winter long and we were extremely confident going into this race. There's no point in speculating as to what could have possibly caused such a poor performance, so we'll monitor her closely in the next little while and see if we can uncover any valid excuse. She's too good of a filly to hold this one dud against her. We'll regroup and get her back on top."
So, if Eclipse was going to salvage the weekend and escape with a win, it was up to Byrama to come through in the clutch. And did she ever. Cutting back from two consecutive 2-turn route races into a downhill sprint on the Santa Anita toboggan slide layout, Eclipse and conditioner Simon Callaghan were adamant that jockey Rafael Bejarano employ the precise tactics of anchoring the filly early and only allow her to run the final eighth of a mile so as to utilize her best attribute, which is her wicked turn of foot.
Bejarano executed the game plan to perfection as Byrama lagged far behind early, made gradual headway approaching the dirt crossing, split horses at the top of the stretch, steered into the clear on the far outside and at the cue of 2 right-handed cracks of the whip, exploded as if launched out of a cannon to inhale her foes en route to a superb 1 ¼-length win while being geared down late by a jubilant Bejarano. It was a devastating exhibition of acceleration, as Byrama smoked home the final sixteenth in a rapid :5 2/5 and her final clocking was :2/5 faster than 3 year-old Stakes colts 2 races subsequent.
"That will do Byrama a world of good, particularly mentally," Callaghan remarked. "Aron (Wellman) and I were of the firm belief that we needed to re-establish Byrama's style and the hillside course was an ideal opportunity to do so because we knew there would be ample speed so Byrama could relax at the rear and conserve herself for a late rally. We have high hopes for this filly and with this confidence builder to her credit, we can proceed with our ambitious goals for this season. Fortunately, it all worked out brilliantly."
While there are several options on the horizon for Byrama in coming months, Eclipse is considering sending her on the road for the April 19th running of the Grade 3, $150,000 Appalachian Stakes at Keeneland Racecourse in Lexington, Kentucky.
Eclipse President, Aron Wellman assessed the weekend in stating, "To say we had an up and down weekend would be an understatement. We were very satisfied with In Lingerie's performance and although it wasn't a win, she validated herself as a legitimately good filly with tremendous upside. So, we felt pretty good about the way Saturday played out and there was much to be excited about In Lingerie's future.
"Going into Sunday we felt as though we had 2 big time chances to win races," Wellman said. "Sweet Cat inspired so much confidence that when she put forth such a lackluster effort, our camp was rattled and to be honest, we were pretty down in the dumps. It was a long, long 3 ½-hour gap between Sweet Cat's race and Byrama's race in California and we did our best to stay poised and keep the faith. The public certainly hadn't lost any faith in Eclipse as they hammered Byrama down to 4-5.
"It was tremendous to watch Byrama unleash such a brilliant win and cap off the weekend with an exclamation point. That was the first partnership ever assembled by Eclipse and it is hugely gratifying to put our pioneer partners into the winners' circle with such a talented and exciting filly," Wellman smiled. "Overall, we walk away with blue sky ahead for In Lingerie, a too bad to be true for Sweet Cat and another sky's the limit for Byrama. Onwards and upwards."
Since sending out its' initial starter in October of last year, the baby blue and black colors of Eclipse Thoroughbred Partners has seen 13 runners go to post. Of those 13 starters, the stable has 3 wins for a 23% strike rate, 8 top 3 finishes for a 61% in the money percentage, including 2 Stakes placings and another 2 Graded Stakes placings.