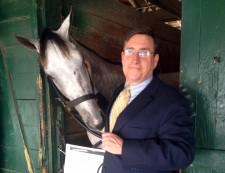 Brian Spearman Joins Eclipse Thoroughbred Partners
Saratoga Springs local and Ridgefield, CT resident, Brian Spearman has joined Eclipse Thoroughbred Partners as an equity partner and will assume the role of Chairman, effective immediately.
Spearman is a senior vice president at PepsiCo and has held numerous senior roles in sales, marketing and operations in his 30+ year career at the Fortune 50 company. A lifelong horse racing enthusiast, he worked his way through college as a summer employee at the historic Saratoga Race Course. More recently he has taken his passion to the ownership level by participating in partnerships with Dogwood Stable and Eclipse.
"To be able to add an individual of the caliber of Brian Spearman to our team as an equity partner and as an executive is a massive feather in Eclipse's cap," said Eclipse President and Co-Founder Aron Wellman. "Brian is a class-act, and when you factor in his industry knowledge, a keen enthusiasm for the sport and the depth of his business experience, it's a true win-win-win for the Eclipse organization and our partners."
"I'm excited to join Aron and the Eclipse Team," said Spearman. "In a relatively short period of time, they have established Eclipse as a premier horse racing partnership. I met Aron through Cot Campbell's endorsement during the Dogwood and Eclipse merger and I've been thoroughly impressed with the organization both on and off the racetrack. I believe Eclipse has only begun to reach its full potential and I look forward to contributing to making the racing experience the best in the industry for our partners."
Eclipse races in every major racing jurisdiction from coast to coast and has bases in Del Mar, California; Aiken, South Carolina; and with the addition of New York/Connecticut resident, Spearman, the company will have a strong presence in the New York area and arguably America's most significant racing center, Saratoga Springs, New York.