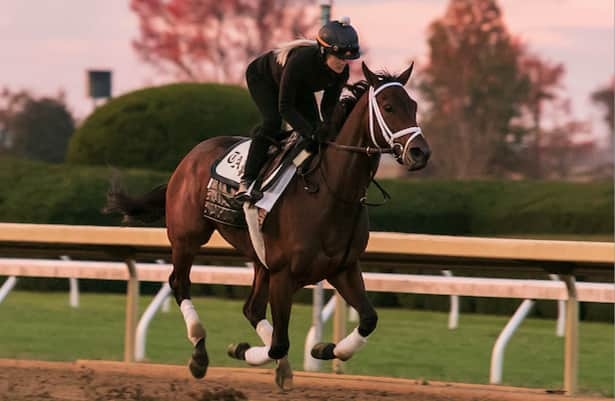 Breeders' Cup: How Wellman brought Eclipse to the big stage
By Alicia Hughes / Special to HRN
The message continues to be hammered home any time Aron Wellman is given the platform to deliver it.
Every email that is sent, every Tweet that is posted, every update that goes out across all digital platforms from Eclipse Thoroughbred Partners has the same missive attached. It is one part mantra, one part mandate, and 100 percent aspirational because Wellman knows that if his ownership group is to meet the stratospheric expectations he has set for it, he needs his circle to have a mindset that is non-negotiable.
"When we started, people thought I was crazy when I adopted this moniker, 'Believe Big,' " Wellman said of the racing partnership he founded in October 2011. "There was a lot of stuff out there and marketing material that was 'Dream Big,' and I thought to myself … I didn't want to just dream. I wanted to execute, to turn a dream into reality. And in order to turn a dream into reality, you've got to believe from the beginning that you can accomplish those things.
"From the first horse we ever had, that's what I signed every email off with was 'Believe Big'. From the beginning, our team has believed and gradually we built up the base, an ever-increasing base of partners who believe big in the baby blue and black. That's really the culture that we've established."
Wellman clings tightly as ever to that set of beliefs, but after more than a decade of posting results that most racing participants will never see in their lifetime, the licensed attorney and lifelong horseman doesn't need to give the hard sell any more on what his operation is capable of. Want Triple Crown wins? The regally bred Tapwrit took care of that when he carried Eclipse's colors to the winner's circle in the 2017 Belmont Stakes. Breeders' Cup victories? It's now at two and counting, with Sharing annexing the 2019 Juvenile Fillies Turf and Aloha West back this year to try to defend the Sprint title he captured at Del Mar last November.
What is missing thus far from the Eclipse Thoroughbred rundown of achievements is having the name of one of their own engraved on an Eclipse Award trophy. It is a domino their latest star filly, Nest, has all but kicked over and stomped en route to what could be another showcase of strength for her connections in the Breeders' Cup World Championships at Keeneland this week.
The racing industry is paved with the fallen hopes of those who have come into its ranks seeking top-level success only to back off when the unforgiving nature of the sport rears itself. That backdrop has made the relatively meteoric ascent of Eclipse Thoroughbred Partners that much more of a marvel as the partnership group heads into the 2022 Breeders' Cup at Keeneland on Nov. 4-5 looking to pad a list of stats that already features 21 Grade 1 wins and 35 individual graded-stakes winners.
Since Eclipse was founded in the fall of 2011, Wellman and his partners have used the Breeders' Cup as both a measuring stick and a display of the breadth and depth they ultimately want their operation to be known for.
Their first Breeders' Cup starter, Sweet Cat, got the ball rolling when she finished third in the 2011 Juvenile Fillies Turf. If all four of their expected runners go to post this weekend, then Eclipse will have notched 25 Breeders' Cup starters since their inception. They are set to be represented by leading sophomore filly Nest as the morning-line favorite for the $2 million Breeders' Cup Distaff Saturday, Aloha West in the Sprint, Atomically in the Juvenile Fillies and Manhattan Jungle in the Juvenile Fillies Turf.
"When you look back to when we first started Eclipse, we set out with some ambitious goals," said Wellman, who launched the partnership after spending 3 1/2 years as vice president of Team Valor. "One, which sounded absurd at the time but that we're sort of chipping away at, is we really want to be campaigning horses on an annual basis that are capable of participating in every Breeders' Cup division. If you look at the diversity of our stables, the way in which we acquire our horses, the types of horses that we buy in the variety of prospects that we present to our partners, that's really our goal.
"We are now embarking upon our 12th Breeders' Cup since we started Eclipse and every year dating back to 2011, we have had at least one Breeders' Cup starter. So this really was by design. It's a lot easier to formulate the plan than it is to execute it, but that's our mission. I've always stood by the notion that that's really what separates the men from the boys in this business is not just catching lightning in a bottle on occasion. It's being able to come up with the big horses every year, year in and year out on a consistent basis."
Not only has Eclipse danced on the biggest stages in North America, but the group is expanding and succeeding on a global scale despite its relative infancy in the sport. Last June, their filly Quick Suzy prevailed at the ultimate boutique meet that is Royal Ascot when she took the Queen Mary Stakes (G2), and in 2017, Pinot, the first horse acquired and campaigned in Australia for Eclipse, captured the VRC Kennedy Oaks.
"Aron has done just a tremendous job of expanding the team, and he's obviously very talented in finding horses that are on the racetrack while also doing a really good job of buying yearlings and 2-year-olds in training," said Hall of Fame trainer Todd Pletcher, the primary conditioner for Eclipse since they launched. "It's kind of a diversified operation that is finding good horses literally in every venue. I think that whole vision of expanding in multiple ways has really paid off for them."
Trying to pinpoint what makes Eclipse uniquely positioned to move the bar of success forward each year is a fun exercise for Wellman, simply because there are a multiple of intangibles that have converged in his favor. It's one thing to have willing partners, it's quite another to have the perspective and level of experience that even the deepest pockets cannot purchase.
"I was very lucky to have an upbringing whereby I was able to get phenomenal hands-on horsemanship experience from a very young age," said Wellman, the son of longtime California breeders Michael and Cory Wellman. "I started hustling trainers on the backside of Del Mar as an 8-year-old mucking stalls for $2 a stall.
"I've always considered myself more of a horseman than a salesman. And I think one primary difference between Eclipse and other partnerships – which there are a lot of good ones – is that we're horsemen, not salesmen. Where a lot of partnerships outsource their bloodstock to third-party agents, every single horse that has ever been on our roster is because I put my stamp of approval on it. There is no passing the buck, and we're brutally honest about that. I'm going to be wrong way more than I'm going to be right. But our track record suggests that, thankfully, even though we're wrong more than we're right, we're right a lot more than a lot of our competitors."
Arguably the biggest supporting structures that reinforce the foundation of Eclipse's achievements are the litany of top-class fillies who have filled the roster and its association with one the all-time great minds to ever grace the sport. Both of those factors are being flaunted on epic level this season in the form of multiple Grade 1 winner Nest, the Pletcher-trained daughter of Curlin who, barring something extraordinary, is a virtual lock to earn the Eclipse Award for divisional honors regardless of what transpires when she faces the likes of her champion stablemate Malathaat in the Distaff.
Campaigned by Eclipse in partnership with Repole Stable and Michael House, Nest has won five of seven starts this season while running roughshod over her peers in the Grade 1 Ashland Stakes, Coaching Club American Oaks, and Alabama Stakes as well as the Grade 2 Beldame Stakes (G2). The Eclipse team has been spoiled with top distaffers such as Curalina, In Lingerie, Byrama, Speech and Valiance, to name a handful, over the years. But Nest has had even her seven-time Eclipse Award-winning trainer gobsmacked at how the pressure of top-class company sharpened her ability to flint.
When Nest endured grueling runner-up efforts in the Kentucky Oaks and against males in the Belmont Stakes, her team figured the bay filly would need a break to get her energy level on point for the second half of the year. Instead, she has gone on to impose her will on her rivals in ruthless fashion, taking the Coaching Club American Oaks on July 23 by 12 1/4 lengths before turning the Alabama and Beldame into similar glorified workouts.
"I've admired a lot of our fillies over the course of time. I've never been in complete awe of one, and I'm completely in awe of Nest," Wellman said. "Conventional wisdom told us that after her Belmont she would require some freshening up, and I was fully prepared to bypass the Coaching Club American Oaks. But Todd is such a master at knowing his horses and having that instinctual feel for what sort of condition they're in … and his gauge on Nest was spot on. He took her up to Saratoga and basically said, 'She is not going to let us skip the CCA Oaks.'
"I don't know that we've seen a lot 3-year-old fillies over the course of time put together a campaign like she has. To see this filly thrive and be a part of Todd's brilliance … I feel so lucky as a racing manager and for our partners to have access to Todd Pletcher,  the greatest horse trainer of all time, in his prime."
Even though Eclipse does not have a runner in this year's Breeders' Cup Classic, the final race in the World Championships lineup will be a tribute to the diligence Wellman and his team have put toward having an impact that reverberates for years to come.
Flightline, the unbeaten and untested prodigy who figures to be one of the heaviest favorites in Breeders' Cup Classic history, is out of the graded stakes-winning mare Feathered, who was campaigned by Eclipse before selling to Summer Wind Equine for $2.35 million at the 2016 Keeneland November Breeding Stock Sale.
It is all part of the plan Wellman got those closest to him to believe in more than a decade ago, a concept whose reality gets more fantastical with each passing season.
"Now it's a program that breeders can believe big in, not just because our fillies were good on the racetrack but because they're translating their racetrack performance into the breeding shed with their progeny," Wellman said. "It's coming full circle. But I wake up every day with the perspective I'm the dumbest guy in the game and we're not even getting started yet.
"It's a lot easier to get to the top than to stay there, if you will, and we're on a mission every single day that we continue to deliver the results our partners are worthy of."