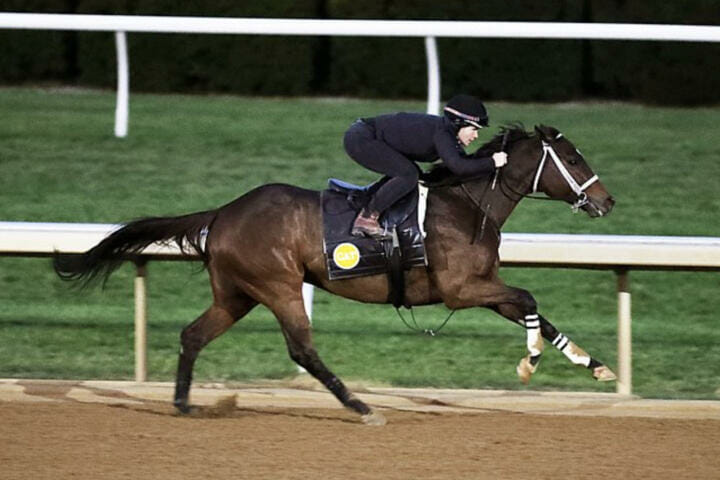 Aloha West Looks to Repeat in BC Sprint for Catalano
After a sizzling bullet work Oct. 25, Eclipse Thoroughbred Partners' 2021 Qatar Racing Breeders' Cup Sprint (G1) hero Aloha West  was confirmed for a title defense despite having not raced since early July. The 5-year-old will give trainer Wayne Catalano two chances in the $2 million Breeders' Cup Sprint, along with Susan Moulton's Manny Wah , who earned his way in with an upset victory in Keeneland's premier one-turn dirt contest, the $350,000 Stoll Keenon Ogden Phoenix Stakes (G2), on opening weekend.
Aloha West was among the best of many feel-good success stories at last year's Breeders' Cup, giving Catalano an unexpected (to horseplayers, anyway, if not to him) career highlight, 10 years removed from his last Breeders' Cup win. The 66-year-old has scaled back his operation in recent years to focus more on quality, along with freeing up time for family and fun.
"When you win these kinds of races, especially when you're down to just a handful of horses, and he jumps up and wins a Breeders' Cup for you, you've got to love it," Catalano said. "It meant so much."
As a 5-year-old Aloha West has yet to recapture the magic of last fall, perhaps overextending himself while trying to catch two of the fastest horses on the planet already at their peak. He debuted in the $750,000 Churchill Downs Stakes Presented by Ford (G2) on Kentucky Derby Day but struggled to keep up with gate-to-wire, four-length winner Jackie's Warrior  .
"He ran hard off the layoff and took the worst of it, up close to the pace and down inside, which wasn't where you wanted to be that day," said Eclipse Thoroughbreds president Aron Wellman.
Next time out Aloha West tried the $1 million Hill 'n' Dale Metropolitan Handicap (G1) on Belmont Day, but Flightline  was there, too, relegating the rest of the field to mere extras in another one of his superstar turns.
Three weeks later, a hard-fought win in the $160,000 Kelly's Landing Overnight Stakes at Churchill Downs on July 2 confirmed the desire was still there, even if the result was underwhelming by the standards of a Breeders' Cup winner popping up in an overnight stakes on his home track. Catalano and Wellman decided to back off and let Aloha West find his legs again.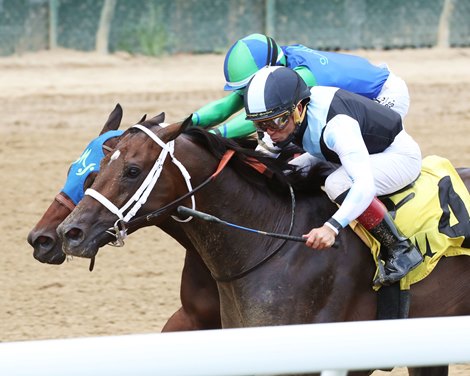 "He needed that little break," Catalano said. "He had run all summer against pretty tough horses. It takes a toll on them."
Aloha West never left Catalano's barn at Churchill Downs but went three months without a timed workout—"to sweeten him up," as Wellman put it. The Maryland-bred enjoyed a leisurely schedule that slowly progressed from tack-walking to jogging to galloping. "We started picking it up once we saw all the signs—energy, coat, appetite, weight—and he just started coming back to being the Aloha West that we know. When he's thriving that's what he looks like and he seems to be in good spirits at the moment."
The schedule was not dictated by any specific target, but when he recommenced breezing in early October it was just in time to entertain a Breeders' Cup try. His second work back—a half-mile in :47 4/5 at Churchill—was the one that made it seem viable. "That was the tip off that he was rearing to go," Wellman said. "We huddled after that and decided that we would put him on an abbreviated pattern where he might come back on four or five days a couple of times and if he handled it well and responded favorably we'd keep doing it. He was going to have to take us there, not the other way around, but the last month that he's had put him in position to make it," Wellman said.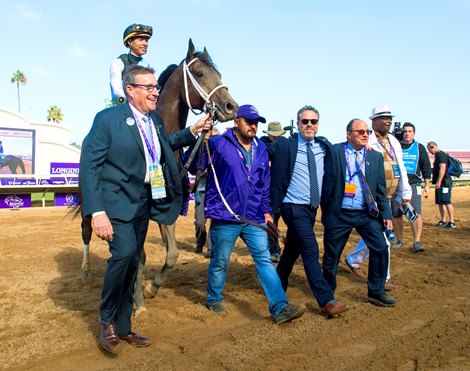 While each breeze gave Catalano and Wellman a little more hope of making the Breeders' Cup, the one on Oct. 25 cinched it.
"We needed a nice work to see if we're going to run and that was a great work," Catalano said. "I'm very happy right now. We all know he's only going to run all-out the last three-eighths of a mile anyway. That's all we need is a good three-eighths and he'll be fit enough to do that!"
Wellman added of the :58 3/5 bullet move: "He galloped out around the clubhouse turn with good energy, which is what we really needed to see. He's put himself into a position to make the race and if he keeps giving us the impression that he wants to be there then we'll be there."
A one-turn mile, preferably one without Flightline, is still on the minds of Catalano and Wellman, who identified the Cigar Mile (G1) as an attractive option to close out his season, and perhaps his career, depending on the outcome of this next race.
If Aloha West doesn't fire off the layoff—or even if he does—Catalano has another chance in the Sprint with Manny Wah, who is 1-for-9 on the year but is demonstrated to be in top form coming off his 17-1 Phoenix triumph. It was the 6-year-old's first graded stakes score but anyone who doubts Manny Wah belongs with the world's elite dirt sprinters may want to reference the last Breeders' Cup Sprint at Keeneland, when he was viciously bumped and cut off at the quarter-pole but still fought on to run fifth at 64-1.
"I thought he should have won, so maybe redemption is in play," Catalano said.